New trans athlete policy 'sets a dangerous precedent': Washington racer seeks state action against USA Cycling
"This rule change creates an exclusionary environment, sets a dangerous precedent and opens a Pandora's box for organized amateur sports with transgender athletes"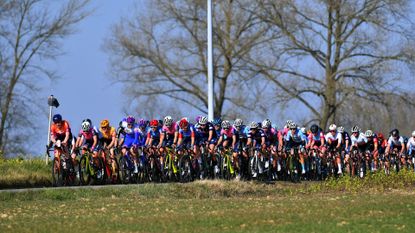 (Image credit: Getty Images)
When USA Cycling introduced its revised Transgender Athlete Participation Policy earlier this month, the new two-tiered system didn't sit well with all racers.
One trans woman and amateur racer from Washington State was so put off by the new policy that she filed a complaint with the state's Attorney General's Office, imploring Attorney General Bob Ferguson to file an injunction against USA Cycling. She also filed a complaint with the American Civil Liberties Union of Washington.
The racer, whose identity will remain anonymous for her protection, argues that the new policy only heightens the trans community's concern of "exclusionary, discriminating and humiliating scrutinization."
Starting on 1 January 2024, transgender athletes wanting to participate in USA Cycling-sanctioned events will be categorized as either Group A or Group B athletes, depending on their discipline and race category.
Group A athletes are those racing at the elite level (Pro, Category 1 and 2). Transgender women in Group A must undergo a so-called "elite athlete fairness evaluation application," which involves submitting medical documentation demonstrating that their serum testosterone level has been consistently below 2.5 nmol/L for at least 24 months.
Group B athletes are those competing at the amateur and novice levels. These transgender athletes, both men and women, wishing to compete at this level must complete a self-identity verification request, which the USA Cycling Technical Director, Bonnie Walker, will review.
In introducing the new policy, USA Cycling said it aimed to maintain "fair competition standards while providing a welcoming environment for all athletes, irrespective of gender identities."
But in this racer's eyes, the new policy does quite the opposite.
"Outing ourselves for amateur sanctioned racing does not make us feel safe or welcome; instead, it shines an uninvited bright light on our private life, further threatening our safety, as well as our rights on a federal and state level. This rule change creates an exclusionary environment, sets a dangerous precedent and opens a Pandora's box for organized amateur sports with transgender athletes," she says.
This rider was active in the Washington State racing scene for four years. During that time, she says, "no individual, organization or local USAC official harassed or required me to out myself, nor was a complaint filed against me. Many people were aware that I was transgender because it is a small community. I trained just as hard as other female athletes and still did not have a competitive advantage. In fact, most of the time, I rarely finished in the top three in Cat 4 races."
But she hasn't raced in some time, partly due to the changing climate and the fact that a USA Cycling racing license is required to partake in cycling events in Washington, even at the amateur level. By buying a license, she'd be supporting a governing body whose policies she doesn't agree with.
"I know that my racing days are probably done, but for me, it's about the next generation of racers and the freedom I hope they can have like what I had. The freedom to be themselves and just race to race," the source says.
An injunction, if successful, would prohibit USA Cycling from requiring amateur athletes to "out themselves."
"My hope is that the injunction will put a stop to this prejudicial discriminatory rule. I advocate that transgender athletes should be allowed to race as they identify at the amateur level races," the source says. "We are not paid athletes, just weekend warrior bike racers testing our skills against other like-minded individuals."
USA Cycling told Cycling Weekly that it does not wish to comment at this time.
Thank you for reading 20 articles this month* Join now for unlimited access
Enjoy your first month for just £1 / $1 / €1
*Read 5 free articles per month without a subscription
Join now for unlimited access
Try first month for just £1 / $1 / €1