A 'balance between fairness and inclusion': USA Cycling unveils new Transgender Athlete Participation Policy
Guidelines offer new categories for transgender cyclists at domestic level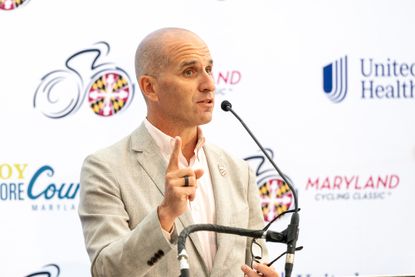 (Image credit: Maryland Cycling Classic)
USA Cycling, the governing body for the sport of cycling in the United States, today introduced its revised Transgender Athlete Participation Policy, aligning itself with the standards set by the Union Cycliste Internationale (UCI) for international competition while establishing new categories for transgender athletes at the domestic level.
As of 17 July 2023, all transgender women who have transitioned after puberty are banned from competing in the women's category at UCI-sanctioned events.
For non-UCI-sanctioned events, USA Cycling has devised a two-tiered system aimed at striking a balance between fairness and inclusivity in the sport.
Starting on 1 January 2024, transgender athletes wanting to participate in USA Cycling-sanctioned events will be categorized as either Group A or Group B athletes, depending on their discipline and race category.
Group A athletes are those racing at the Pro, Category 1 or Category 2 level. Transgender women in Group A must undergo a so-called "elite athlete fairness evaluation application" to be reviewed by an independent medical panel. This process must be completed 90 days before competition and involves submitting medical documentation demonstrating that their serum testosterone level has been consistently below 2.5 nmol/L for at least 24 months.
Group B athletes are those competing at the Category 3, 4, 5 and novice levels. Transgender athletes, both men and women, wishing to compete at this level must complete a self-identity verification request, which will be reviewed by the USA Cycling Technical Director. This process will document the athlete's gender identity and should be completed 30 days before competition.
Swipe to scroll horizontally
| | | |
| --- | --- | --- |
| Discipline | Group A | Group B |
| Road | Pro & Cat. 1, 2 | Cat. 3, 4, 5/Novice |
| Track | Pro & Cat. 1, 2 | Cat. 3, 4, 5/Novice |
| Cyclo-cross | Pro & Cat. 1, 2 | Cat. 3, 4, 5/Novice |
| Mountain Bike | Pro | Cat. 3, 4, 5/Novice |
| BMX | All | N/A |
"The revision of our Transgender Participation Policy was a complex process guided by several factors. Foremost was the direction of our Board of Directors, who asked us to prioritize the balance between fairness and inclusion," states USA Cycling CEO Brendan Quirk.
"Our work encompassed a study of the UCI's most recent review of the latest scientific literature, an assessment of the U.S. legal environment and similar policies from other sports organizations, and outreach to our athletes, club and team managers, and event organizers. As U.S. law and scientific findings evolve, we will use this as an opportunity to do further review and revisions of this policy as needed."
USA Cycling's updated Transgender Athlete Participation Policy comes after the UCI changed its transgender athlete eligibility criteria back in July. Identical to the aforementioned Group A requirements, the previous UCI policy allowed transgender women to compete in its women's events as long as the athlete declared their gender identity as female and could demonstrate the required testosterone levels.
But not all cycling nations had adopted this policy, which has led to conflict and confusion for elite trans athletes. Following heightened conflict, specifically in U.S. and British events, the UCI revisited and revised its policy earlier this year.
The UCI concluded that the current state of scientific knowledge no longer supported its existing policy and needed to take measures "to protect the female class and ensure equal opportunities."
Thank you for reading 20 articles this month* Join now for unlimited access
Enjoy your first month for just £1 / $1 / €1
*Read 5 free articles per month without a subscription
Join now for unlimited access
Try first month for just £1 / $1 / €1