For the sport of cycling, the road to equity may just be on gravel
SBT GRVL and Ride For Racial Justice team up to pedal toward a more equitable future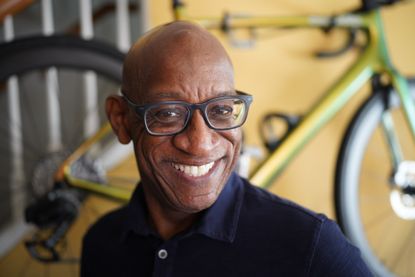 (Image credit: Marcus Robinson)
Get The Leadout Newsletter
The latest race content, interviews, features, reviews and expert buying guides, direct to your inbox!
Thank you for signing up to The Pick. You will receive a verification email shortly.
There was a problem. Please refresh the page and try again.
A nice thing about bicycles is that you can ride them alone. You can go pretty much anywhere you want independently just by picking one up and pedaling off to wherever you wish.
Perhaps more powerful even than being a vehicle to freedom and valuable solo time is the bike's unique tendency to bring people together.
This togetherness is SBT GRVL's North Star. While relatively young, SBT GRVL is one of the premier gravel events in the country and takes place every fall in Steamboat Springs, Colorado, where self-proclaimed "champagne gravel" roads are pieced together into 37-, 60-, 100- and 142-mile courses. And while the dust brushes off within days, the personal relationships made at the race last a lifetime.
SBT GRVL is the brainchild of former pro road cyclist Amy Charity, who, after riding Unbound in 2018, realized her home gravel roads in and around Steamboat Springs rival that of its neighboring state.
She saw the potential for great routes and an event that she'd always dreamed of attending — one where camaraderie rivals competition.
As a professional female cyclist, Charity often found herself grouped at the start line with majority male riders. She rarely started races with her friends and often felt uncomfortable and intimidated by her fellow top-level riders. Charity was missing the feeling of camaraderie that gravel races so often boasts, and so she decided to create an event with it built in.
SBT GRVL launched the following year, in 2019, and registration sold out within days of opening.
"It was the right place, right time, right market, and it exploded from that first year," Charity told Cycling Weekly.
But there was a problem; they only had 22% women sign up for the race, and the ridership was also overwhelmingly white, which forced Charity to ask, "What's the issue here?" She wanted to find out why the tables were so skewed with male vs. female riders and why most of the riders were white, CIS gendered, and few came from diverse backgrounds.
It was that question that started her mission to take actionable, concrete inclusivity measures.
Ride for Racial Justice
Planning for SBT GRVL's second year was in full swing when George Floyd was murdered by police. The Summer of Racial Reckoning catalyzed Charity's meeting and subsequent partnership with the Colorado-based non-profit organization, Ride for Racial Justice.
Ride for Racial Justice (RFRJ) was formed by Denver local Marcus Robinson in response to Floyd's murder. Despite being a lifelong cyclist, Robinson felt increasingly uncomfortable riding long, desolate roads alone in the highly charged political environment.
"I never thought I would be afraid to do something I love – doing something I love and then having someone doing something to me because of the color of my skin," Robinson recalled.
He posted his concerns on social media and soon had his friend, and cycling coach, Neal Henderson (now co-founder and coaching director of RFRJ) reach out to him, promising that he and other friends would ride with him to protect him.
The one ride soon turned into bigger and more official rides and then, on June 5, 2020, Robinson, Henderson, their friends and the public rode together through the streets of Denver in a city-wide call for protection. Robinson estimates some 75-100 riders came out, and around 90% of them were white. Most of the riders were strangers to Robinson and many were full of questions; what could they do to help him? How can they be an ally? What could they bring away from that year and that ride?
"The purpose of this," Robinson told them, is that "we need to start talking."
And the bike, Charity and Robinson both agree, is a great way to bring people together to talk, to create community and to foster dialogue and understanding.
"No one ever has a cross conversation when you're on the bike. You're smiling, even if you get dropped – you're mad that you got dropped because who isn't – but you don't have cross conversations on a bike," Robinson said.
Rarely does anyone fight about politics or religion while cruising around on a bike and, if anything, he pointed out that you make more friends than enemies while on a ride with strangers.
When Ride for Racial Justice and SBT GRVL got together, they bonded over their shared goal to create a safe, welcoming, and inclusive environment where whoever comes feels like a part of the family.
Their partnership had led to the formation of a team that's now 30 riders strong, each of them Black, Indigenous or POC, and an active cyclist who, as per the website criteria, has the "desire to change the sport of cycling towards greater diversity, equity and representation, and is active in your community as a steward (bike community or generally."
Now in its third year, the RFSJ team will again compete at SBT GRVL and receive a complete program of support to help the riders succeed. Aside from a free race entry, lodging and food, this support includes coaching and a training plan, products by Wahoo, a full RFSJ kit and more.
Allison Higginbotham, a 2022 team member and current board member of RFRJ, said that while the race experience was good, it was the extraordinary support she received ahead of the event and the bond the teammates have created over time that stood out.
"I feel like I can call any person and say, 'Hey, I'm in town, do you want to go for a ride or coffee? I have a question.' They would be happy you showed up, and that's pretty amazing." Higginbotham said.
At any point in the year, her RFSJ teammates were available to chat. They were there to welcome her and each other at SBT GRVL, and have since been available at other races.
More than teammates, they've become long-distance friends, there to support each other and, as Robinson wished, to start talking.
Building a network
"We don't ask anything from anyone; we just want to carry on this tradition of somebody helping someone else," Robinson said.
It's an exponential model. A network that centers around the one gravel event — SBT GRVL— and sprawls far and wide to the hometowns of each team member.
Robinson hopes that the change happens after the race when each team member goes home to their own community and talks about what they experienced, help others who are interested in cycling and find fellow BIPOC folks to ride with.
"Go back to your hometown and grab some more kids on bikes; teach those same values there," Robinson encourages his team members.
He hopes that alums will continue the tradition of talking, teaching, and inspiring the previously unwelcome to feel welcomed on bikes. He soon hopes to open a brick-and-mortar for the Denver organization where people can learn, connect and grow the community in person.
Following her team with the RFSJ team, Higginbotham, though busy as a nurse, plans to create a cyclocross team in her own community in Northern California.
"We just want people to be happy and love riding bikes and feel comfortable and feel like they belong there because we all belong at the start line," she said.
Thank you for reading 20 articles this month* Join now for unlimited access
Enjoy your first month for just £1 / $1 / €1
*Read 5 free articles per month without a subscription
Join now for unlimited access
Try first month for just £1 / $1 / €1
Get The Leadout Newsletter
The latest race content, interviews, features, reviews and expert buying guides, direct to your inbox!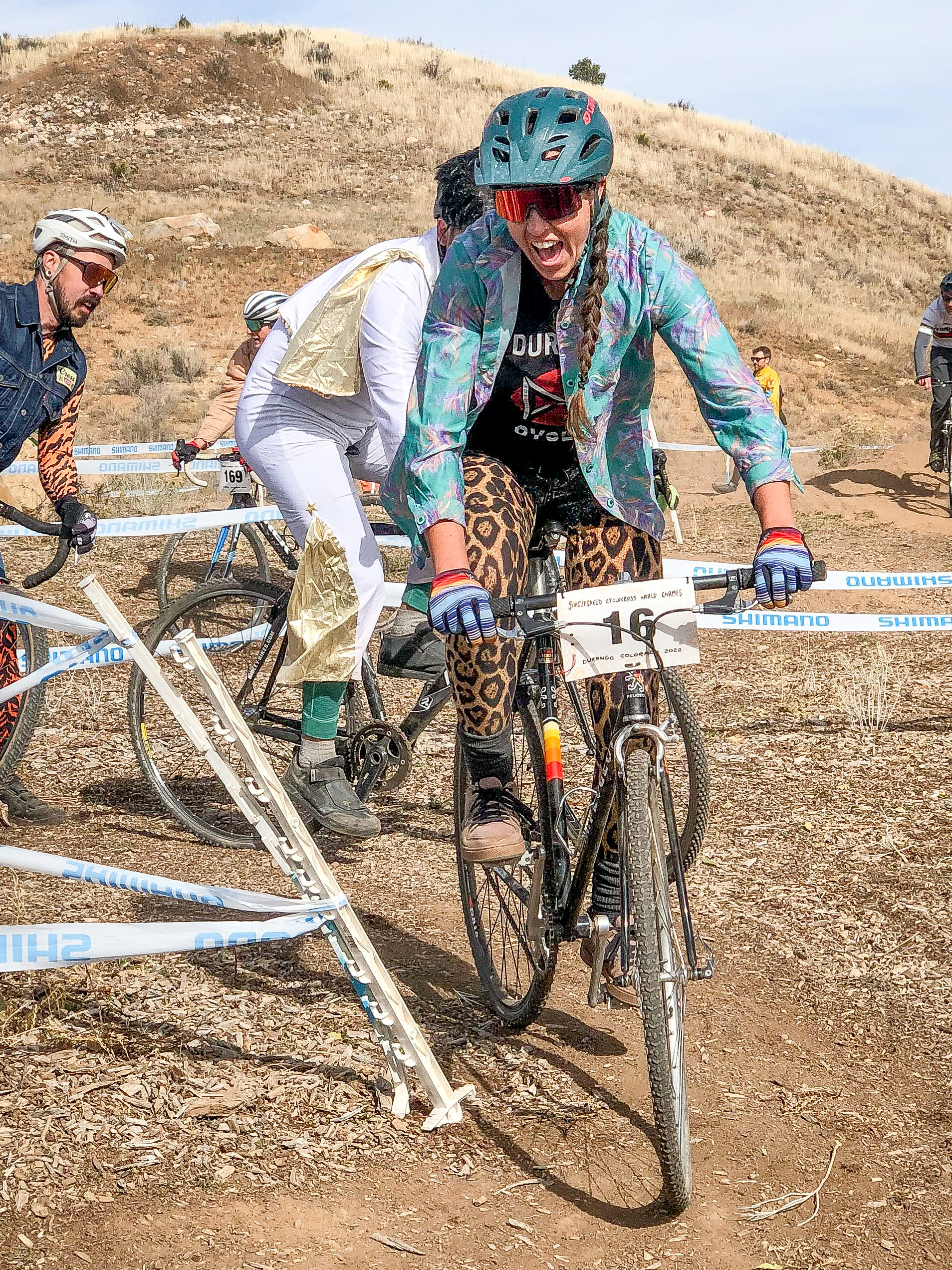 Jennaye Derge lives in Durango, Colorado. She is a writer, photographer, and author of How to Cry on Your Bicycle. She spends her time advocating for bicycles through her organization Bike Durango, and helps folks share their stories and love for bicycles in her sporadically published zine, Ride Your Bike!
When she isn't writing, advocating, or riding her bike around town, she is most likely mountain biking with her friends, skiing groomers or drinking coffee, reading a book, and snuggled up next to her dog, Calvin.