Cannondale Topstone loses 160g with new Lab71 edition
American bike brand gives its flagship gravel bike the high-end carbon treatment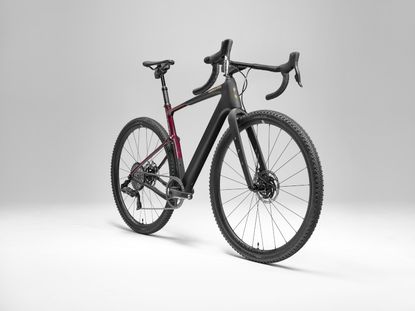 (Image credit: Cannondale)
Cannondale has shaved 160g off the weight of its flagship gravel bike the Topstone in a new Lab71 edition.
The American bike brand started its Lab71 line earlier this year with its new Supersix Evo 4 road bike. Lab71 is the top of the range, boundary pushing line of bikes with its best and lightest carbon lay-up.
Now it's given that treatment to the Topstone. With the new carbon lay-up Cannondale says the bike has lost 160g in frame weight. That brings the frame in at a weight of 900g once painted, a figure that would be highly desirable on most road bikes and is rare on even the best gravel bikes.
Like the standard model this iteration of the gravel bike comes with Cannondale's Kingpin mini-rear suspension coupling that allows the back wheel to flex by up to 30mm. That system itself lost around 100g of weight when the bike was given a refresh last year.
The geometry of the frame is also identical to the current Topstone Carbon, which should serve to preserve the confidence inspiring handling that this iteration of the bike has been known for.
You can also, as seen in the build pics from Cannondale, fit this frame with a dropper seatpost should you be keen to ghetto onto some particularly technical terrain.
The Lab71 frame is only being sold as a frameset (Cannondale, quite reasonably, arguing that there is so much diversity in gravel set-ups that anyone buying a high end bike will likely have their own preferences) and will cost £3,000 in the UK, $4,500 in the US and $4,999 in Australia.
The current top of the range Topstone is £8,000 for a complete bike with a Shimano GRX RX825 Di2 groupset and HollowGram G-SL 27 Carbon wheels.
That also comes with Cannondales Smartsense lighting and rear radar system, which adjusts its brightness depending on the conditions.
The Lab71 model doesn't come with Smartsense but is fully compatible with the system should you wish to fit it later or when you're doing your build.
Being the most exclusive of Cannondale's bikes the Lab71 models are only current available from six outlets in the UK. They are: Sigma Sports (London and Oakham) Strype Cycles (London), Epic Cycles (Ludlow), Tredz (Cardiff and Swansea), Cycle Revolution (Colchester) and Wheelbase Cycles (Coventry)
Thank you for reading 20 articles this month* Join now for unlimited access
Enjoy your first month for just £1 / $1 / €1
*Read 5 free articles per month without a subscription
Join now for unlimited access
Try first month for just £1 / $1 / €1