Classic Bike: Colnago Arabesque - a model reborn after a factory basement find
This Colnago Arabesque is a big bike – and it has a big place in Colnago's history.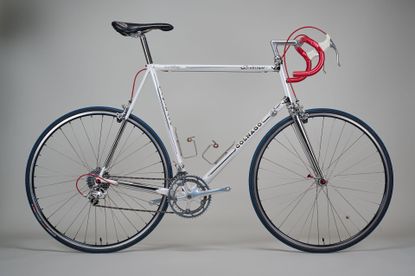 (Image credit: Future)
With the news that a special gold and diamond embellished Colnago C68 has just sold for a record $133,000 dollars it feels like the prefect time to introduce the first entry in in our new Classic Bike feature - this statuesque Colnago Arabesque
Before the storied Italian brand started its numerical system that celebrated the number of years since Ernesto Colnago founded it in 1954 – the C40 in 1994, for example – there were special bikes designed to commemorate the anniversary. One of these legendary machines was the Arabesque, unveiled in the 30th year since Colnago's father symbolically felled a mulberry tree on their land to make Ernesto his first workbench.
In contrast with the rustic workbench, the Arabesque was flamboyant and ornate, drawing inspiration for its unique decorative lugs from the intertwined tendrils that are a feature of Islamic art. These were chromed and polished to a high sheen, and the effect was stunning.
Colnago was already using profiled tubing, which he claimed was stiffer than traditional round tubing, and over the course of the Arabesque's original production run, it borrowed tubes from the other frames such as the Nuovo Mexico, and later the Master.
The original Eighties Arabesques are collectible and treasured, but Colnago claimed to have discovered a forgotten hoard of Arabesque lugs in the factory basement in 2015 and restarted production using new Master tubing since the Master was – and still is – a current model.
The Arabesque that we photographed at Golden Age Cycles is slightly baffling: it looks more than eight years old yet has the straight Precisa fork of the modern version rather than the curved blades of the Eighties bike. It also has its rear brake cable guides underneath rather than on top of the top tube.
The curling spearpoint lugs of course are the same, and that's what makes the Colnago Arabesque an enduring icon. Colnago calls this bike "a timeless jewel of timeless style" and that's exactly what it is.
Thank you for reading 10 articles this month* Join now for unlimited access
Enjoy your first month for just £1 / $1 / €1
*Read 5 free articles per month without a subscription
Join now for unlimited access
Try first month for just £1 / $1 / €1
Simon Smythe is a hugely experienced cycling tech writer, who has been writing for Cycling Weekly since 2003. Until recently he was our senior tech writer. In his cycling career Simon has mostly focused on time trialling with a national medal, a few open wins and his club's 30-mile record in his palmares. These days he spends most of his time testing road bikes, or on a tandem doing the school run with his younger son.