Most expensive Colnago ever sells at auction for $133,000 - gold and diamonds don't come cheap
Numbered 1 of 50, the Giro-inspired Gioiello road bike includes handcrafted diamond and gold detailing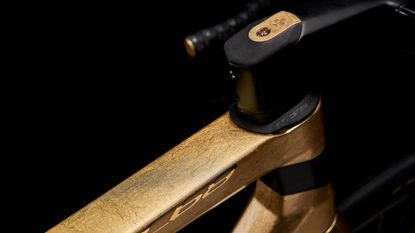 (Image credit: Colnago)
A Colnago Gioiello road bike has sold at auction for 120,650 CHF, approximately $133,000 or £107,000, making it the most expensive Colnago ever sold.
The Gioiello, 'jewel' in English, is based around a gold leaf decorated C68 frameset, and created to celebrate this year's Giro d'Italia, with only 50 bikes made.
The record-selling bike, which was sold as part of Sotheby's Geneva Luxury Week, was 'Numero 1' and unlike the other 49 frames is embellished at the top of the steering tube with an 18ct gold artifact complete with a 2.03 ct diamond embedded inside.
Made by expert goldsmith Simonetta Moretto, the gold artifact serves as a housing for the stone, which was bezel mounted before being flattened and filed by hand to ensure a perfect fit inside the bike's steering cap. To complete the job, it features a laser engraved Colnago 'ace of clubs' logo.
However, it's not the only pure gold detail on the bike - there are 24ct gold 'Ace of Club' symbols on both the front tube and the seat post joint, again made in the goldsmith's workshop.
Like the other numbered Gioiellos, the 'Numero 1' features a Trofeo Senza Fine - the trophy awarded to the winner of the Giro - inspired bottle cage as well as special edition Pirelli P Zero tires, CeramicSpeed OSPW pulley wheel and Selle Italia saddle, all featuring gold detailing. The other 49 bikes, however, are available for less - although at €22,000 we're not talking bargain buys.
For more information visit Colnago's dedicated Gioiello Numero 1 website, but if you can't stretch to $135,000 there's currently an original Brompton on the market for £25,000/$31,000!
Thank you for reading 20 articles this month* Join now for unlimited access
Enjoy your first month for just £1 / $1 / €1
*Read 5 free articles per month without a subscription
Join now for unlimited access
Try first month for just £1 / $1 / €1