Felt provides a sneak preview of updated VR and FR road bikes
Due to be announced at EuroBike, the revamped models now feature integrated cockpits and new tube shapes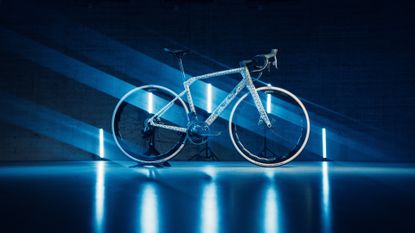 (Image credit: Felt)
Felt will announce two new road bikes at this year's EuroBike Frankfurt but has teased a few details ahead of the show.
The new VR and FR are updates to existing models. Details are scant and in the images released Felt have covered both framesets in logos to help disguise them somewhat. However, despite the minor subterfuge we can ascertain a few things.
Like the outgoing models, the refreshed FR platform is Felt's all-round race bike. Accompanied by teaser images featuring the taglines 'climbing faster' and 'Felt is Fast', it's described as being engineered for "lightweight climbing races and unrivaled speed".
Felt references the "aero-optimized design", although from the images available the tube profiles look fairly similar to the existing model. This means refined aero shapes rather than deep section offerings you'd expect on an out-and-out aero bike, such as the US brand's dedicated aero machine, the AR.
The cockpit has had a major overhaul though. Gone is the external cable routing and traditional bar and stem. In its place is an integrated set up and an aero bar - both of which should help save a few watts.
While there's likely to be at least two available models to match the current offering, Felt talks up a "super lightweight" version, with a frame that has a claimed weight of under 700 grams - although this won't be available until 2024.
As for the bike in the teaser images, it's dressed in SRAM Red AXS, Zipp 353 NSW wheels and Vittoria tires.
The VR is Felt's endurance road bike. This latest iteration has a few notable changes from the outgoing model. The frame has new tube shapes, with the down tube in particular much squarer in profile. The seat stays are now dropped, which should help the VR's 'smooth is fast' tagline to ring true on the road. There's also "an innovative device in the seat tube to tackle high-frequency vibrations". From the pictures the bike appears to be equipped with a traditional round seat post and it's the seat clamp area that looks to be where the trickery is hidden - a decoupler of sorts, perhaps?
Comfort is likely enhanced by increased clearances too - Felt says the new VR has room for 38mm tires, which should also pique the interest of gravel racers.
Like the revamped FR, the new VR now features an integrated front end. In the teaser images there's a pair of Zipp aero bars and what looks like a Deda stem, although we have no official specifications available to clarify this. Again, it's equipped with SRAm Red AXS, Zipp wheels and Vittoria tires.
Both models are slated for an early 2024 release and we'll provide an update once they have officially been launched later this week.
Thank you for reading 20 articles this month* Join now for unlimited access
Enjoy your first month for just £1 / $1 / €1
*Read 5 free articles per month without a subscription
Join now for unlimited access
Try first month for just £1 / $1 / €1