Fizik launches Decos road shoes designed for 'gran fondos and beyond'
With a minimalist design and one signal Boa dial, Fizik is pitching these shoes as an all-day, everyday set of kicks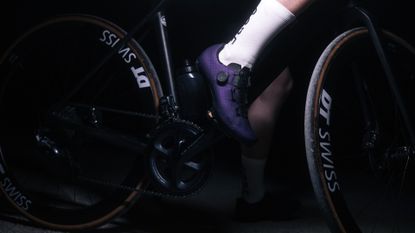 (Image credit: Fizik)
If you feel like you've heard a lot from Fizik lately, you're not wrong. The Italian brand has been on a launching spree – there's been all-day gravel shoes, performance gravel shoes, 3D printed saddles and super lightweight ones, too.
Now, we're being introduced to the Tempo Decos, a set of high-performance all-rounder road shoes that Fizik is billing as being suited for big mountain days and gran fondos – essentially a set of race shoes that have been given a bit of an endurance tweak.
Despite the retention system employing only a single Boa dial, Fizik claims that the asymmetrical closure still provides a "clean, hotspot-free and uncompromising ergonomic fit", and doesn't require any additional fasteners for more targeted tensioning down the length of the foot.
With that one dial, Fizik points out that adjustments to the binding tension are that bit quicker and easier to make – especially as the Li2 dials allow for both tightening and loosening in millimetre increments.
The carbon sole is Fizik's R2 model with a stiffness index rating of 10, which is as high as Fizik's scale goes. It's the same rating as bestowed upon the top-end race shoes – although the Tempo Decos might be intended for bigger riding days, it's clear where their lineage is and it's not ultra-endurance.
In line with more modern, aggressively rearward cleat positioning, Fizik has moved the mounting points a little further toward the heel to help "optimise pedalling efficiency", whilst a vented inlet and internal channelling help to provide airflow around the foot.
The Tempo Decos will be available in four colours: Black/Black, White, Aubergine/Black & Iridescent, as well as in a Wide Fit from all Fizik stockists. Pricing stands at $299.99 / €290 / £279 and you can read more on Fizik's website (opens in new tab) here. We've got a set in to test, so stay tuned for our review.
Thank you for reading 5 articles this month* Join now for unlimited access
Enjoy your first month for just £1 / $1 / €1
*Read 5 free articles per month without a subscription
Join now for unlimited access
Try first month for just £1 / $1 / €1
Starting off riding mountain bikes on the South Downs way, he soon made the switch the road cycling. Now, he's come full circle and is back out on the trails, although the flat bars have been swapped for the curly ones of a gravel bike.
Always looking for the next challenge, he's Everested in under 12 hours (opens in new tab) and ridden the South Downs Double in sub 20 (opens in new tab). Although dabbling in racing off-road, on-road and virtually (opens in new tab), to date his only significant achievement has been winning the National Single-Speed Cross-Country Mountain Bike Championships in 2019.
Height: 177cm
Weight: 67–69kg