How is Campagnolo down to one team in the WorldTour, why does SRAM supply seven women's teams and what does Shimano pay Ineos? We asked the questions…
We take a look at the shifting fortunes of the groupset manufacturers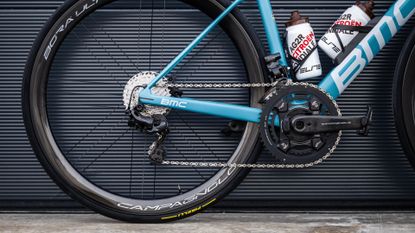 (Image credit: BMC)
Get The Leadout Newsletter
The latest race content, interviews, features, reviews and expert buying guides, direct to your inbox!
Thank you for signing up to The Pick. You will receive a verification email shortly.
There was a problem. Please refresh the page and try again.
In 2023 just one WorldTour professional cycling team's bike's will be fitted with Campagnolo components - the BMCs of French team Ag2r-Citroën. Beautiful bikes though they are, it's hard not to look at them and wonder whether or not they're a dying breed.
In the women's WorldTour Campagnolo does not supply any teams at all.
SRAM equips three of the 18 men's WorldTour teams and seven of the 15 women's WorldTour teams, while the rest are on Shimano. However, as we'll see later, Shimano only actually sponsors nine teams, with the rest buying their own groupsets.
The number of Campagnolo-sponsored teams has been steadily dwindling over the last 10 years. It held steady at three in the men's WorldTour between 2015 and 2020 and was boosted temporarily to four in 2021 with the addition of Ag2r to Cofidis, Lotto and UAE.
Tadej Pogacar's wins on his Campagnolo Super Record EPS-equipped Colnago V3RS in 2020 and 2021 were a good reason to dust off the famous corkscrew at Vicenza after six years since the previous win (Vincenzo Nibali in 2014).
But 2022 saw Lotto move to Shimano and for the 2023 season both UAE and Cofidis will be on Dura-Ace.
For Campagnolo aficionados it's justifiably a cause for concern, especially if you compare the numbers even further back. Going back 20 years, we counted that Campagnolo supplied more teams in 2003's Tour de France than Shimano - 12 out of the total 22.
And of course the iconic Italian brand has many, many more Tour wins in its palmares than Shimano or SRAM. At last count it was 43 to Campagnolo, 11 to Shimano (Lance Armstrong's seven wins having been stripped from its total) and two to SRAM (Contador's 2010 win isn't included in the total, the one with the clenbuterol-contaminated steak).
So what's going on?
We asked Campagnolo. Has it become too expensive to sponsor a WorldTour team in the current economic climate? Is it now impossible for a relatively small Italian company to compete with the financial might of Shimano and the ever-expanding SRAM?
"Our racing strategy, in general, is to invest our energy and commitment with a selected number of partners aligned with our values and vision," says Alessandro Pace, Campagnolo product manager.
"This year we will focus our efforts with Ag2r with the aim to intensify continuous feedback for our product innovations."
What sort of economic pressures are making it more difficult for Campagnolo to compete with Shimano - or perhaps it doesn't even want to? Maybe sponsoring as many WorldTour teams as possible doesn't give it the best return for its money?
"It is part of our DNA to prioritise quality to quantity," says Pace.
"Campagnolo is at the roots of the WorldTour and we do think it is very important to continue writing the history of cycling together, but we want to focus our effort.
"By sponsoring a team we don't seek visibility per se, but we aim at providing the best possible components and support to compete at top level. We tend to value the relationship that derives from our choice more than spreading our logo wherever possible.!
With just one team on the roster, what are the implications for the next generation of Super Record/Record groupsets assuming they're arriving shortly.?
"Campagnolo will always make the top of the range products available to elite riders. Competing and winning at top level is in our DNA."
The brand's increased focus on gravel and investment in much smaller-scale, more agile projects such as supporting former road pro Nathan Haas in his gravel exploits have been noticeable this last year.
"We need to make sure we serve at best both market segments, road and gravel," responds Pace. "Marketing activities, collaborations, sponsorships are always set with the best effort to keep a beneficial balance.
"For sure you will see Campagnolo present with passion in all the relevant events."
Campagnolo supplied its 1x13 Ekar groupset and new Levante wheels for Haas's 2022 campaign. With the Australian rider's succession of gorgeously custom-painted Colnago G3-X bikes receiving a lot of media attention, including from us, this was certainly a clever and much cheaper way of gaining brand exposure.
Campagnolo teams in the WorldTour
2023 one (Ag2r)
2022 three (Ag2r, UAE and Cofidis)
2021 four (Agr2, Cofidis, Lotto, UAE)
2020 three (Cofidis, Lotto, UAE)
2019 three (Lotto, Movistar, UAE)
2018 three (Lotto, Movistar, UAE)
2017 three (Lotto Movistar UAE)
2016 three (Astana, Lotto, Movistar)
2015 three (Astana, Lotto Movistar)
2014 five (Ag2r, Astana, Europcar, Lotto, Movistar)
2013 five (Movistar, Astana, Lotto, Ag2r, Vacansoleil)
2003 twelve in the Tour de France (Bianchi, Saeco, Telekom, Lotto, Fassa Bortolo, ONCE, ibanesto.com, Cofidis, Alessio, Quick Step, Ag2r, Brioches La Boulangere)
Shimano: two-year commitments with nine teams
So how much does it cost a component manufacturer to sponsor a WorldTour team? That's not an easy one to answer, not only because they're unlikely to share that sort of information but also because they will have negotiated different deals with the various teams. Sometimes teams won't have negotiated deals at all and will buy their own groupsets.
Shimano told CW that neither Cofidis nor UAE, the two teams that have switched to Shimano from Campagnolo for 2023, are officially sponsored by Shimano. Instead, "they will have arranged purchase agreements through our local sales offices."
Further, Shimano told us, "agreements reached with the teams we do partner with are two-year commitments to provide a variety of components, be it Dura-Ace Di2 for the racing calendar or Ultegra for training and/or development team purposes, our wheels or other accessories via PRO Bikegear. Sometimes helmets through a partnership with our own brand, Lazer, are also negotiated into the agreement."
Shimano said the structures vary from team to team, so would not confirm actual figures.
Out of a total of 33 teams in the men's and women's WorldTours (18 men's, 15 women's) Shimano officially sponsors nine, and these are Alpecin-Deceuninck, Bora-Hansgrohe, FDJ-Suez-Futuroscope, Fenix-Deceuninck, Groupama FDJ, Ineos Grenadiers, Quick-Step Alpha Vinyl and men's and women's DSM teams.
Shimano lost one of its longest-running partnerships for 2023: Jumbo-Visma has been with Shimano since its inception in 1996 as Rabobank but, according to Dutch website wielerflits.nl, "after SRAM made an offer last summer to become Jumbo-Visma's new material sponsor, Shimano quickly indicated that this amount was too high for them for reasons of principle."
SRAM: three men's and seven women's WorldTour teams
In 2023 SRAM is sponsoring three teams in the men's WorldTour and no less than seven in the women's WorldTour, including those two Jumbo-Visma teams. That's more teams on its roster than Shimano - 10 compared to Shimano's nine.
We asked SRAM what makes it worth the money it costs to do that? Brand exposure, development of groupsets? Is it absolutely vital to sponsor professional cycling teams for SRAM?
"Racing has always been a part of SRAM since its founding," says Jason Phillips, SRAM's road racing director.
"Brand exposure and promotional opportunities are critical, we also worked very closely with all of our professional teams to develop new products and technology, and help them to be successful. Most importantly though, is that we want a personal relationship directly with the team and riders. We don't send boxes of parts to teams and that's it, we have an entire racing department working exclusively with them. This strong collaboration is actually the best testing that you can ever do. Athletes validate our products, and their feedback allows us to improve not only the race products but also the customer products in the end. It's a super valuable tool for us to develop our components."
Why does SRAM sponsor so many more women's teams than men's teams? Is this a deliberate decision/policy?
"Although SRAM is committed to supporting women's cycling, I'm not sure the intention was deliberate, we were just presented with unbelievable opportunities to sponsor some of the best women's teams in the world," says Phillips, "and we took advantage of it. All of these teams are incredible to work with, they provide amazing feedback on products, and they just win!"
So how many groupsets does a SRAM-sponsored pro team need at the moment?
"Our pro teams get a range of products, depending on their size and needs, it can start from a couple dozen to more than a couple hundred groupsets for a whole team."
We asked if the number of groupsets differs between men's and women's teams.
"It varies depending on the size of the team," was Phillips's answer.
And finally… we've learnt not to expect an answer to this question but asked anyway. How much does it cost to sponsor a WorldTour team?
"We would prefer not to comment."
How much does it cost to be a component sponsor?
Back to speculating about how much it costs a component brand to sponsor a WorldTour team.
The closest we can get to finding out how much money and how many groupsets change hands is to have a look at the public accounts of a top pro team. In the days when Team Sky's accounts on Companies House broke down the various sources of revenue, in 2017 its "performance sponsorship and other income" was £6,704,000. This will be money from the bike, equipment, clothing and any other secondary sponsors or partners, which will mostly likely include component sponsor Shimano.
That year Team Sky's budget was just under £34.5 million, meaning the rest of the revenue came from the title sponsor, Sky.
Ineos's budget is now over £50 million, but the separate sources of revenue are no longer listed and Tour Racing Ltd, the team's holding company, only lists "sponsorship revenue (£46.3 million in 2020) and "value in kind" (£3.7 million). The latter may cover equipment that given to the team such as the bikes and groupsets as opposed to sponsorship payments.
So the cost to a component brand could come to seven figures in sponsorship and 'in kind'. Although it's very difficult to find out exactly what sort of money Shimano, SRAM or Campagnolo need to sponsor and supply a WorldTour team, you can be sure it is a considerable outlay.
Thank you for reading 20 articles this month* Join now for unlimited access
Enjoy your first month for just £1 / $1 / €1
*Read 5 free articles per month without a subscription
Join now for unlimited access
Try first month for just £1 / $1 / €1
Get The Leadout Newsletter
The latest race content, interviews, features, reviews and expert buying guides, direct to your inbox!
Simon Smythe is a hugely experienced cycling tech writer, who has been writing for Cycling Weekly since 2003. Until recently he was our senior tech writer. In his cycling career Simon has mostly focused on time trialling with a national medal, a few open wins and his club's 30-mile record in his palmares. These days he spends most of his time testing road bikes, or on a tandem doing the school run with his younger son.