New Cofidis Look prototype bikes photographed in full race setup at the Saudi Tour
Exclusive pictures of the unreleased prototype that Max Walscheid rode to a podium place on stage one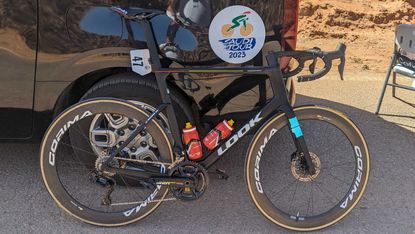 (Image credit: Adam Becket)
Look's new aero-all-rounder - still officially unnamed but which we think will be called the 795 RS - is something of an open secret, but a closely guarded one.
The Cofidis team teased it via their Instagram and almost all the cycling media have speculated not only about what it might be called, but where it will sit in the French brand's lineup, whether it is a third bike Cofidis will use alongside the 785 Huez and 795 Blade… and we still don't have any actual details about the bike itself.
All we've had from Look is that it's one of "several future bike platforms" it has developed with Cofidis to "help them on their quest for victories at the highest level".
However, Cycling Weekly's Adam Becket has photographed the bikes of Max Walscheid (number 47) and Eddy Fine (number 44) at the Saudi Tour, where the Look prototype is again being used.
Walscheid gave the Look bike another podium finish on stage one, where the 6ft 6in German sprinted to third place behind Dylan Groenewegen and Serbian champion Dusan Rajovic.
Bryan Coquard won stage four of the Tour Down Under in January to deliver the first win on the new machine.
And Simone Consonni won the final stage of the Saudi Tour.
So now we've established that it's stiff enough for a giant German powerhouse sprinter. And the stage that Consonni won included a gravel sector.
We've already noted that the tubes are aero-optimized without going as deep as those of the 795 Blade or the other dedicated aero bikes. The head tube is still deep, there's an aero D-shaped seatpost, a seat tube cutout that closes off the gap to the rear tyre, and bladed, dropped seatstays.
The new bike seems to have fully confirmed its aero all-rounder credentials.
Cofidis have switched from Campagolo to Shimano this year, so we're looking at a full Dura-Ace 9200 groupset except for the chainset, which is an SRM Origin 9 power meter.
Walscheid's bike (above) is equipped with a 54/40 chainring setup on 172.5 cranks.
Corima continues as Look's wheel supplier, and continuing the French theme the team rides Michelin tyres. However, it's interesting to see both riders' bikes running Michelin Power Cup tubulars at the Saudi Tour, suggesting that not all pro riders and teams are adopting tubeless technology quite yet.
It can't be disputed that there's nothing quite like classic tanwall tubs to give a bike a pro racing aesthetic.
Stay tuned for the latest on the new Look.
Thank you for reading 20 articles this month* Join now for unlimited access
Enjoy your first month for just £1 / $1 / €1
*Read 5 free articles per month without a subscription
Join now for unlimited access
Try first month for just £1 / $1 / €1