New Dutch team TDT-Unibet unveils a Cannondale even louder than EF's
YouTuber's dream team is aiming to make a big yellow-and-pink splash in its first year of competition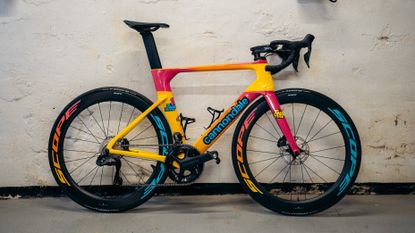 (Image credit: Tour de Tietema)
If you thought EF Education First-EasyPost's Cannondales pushed the limits of tastefulness last year with their purple/pink/hi-viz yellow fade and cartoon dragons, take a look at this.
New Dutch Continental team TDT-Unibet has taken team liveries arguably beyond the realm of common decency with this retina-searingly garish scheme.
The team will race on Cannondale's SystemSix Hi-MOD with Shimano Ultegra Di2 12-speed groupsets, while Dutch brand Scope Cycling supplies the 57mm deep R5 wheels with colour-matched logos.
The team's founder Bas Tietema is largely unknown outside of the Netherlands, where his YouTube channel, Tour de Tietema, has 152K subscribers. The 27-year-old, who had a promising U23 career, coming third in Paris-Roubaix espoirs in 2014 but then retiring in 2019, will come back as one of the team's riders along with British former WorldTour rider Harry Tanfield, who joins after the collapse of Ribble Weldtite last year.
Tietema's YouTube channel humorously documents the team's inception and the headaches he encountered pulling it all together, including the sponsor meetings and the closing of the deal with the sponsor, explaining how although TDT-Unibet will start at the third-tier Continental level, with races mainly in Belgium and the Netherlands, he plans to move up to the ProTour and then the WorldTour.
"We want to keep turning the cycling world upside down," he claims. "We are going to take the viewers into this adventure."
Image 1 of 3
Tietema slightly forlornly admits to the camera - from his bike - that "I must say the past few weeks, with setting up everything, the sporting side and also the sponsor meetings, it is quite difficult to ride a lot. I can't manage to do 20 or 25 hours of riding right now."
Tietema's sidekick Devin van der Wiel says: "Bas will ride for the team but that does not mean we are going to build the team around Bas. We are mainly looking for very talented riders who can form a strong collective with him."
Despite their self-confessed fumbling, the team signed Dutch national track coach Hugo Haak as their directeur sportif.
And with Unibet on board, an uncharacteristically polished press release appeared at the end of last year.
"We are extremely proud to work together with Tour de Tietema," said Lennart Kessels, General Manager of Kindred Group in the Netherlands [owner of Unibet]. "Their dedication combined with their boldness to do things differently is a big inspiration.
"It's an honour to help make their long-lived dream to start a cycling team a reality. Besides, the cycling world is not new to us as Unibet previously sponsored a cycling team back in 2006 and 2007. We are therefore convinced that we can fuel the ambitions of this new cycling team."
And in the press release Tietema himself said: "We are delighted to have Unibet as our main sponsor. With Unibet, we have found a partner who has great confidence in our vision and supports us in our dream of turning the cycling world upside down with an innovative approach.
"In addition, Unibet allows us to keep our own TDT brand identity which is unique in the cycling world. With the TDT-Unibet Cycling Team, we hope to show sports enthusiasts the beauty of cycling sports. We are excited to start our journey with Unibet and for the future ahead."
However, it's not just the paint schemes of the bikes that will raise eyebrows: Dutch economy and business newspaper Het Financieele Dagblad claimed that sports sponsorship for online games of chance along with 'untargeted advertising' will be prohibited by the end of 2025 in the Netherlands.
The country's Minister for Legal Protection, Franc Weerwind, reportedly said: "Advertising is a means to lead people to the legal offer, but the importance of addiction prevention outweighs. With this I want to protect especially vulnerable groups such as young people."
All of which means that Tietema might need to hurry up if he's to achieve his dream - with the same sponsor at least.
Thank you for reading 20 articles this month* Join now for unlimited access
Enjoy your first month for just £1 / $1 / €1
*Read 5 free articles per month without a subscription
Join now for unlimited access
Try first month for just £1 / $1 / €1