Radical split seatposts could become 'normal' as designers hunt for aero gains
New dual designs are cropping up on track bikes. Could we see them on the road soon?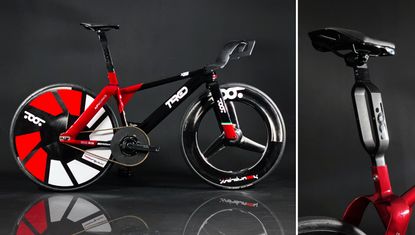 (Image credit: TRed/TOOT)
Radical new split seatposts are sparking a revolution in the way bikes are designed.
Cycling Weekly spotted a brand new product last week that is said to reduce drag "considerably" for riders.
TOOT Engineering's 'double diapason' seatpost might resemble a Dyson air fan to the uninitiated, but could mark the latest advance in aerodynamic gains - an area where, as we reported earlier this week, improvements are becoming hard to find.
The seatpost was used for the first time last Friday, ridden by American track cyclist Gavin Hoover in a behind-closed-doors points race at the UCI Track Champions League. Hoover trialled it on an outlandish-looking TRed X23 track bike, first unveiled at the UCI World Championships in August.
Speaking to Cycling Weekly, TOOT's head of design, Romolo Stanco, said the seatpost's geometry enhances aerodynamics, stability and control.
"A more sophisticated aerodynamic flow management can produce greater advantages in high and constant speed disciplines such as TT and team pursuit or where the athlete intends to be exposed to clean air for a long time, for example on a breakaway," Stanco said.
"In this case our simulations indicated that an acceleration of the air flow under the athlete's body decreases the aerodynamic pressure and reduces drag considerably."
Stanco highlighted, however, that the design offers little advantage in bunch events.
"In mass start competitions, it is difficult to precisely define the simulations of the angles of incidence of the airflow on the body and on the surfaces," he explained. "Furthermore the speeds are at most around 60km/h and the flow is contaminated by the presence of other athletes."
The blades on the split 'diapason' design are 10mm thick and made of 3D-printed steel. The head of the post is titanium.
"The choice to use different materials is a consequence of dynamic and deformation calculations aimed at maximising traction and the transfer of mechanical loads to the rear wheel," Stanco said.
He added that the split design makes it possible to "optimise the load transfers both during pushing and cornering, significantly increasing the stability and control of the bike."
Are split seatposts the future?
TOOT's design bears a similarity to that on the newest model of Team GB's Hope Lotus bike, which features a 3D-printed split seatpost, made by Renishaw.
At August's World Championships in Glasgow, Cycling Weekly also spotted a dual design on the French team's new Look P24.
My view - CW tech writer Joe Baker
Inevitably, as cycling is brought up to date with modern technology, we end up scraping the ever emptying barrel of aerodynamic gains. That said, in the words of renowned Drag2Zero aerodynamicist Simon Smart, "there is always more to do".
For me, the split seatpost design seems like a bit of a no brainer. From a materials science point of view, it's pretty straightforward as the seatpost isn't a component subject to large oblique forces unlike the bottom bracket, for example. The gains are likely marginal like most non-position optimisations these days, but for those driven by performance, it's hard to see a real downside.
That said, I don't think they will catch on too quickly, at least on the road, and that comes purely down to aesthetics. Bikes are still made for the mass market and a split seatpost won't necessarily be easy to sell, even if it is faster.
The caveat to all this, though, is that I do think they will start to fizzle in to the world of time trialling in the next year, where performance is more widely accepted as the top priority.
According to aerodynamics expert and former time trial champion Dr Michael Hutchinson, the split design "makes sense".
"I assume the logic of it is clearly that, between a rider's thighs, there's some airflow," he said. "The idea is to take the seat pin out of the way since that's the only thing that's in there, so whatever air is flowing through gets a fairly unobstructed run out.
"Intuitively, I would think the biggest advantage is going to be found in a solo breakaway in a scratch race or a points race on a drop bar bike, but in clean airflow."
Asked if he thinks split designs could now become the norm, Dr Hutchinson said: "Why not? It's not structurally massively difficult to do, so it's perfectly possible it could become a fairly normal feature."
Unlike the Hope and Look bikes, TOOT's seatpost has not been homologated by the UCI, and will therefore not be available for use in the 2024 Paris Olympics. A patent, however, is pending on the design.
Thank you for reading 20 articles this month* Join now for unlimited access
Enjoy your first month for just £1 / $1 / €1
*Read 5 free articles per month without a subscription
Join now for unlimited access
Try first month for just £1 / $1 / €1