Can bikes actually get any more aero, or is the arms race over?
Have we reached the end of the aero arms race? And if so, where will future advantages be found?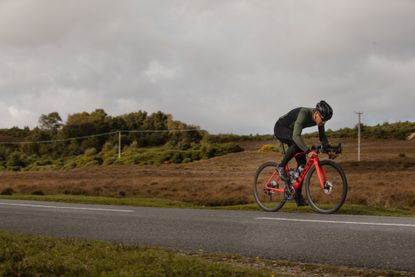 (Image credit: Future)
It will come as no surprise to anyone to read that huge leaps forward have been made in aerodynamics throughout the bike industry over the last 15 years or so. But like all good things, at some point they must come to an end.
'Aero' has been the buzzword for those who design and build road bikes for over a decade, but after an initial divergence that saw bike manufacturers offer an aero bike alongside a climbing bike at the top of their ranges, we're now seeing a subtle shift back to a singular headline 'all-round' race bike. One that remains 'slippery' through the air but also keeps weight at a minimum and doesn't compromise ride feel. This begs the question, is the road bike aero arms race coming to an end?
Leading aerodynamics expert Simon Smart told us that he definitely thinks the aero boom is over. After a long stint in the Formula One industry, Smart saw a gap in the cycling market in 2007 when he set up Drag 2 Zero. His company focused on offering aero fitting in a wind tunnel, predominantly to time trialists, and also developed hardware alongside it.
At first it wasn't an easy process to educate the market. "There was a resistance to aero products," Smart told us, "because back then you were paying more for a compromise.
"Not only did you have to convince people that aerodynamics mattered, but on top of that you had to convince them to make a choice [between aero and lightweight]."
Over the last 15 years, and led by the aerodynamic expertise in the UK, much of the low hanging fruit has been picked, with cables hidden, bars narrowed and frame tube shapes engineered to make bikes faster. Smart admitted that after the release of the Scott Foil RC, a bike he was heavily involved in developing, he "took a long time wondering what we would do differently next."
Current-day aero bikes, even visually, are a world apart from technology from just five years ago with fully internal cables and integrated components now the norm. But these clean, flowing lines developed through that focus on aerodynamics have now been adopted by all range topping bikes, as have truncated tubes, narrower bars and dropped seat stays. Even the weight difference between aero bikes and lightweight bikes is in most cases less than 200 grams. Factor's Ostro VAM aero frame is just 80 grams more than Giants 'non aero' TCR frame
While Trek, Cervelo, Scott and others still have their aero frames in the WorldTour, Specialized discontinued the Venge in 2020 with the Tarmac (now in the SL8 form) - that can be built to 6.6kg in a size 56cm - said to be as aero as the Venge. Could we see others follow suit and start looking in other areas for their gains?
Rob Gitelis CEO of Factor Bikes, told us how they are turning to ever more powerful software although he does believe aero gains are still possible.
Computational Fluid Dynamics (CFD) has been a huge technological advancement over the last 10 years, and the constant push for more computing power means the industry will be more and more reliant on it in the future. Instead of taking a production sample or model to a wind tunnel before rebuilding it having seen the results, engineers can run ever more advanced real world simulations, when before it perhaps wasn't very 'real' at all.
Factor's CFD analysis is able to look at airflow across their frames taking into account the effect of both moving legs and moving wheels, something that would not have been possible just a few years ago.
"Running CFD used to cost hundreds of thousands of dollars." Gitelis explained. "Whereas now you can outsource your computing power at a much lower cost. I know that Cervelo, for example, used to spend around $1.5 million a year just on computational time, and just five or six years later that same $1.5 million [of work] you can accomplish for $12,000."
I think what we have done is separated the men from the boys in terms of who has the technique and the staff to be able to push the envelope."
Smart sees this development in technology as a defining factor. After an advance in tech the industry has to catch up, this then results in development of products slowing down. "It's the same in Formula One." Smart said. "With aerodynamics, you are forever investing in the tool before investing in the improvements", so with the bike industry now closer to the forefront of design, brands have to [find new] cutting-edge technology to stay ahead, not just use what is already out there." More powerful software may make things cheaper, but will it results in more gains, and make bikes faster?
Gitelis unsurprisingly showed total confidence in what was to come, telling us; "the next bike we release will have a significant improvement" over its current Ostro VAM aero bike. The main facilitator for this, he explained "Is because we can afford to do the work now, and we have the know-how and the people".
It's no surprise a bike brand is excited about their next new bike. But as always the marketing and promotion of these improvements need to be taken in context. Smart says that a bike alone accounts for "anywhere between a third and a quarter of the aerodynamic drag" of the whole system. So a three percent gain on a frameset becomes a one percent net system gain. Potentially race winning at the top of the sport, but irrelevant if riding with a jersey that's one size too big for you.
Maurizio Bellin, Chief of Operations at Pinarello whose range topping Dogma frame has remained largely unchanged over the last ten years, told us that "there are no big gaps in terms of aerodynamics" among bikes at the top of the industry. He instead hinted that the industry's focus is on the move, telling us "this brings us to the last frontier, the last step of the innovation which is the stiffness".
This lines up with what we heard from the engineers at Specialized. It was abundantly clear that beyond designing a lighter frameset for their new Tarmac SL8, they were most proud of the increases in stiffness they had managed to find.
Is the 'aero boom' over, then?
But does all this mean that bike aerodynamics is going to be disregarded? Not really, but it certainly changes the way we view aerodynamics. Back to that original point - "the aero boom is over". In terms of education, both from the industry and the consumer, absolutely, but that doesn't mean bikes will stop getting more aero.
"Bikes are getting really good now aren't they!" Smart said, "I often liken bikes to cars these days. No one ever talks about the CdA of new cars, but they are all doing the work - it just goes without saying." Smart's philosophy is that we should look at wind resistance, just like we look at gravity - it exists, and it is a challenge, and the best products will be the ones who best tackle all the challenges.
So while the drive for improved aerodynamics continues, the steepest section of the development curve is certainly passed. Bike brands will undoubtedly have to continue to use cutting edge technology to remain at the top of the industry, but the easy wins are long gone.
Pro riders aren't don't always use the fastest tech
At the top of the sport, every second counts and every saved watt could make the difference between winning and losing. However, despite brands investing millions of pounds into marginal gains, some professionals remain stubborn on kit choices, as Alex Dowsett told us. "We know what we know with time trials, but [for some] it's almost like the minute you jump on a road bike all those gains are forgotten," he said.
The former Hour Record holder explained how communication with a former sprinter teammate of his became a little terse: "I said to him outright, 'if you aren't going to put this equipment on, I'm not going to lead you out.'" Dowsett said. "If you aren't willing to put on a skinsuit it tells me you aren't interested in winning this bike race".
Interestingly, Dowsett told us he wasn't aware of any road bike-specific aero testing in the World Tour on a team level either. "I would like to think the likes of Jumbo-Visma and Ineos have done [testing], but also I wouldn't be surprised if they haven't."
Considering a rider's body has a far greater effect on overall Cda than a bike, this lack of widespread testing is surprising, especially when you consider seismic gains that have been made in a time trial setting. In the end, Dowsett took matters into his own hands, testing both jersey and shorts and skinsuits in the wind tunnel. He came to the riders with a conclusion that over a 200m sprint at 70kph, the skinsuit would save one and a half meters in distance. "Then you see their eyes light up," he said, " because they have all lost races by a lot less".
Thank you for reading 20 articles this month* Join now for unlimited access
Enjoy your first month for just £1 / $1 / €1
*Read 5 free articles per month without a subscription
Join now for unlimited access
Try first month for just £1 / $1 / €1