Styling it out with Rigoberto Uran - how a pro puts on his Rapha team skinsuit
EF's 2023 kit isn't as funky as in previous years, but Rigo's moves more than make up for that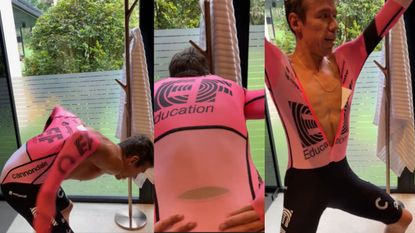 (Image credit: Rigoberto Uran)
Last week EF Education First-EasyPost revealed their 2023 kit via an official Rapha press release - but the team's veteran Colombian rider Rigoberto Uran has recorded his own launch story, posting a video on Twitter of the Travolta-like dance moves required to don the new team skinsuit.
Casi que no me entra listos para el 2023 pic.twitter.com/KnQnJBEO10January 7, 2023
See more
The 35-year-old, who postponed his retirement to spend one more year in the WorldTour with the American team - you might say his pro career is 'staying alive' - proved that he has the flexibility of a much younger man as he contorts his frame before exploding into a star jump in order to get the aerodynamic garment to seat correctly around his shoulders.
Next he demonstrates his superior grip strength - a well known biomarker of ageing - as he seizes the zip with his right hand and draws it up, closing a seemingly impossible gap on the front of his torso.
Many of the best skinsuits need a helper to minimise the risk of ripping, but Uran's dynamic movements prove that it is perfectly possible for an agile rider to accomplish the job solo.
That said, it's not a quick job. The video is 1:30 long and covers the top half only.
In the comments, the process is compared to "Gen X women trying to get our jeans on in the 80s" while others note that for them it's like getting into any cycling Lycra after Christmas.
"The opposite of trying to line an empty jar with cling film" Is another take on Uran's travails; "Simples, but now try and pin a number to your butt with no assistance" says another, sounding as if he's speaking from time trialling experience.
"F***ing hell" is another reaction, while there's also speculation about how easy a comfort break at the cafe stop might or might not be.
The team skinsuit isn't the consumer Rapha Pro Team Aerosuit, which the brand's website lists as "the trusted choice of EF Pro Cycling and its stable of Monument men and Grand Tour TT winners."
Rapha's Graham Hutson told CW that it's "Rapha's team-specific skinsuit that's not available to customers." Since as far as we know all clothing as well as equipment needs to be commercially available under UCI rules and regs, we wonder if Rapha might now find itself trying wriggle back out of this particular skinsuit. Unless it's launched at the same time as the commercial launch of the EF Education Easypost and EF Education-Tibco-SVB kit, which Rapha says will take place later in the spring of 2023. We've asked Rapha for clarification.
Uran, who is about to start his 18th season racing in Europe, has been with Jonathan Vaughters's EF team since 2016. He has finished in the top 10 of a Grand Tour every year since 2012 with the exception of 2015. At the Tour de France, he has won a stage and finished second on general classification. He has two stage wins at the Giro d'Italia and has twice finished second overall. In 2022 he won a stage at the Vuelta a España, completing his hat-trick of Grand Tour stage wins, and finished in the top 10 on GC.
Meanwhile, Rapha's partnership with EF Education EasyPost is now in its fifth year, and into the second year with the women's team EF Education-Tibco-SVB.
Thank you for reading 10 articles this month* Join now for unlimited access
Enjoy your first month for just £1 / $1 / €1
*Read 5 free articles per month without a subscription
Join now for unlimited access
Try first month for just £1 / $1 / €1
Simon Smythe is a hugely experienced cycling tech writer, who has been writing for Cycling Weekly since 2003. Until recently he was our senior tech writer. In his cycling career Simon has mostly focused on time trialling with a national medal, a few open wins and his club's 30-mile record in his palmares. These days he spends most of his time testing road bikes, or on a tandem doing the school run with his younger son.