Rotor's new 2INpower SL is the "lightest dual sided power meter ever"
Rotor claims to have won the light weight top trumps with its new 2INpower SL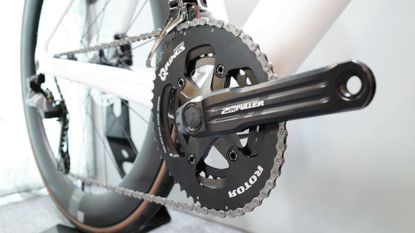 (Image credit: Rob Spedding)
Rotor is claiming to have won the game of power meter top trumps, with its new Rotor 2INpower SL. The new power meter is said to be the lightest dual sided power meter on the market, at 530 grams for a 170mm crank length - that's a huge 15 per cent weight saving on its predecessor. The new 2INpower SL will retail at $1,099/£860.
As well as a claimed accuracy of ±1.5 per cent, the new dual sided system is still compatible with a standard 110x4 bolt diameter circle, and can also be mated to direct mount 1x and 2x drivetrain setups. Other features include there being no need for rider calibration, as well as IP67 waterproofing certification - both of which will be great news for adventure riders.
Designing the lightest dual sided power meter ever
The weight saving, Rotor says, is thanks to use of aeronautical grade 7075-T6 aluminium, which has then been winnowed down by Rotor's 'Trinity Drilling System'. The process has allowed 66 grams to be shaved off, compared to the outgoing Rotor 2INpower DM road. When you add in chainrings, the system weight comes to a claimed 729 grams. For comparison, a Shimano Dura Ace R9100 power meter is claimed to weigh around 695 grams with 52/36t chainrings.
The Madrid-based brand is claiming that it is the "stiffest power meter" as well as the lightest - although we don't know whether that claim is in reference to previous Rotor products or the wider market.
The aforementioned IP67 certification covers the new power meter to be 'waterproof' and also offer "complete protection to against dust over extended time". Along with this, Rotor also claim the data readings from the 2INpower SL are accurate from temperatures from -20°C all the way up to +50°C - this certification is why riders should not need to calibrate the new power meter.
Rotor has also gone all out on battery design. The new 2INpower SL boasts a claimed 250 hours of ride time off a single three hour charge. That is 125 hours longer than Stages dual sided power meter, which does not feature a rechargeable battery.
The power meter is also equipped with Bluetooth and ANT+ compatibility so in theory, you could have your dual sided power data beamed straight to your Apple watch thanks to its new software - but most of us will probably stick to bike computers.
Tracking independent left/right measurements
True independent dual sided power meters, like the Rotor 2INpower SL have two strain gauges that allow for separate measurement of left and right leg inputs. This can be useful to build a picture of an athletes power imbalances, and build a truer profile of how athletes put out power during a pedal revolution.
That said, many of the best power meters on the market are still single sided such as the 4iiii precision power meter, while others like the Quarq DZero feature software that can estimate imbalances from its chainring spider measurements.
To empower riders to gain a better understanding of their riding style, Rotor's 2INpower SL is compatible with a software app which offers personalized data and graphs along with in-depth analysis. This data can then be used to influence training.
Swipe to scroll horizontally
Rotor 2INpower SL specification

| | |
| --- | --- |
| Price | $1,099/£860 |
| Claimed weight | 530 grams (170mm cranks, without chainrings) |
| Claimed accuracy | ±1.5 percent |
| Available crank lengths | 165mm, 170mm, 172.5mm and 175mm |
| Water proof rating | IP67 |
| Battery life | 250 hours (rechargable) |
| Connectivity | ANT+, Bluetooth |
Thank you for reading 20 articles this month* Join now for unlimited access
Enjoy your first month for just £1 / $1 / €1
*Read 5 free articles per month without a subscription
Join now for unlimited access
Try first month for just £1 / $1 / €1