Stages's new dual sided and right side only power meters hit the market
Stages Cycling's latest power meters debuted at Eurobike are now available to buy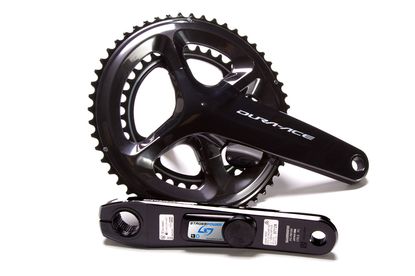 We first caught sight of Stages' new power meters at Eurobike and now the company has brought its new dual sided and right side only models to market as well as updating its original left hand side model.
We'll begin with the new Stages LR power meter, which is the company's first dual sided meter. The company claims, when partnered with Stages' ecosystem, it provides cyclists with the most advanced data.
As well as both left and right measurements, the meter provides pedal smoothness data and Torque efficiency metrics.
Stages claims that it's accurate within +/-1.5% and has a waterproof rating of IPX7. Its battery life is a supposedly 175+ hours and the battery is a replaceable 2032 coin cell battery.
Stages says that this is the exact model tried and tested by Team Sky, and that in its two year development it won both the 2016 and 2017 Tour de France.
The new Stages Power R is the company's first ever right-sided power meter, created to fit aero bikes which might struggle with left hand side clearance. Stages says that you can also pair it with either a Stages Power second generation power meter or the new Stages Power L and turn them into dual sided models.
http://www.youtube.com/watch?v=V46I1SwOZqc
The model comes with the same +/-1.5% accuracy rating, water rating and battery as the dual sided model.
Stages has also updated the original Stages Power meter. It's now the Stages Power L, in its third generation form, and can partner with the right sided model to provide dual data.
As well as the above, all the models come with upgrades including new accelerometers, more accurate strain gauges, and an LED indicator on the left arm indicating when the unit is in operation, although Stages says more features are to follow.
Prices and weights:
Stages Power LR – adds 35g weight, Dura-Ace 9100 model £1199, Ultegra R8000 £949
Stages Power R – adds 20g weight, Dura-Ace 9100 model £749, Ultegra R8000 £649
Stages Power L – Dura-Ace 9100 £649, Ultegra R8000 £549, 105 £449
Thank you for reading 10 articles this month* Join now for unlimited access
Enjoy your first month for just £1 / $1 / €1
*Read 5 free articles per month without a subscription
Join now for unlimited access
Try first month for just £1 / $1 / €1