Shimano Cues: all-new 'ecosystem' to replace every groupset below 105
Phase one focuses on flat bar hybrids and e-bikes with interchangeable components across nine, 10 and 11-speeds; road components to follow at some point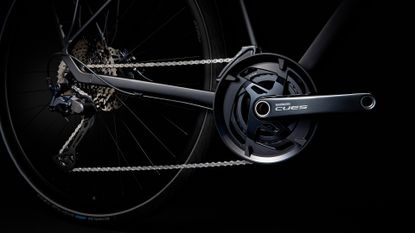 (Image credit: Shimano)
Get The Leadout Newsletter
The latest race content, interviews, features, reviews and expert buying guides, direct to your inbox!
Thank you for signing up to The Pick. You will receive a verification email shortly.
There was a problem. Please refresh the page and try again.
Shimano is replacing its entire mid range, in both road and mountain groupsets, with a single ecosystem called Cues that will include nine, 10 and 11-speed interchangeable components.
This means the end of Tiagra, Sora or Claris. And in mtb groupsets, Deore, Alivio, Acera and Altus are all to be culled.
The Japanese brand is saving just Dura-Ace, Ultegra and 105 on the road and XTR, XT and SLX for mtb. Everything below them is to be axed, making way for Cues.
It's a bit like the prime minister sacking the whole cabinet, keeping only the three great offices of state. Imagine only Rishi, Jeremy Hunt, James Cleverly and Suella Braverman in charge with just one junior minister multitasking to cover everything else? Thankfully we're not aware of any such plans...
It might look like a power grab by the ruling-class groupsets but in fact Cues is aimed at improving the people's components. Shimano has decided that mid-range groupsets should no longer beg for the scraps of Dura-Ace's high-end racing technology once it has become obsolete.
So instead of waiting decades for out-of-date racing technology to be trickled down to groupsets that will never be raced, Cues will be nourished by its own tech. And rather than inventions such as Shimano's Hyperglide sprockets, introduced in the 1980s to speed up shifting, Cues will focus on durability and smoothness with a technology called Linkglide. This features a tooth profile design with higher and thicker teeth that guides the chain up and down the cassette for smooth shifting in either direction while pedalling under load.
It's all about making things last rather than fast.
Before you start setting up 'Save Our Sora' petitions, it's worth saying that phase one of Cues is for flat-bar hybrid bikes and e-bikes only, with no new STIs or road-bike specific chainsets unveiled. That's scheduled for next year or even the year after, and Shimano promises full support for legacy groupsets when the time comes.
What is Shimano Cues?
It sounds really sensible. In fact, the only thing at this stage that's a bit silly is that 'Cues' is an acronym for 'creating unique experiences'.
With that out of the way, the big thing about Cues is that rather than it being a series of groupsets, it's a 'menu' of components will be interchangeable so that the level of your bike's spec is no longer dedicated by 'speeds'. If you want a nine-speed groupset you're no longer restricted to only the cheapest components. You could have the highest-end Cues chainset and pair it with a nine-speed cassette.
Shimano wants to give bike brands and customers the chance to build their own bikes to particular specifications and price points and no longer be restricted by compatibility charts.
There will be a simple range of components to choose from so that you - or your bike shop - can build the bike you want and you don't have to have 'speeds' to dictate how nice it is.
In Shimano's words: "We've created our most compatible and versatile component lineup ever, shifting away from our traditional trickle-down technology model to focus on the unique needs of the everyday rider."
Easier for bike shops
On the subject of bike shops, Cues is aimed at simplifying things for them too. Shimano's product manager for North America, Nick Murdick, who started out working in a bike shop himself, explained to us that Cues would "solve problems that we see everyday in the bike shop - I'm that guy… so I hope Cues resonates well with the guys in the bike shop who are still saying 'I could teach them a thing or two about how to design bike products'."
Murdick continued: "When you work in a bike shop one of your rites of passage is memorising the Shimano hierarchy and getting quizzed on it by your co-workers. You no longer have to try to explain the difference between Altus and Alivio. There's no need to try to teach it to a customer in five minutes."
So, to sum up Cues will "reduce shop inventory needs and simplify the servicing process for mid-tier bikes. This means bike shops will have the right parts on hand for servicing your bike."
What is Linkglide technology?
Linkglide is, according to Shimano, its most durable drivetrain technology and "extends a component's overall lifespan and delivers a smooth shifting experience for both analogue and electric bikes."
With taller and thicker cassette teeth to provide additional surface area this is aimed at mitigating chain skip and distributes pedalling forces to prevent premature wear due to shifts from novice riders.
Shimano told us that Linkglide - which was launched much more quietly in 2021 as a option for XT and Deore mtb and e-mtb groupsets - triples the life of a cassette and was originally designed to be able to withstand that shifting under load of automatic drivetrains and is therefore good for bad shifting by riders who don't change gear with the same refined technique as more experienced cyclists.
Product specifications
Shimano Cues will be nine, 10 and 11-speed with three different tiers called U8000, U6000, U4000. Murdick told us "you can move around within that hierarchy. For example there's both 10 and 11-speed versions of U6000. Price point might get dictated by which crank goes with that."
The three tiers have broad designations and aesthetics designed to fit their particular discipline, but Shimano stresses that Cues is all about mixing and matching.
U8000 is designed to be the Cues equivalent or replacement for the XT trekking groupset with a high-end finish option.
U6000 is the range that will be for mountain bikes.
U4000 includes a derailleur doesn't have a clutch, just stronger sprint and specific architecture and is the 'commuter' range.
Shimano launched two e-bike Di2 Cues derailleur last year, which were designed to integrate with the Linkglide components launched the year before, and those remain in the Cues range.
There are of course new hubs which use a modular axle that can be converted between QR and thru axle. They also have modular freehub bodies that can change between HG and microspline patterns and use cartridge bearings.
So far we've only seen disc brakes with step one of Cues, but we can't believe an overhaul of mid-range groupsets would delete rim brakes. That wouldn't be democratic.
At the moment we don't have any components weights and we don't have prices either.
Why has Shimano launched Cues?
Shimano says Cues is "a collection of Shimano benefits and best practices that bike makers and dealers can rely on and riders will love."
There's also no doubt that consolidating its lower-end analogue and e-bike components will allow Shimano to streamline its manufacturing hugely. With three road groupsets and four mtb groupsets fewer to manufacture, it will simply be able to churn out Cues components at a higher rate but with a greatly reduced range of tooling and production processes.
And when it comes to updating Cues, Shimano will simply need to pay for a single chunk of R&D rather than taking on separate highly qualified and expensive engineers and consultants to redesign each individual groupset each time.
Personally, I'm all for freeing the cheaper groupsets from the tyranny of trickle down. Just before Cues was announced I made a video for our YouTube channel comparing Dura-Ace 7700 from the late 1990s with the latest Sora. Although Sora does the job fine and is perfectly functional, the years of trickle down have diluted the tech so that although it works in the same way it's made from cheaper materials that take away its attractiveness, its magic even. I just couldn't actually love it. You don't have to fetishise groupsets but it's surely helpful to keep motivated for cycling to at least enjoy looking at the bike you've bought rather than treating it as a tool to which you have no emotional attachment whatsoever.
I admit I can't get excited about a Tiagra, Sora or Claris groupset and I've never bought any of those components. I prefer to go onto Ebay and buy second-hand Dura-Ace that's not the latest version. Maybe that's just snobbery but I do like a flagship component even if it's not the current one.
But Cues could reintroduce some creativity and interest in building up a new bike to a price point and for an individual's cycling preferences. Let's be honest, nobody is going to race on Tiagra, Sora or Claris so why limit them, as Shimano rightly points out, to obsolete racing technology from 20 years ago?
And if these new components are designed to last a long time so that users don't have to keep going back to the bike shop to replace it, that's got to be a good thing.
Stay tuned for more info as we get it, or check out shimano.com.
Thank you for reading 20 articles this month* Join now for unlimited access
Enjoy your first month for just £1 / $1 / €1
*Read 5 free articles per month without a subscription
Join now for unlimited access
Try first month for just £1 / $1 / €1
Get The Leadout Newsletter
The latest race content, interviews, features, reviews and expert buying guides, direct to your inbox!
Simon Smythe is a hugely experienced cycling tech writer, who has been writing for Cycling Weekly since 2003. Until recently he was our senior tech writer. In his cycling career Simon has mostly focused on time trialling with a national medal, a few open wins and his club's 30-mile record in his palmares. These days he spends most of his time testing road bikes, or on a tandem doing the school run with his younger son.