This exercise bike can store your pedalling power and run your fridge - is this the future of indoor cycling?
Finally, a way to capture all that energy output and put it to good use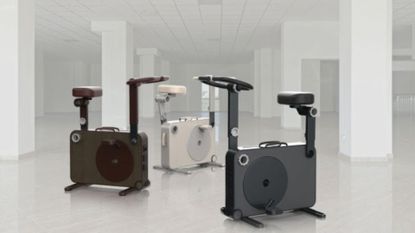 (Image credit: Tukas EV)
Converting the power that you create from pedalling, Lithuanian sustainable energy start-up company Tukas EV has unveiled its battery 'power station' bike.
The HR Bank bike is capable of generating between 50 to 300W/h of electricity as you pedal - as well as the capacity to store up to 2kW. You can then connect up the exercise bike to any output device, from powering a smart phone to a washing machine.
The brand claims that just 15 minutes of pedalling is enough to fully charge a smartphone, whilst an hour spinning the cranks will charge a laptop.
With the ability to store 2kW of power, the HR Bank bike falls in to a mini 'power station' definition - being able to power a light for a week, keep the fridge cold for three days, or make 150 cups of coffee (which you may need to consume if you wanted to rely solely on pedal power to charge up the power bank to those levels!).
Thankfully the exercise bike battery power station is also compatible with storing energy from other external power sources, such as solar, wind or even directly from the mains.
Jonas Navickas, CEO of Tukas EV, said that the idea to create the HR Bank bike was so that a person was able to not only "take care of one's health, but it is also a step towards a more sustainable future."
Navickas claims that the inspiration struck after seeing images of war zones where many people were running extension leads from one power generator in order to charge phones "We also thought about unpredictable natural disasters that leave people without electrical power for days or even months" he added.
The HR Bank bike is fully customisable and comes in a a rage of colours, materials and finishes. Tukas EV state that the bike is user-friendly for a wide range of riders, and is user friendly from young children, up to the elderly, thanks to the ability to significantly adjust the height and length of the bike, as well tilt or even remove the saddle for a child's one, or remove entirely with the bars and pedal from a chair, sofa or even laying flat.
Weighing a claimed 36kg/79lbs and wheelable, the cranks and pedals can also be removed, making it easy to relocated from home to a vehicle, making off grid van or tent life for a few days significantly easier. Chuck the bike bits of the power station in the boot of the car and you could even re-build it to top power up while out on the road.
Rather than the usual exercise bike data, the display screen on the HR Bank bike shows the current power in watts, the power usage as well as current usage. There is also a timer indicating how long it will take to both charge the battery bank to 100 per cent, as well as drain at the current power consumptions. There is also a statistic screen where it's possible to analyse energy input and output over time.
Comparing the bike to stand-alone, single-energy-source rechargeable power stations - which retail for around $3,172 / £2,600 / 3,000€ - the HR Bank does command a premium of around $1,000 / £600 more. However, the ability to charge from multiple energy sources, as well as use it to create power on demand does seem like a very fairly priced product for anyone wanting to - or perhaps having to - live off grid.
Assuming that you aren't within imitate danger of a war zone or natural disaster, and you have capacity to consider the aesthetic appeal of the HR Bank, you'll be pleased to know that the bike can also be fully customized to fit the user's preferences and can even become an ergonomic workstation by attaching a desk option.
Tukas EV say that the HR Bank is sustainable to the core as the exercise bike is made from recycled materials and all its components are easily recyclable at the end of their lifecycle.
Currently available to pre-order directly from Tukas EV with free shipping across the EU and UK, sales to the US still to be confirmed.
Thank you for reading 20 articles this month* Join now for unlimited access
Enjoy your first month for just £1 / $1 / €1
*Read 5 free articles per month without a subscription
Join now for unlimited access
Try first month for just £1 / $1 / €1