'Traces of cracking' within the fork of Scott's Speedster Road and Gravel bikes prompts international recall
Internal testing shows 'traces of cracking' within the fork steerer on various models...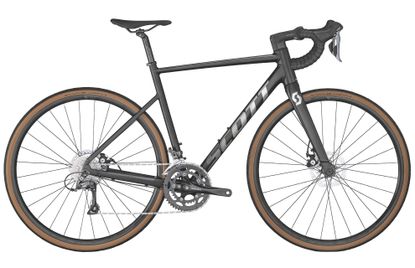 (Image credit: Scott)
Scott bikes has issued a voluntary recall of certain models from its 2022 Speedster and Gravel line-up due to a potential issue with the forks.
In-house testing found that the steerer tube/fork bridge can break without warning, with the recall notice describing "cracking within the fork steerer". Naturally, such a failure presents a serious crash hazard for users.
However, despite the recall, done in cooperation with national recall authorities, Scott has stated that there have been no cases or reports of fork failure or related accidents to date and as such the recall is a pre-emptive move.
The fork steerer issue affects two models from the popular endurance bike range, the Speedster 40, Speedster 50 as well as three models for the Speedster gravel line-up, the Speedster Gravel 40 EQ, Speedster Gravel 50 and Contessa Speedster Gravel 35 EQ.
It only related to models sold in Europe, Asia and South America between October 2021 and March 2022. According to Scott, this equates to around 2,000 affected bikes. However, it says the recall doesn't affect bikes sold in either the US or Australian markets.
Each affected model uses the brand's Speedster Alloy Disc fork, which features an eccentric alloy steerer and is made in both China and Hungary. The unaffected Speedster bikes, which include the higher-end 10, 20, 30 Road and 10, 20, 30 Gravel models, use a HMF Disc fork with carbon steerer.
The Swiss-based brand is requesting that owners of any of the models impacted by the potential fork issue stop riding the bikes immediately - even if there currently appears to be no issue with the forks. All bike returned to an authorized Scott dealer will be fitted with a new fork, installed at no cost to the customer.
For additional information, Scott can be contacted at recall@scott-sports.com or by calling +41 264 60 19 00
Thank you for reading 10 articles this month* Join now for unlimited access
Enjoy your first month for just £1 / $1 / €1
*Read 5 free articles per month without a subscription
Join now for unlimited access
Try first month for just £1 / $1 / €1
Luke Friend has worked as a writer, editor and copywriter for over twenty years. Across books, magazines and websites, he's covered a broad range of topics for a range of clients including Major League Baseball, the National Trust and the NHS. He has an MA in Professional Writing from Falmouth University and is a qualified bicycle mechanic. He fell in love with cycling at an early age, partly due to watching the Tour de France on TV. He's a passionate follower of bike racing to this day as well an avid road and gravel rider.