Cycling Weekly October 08 issue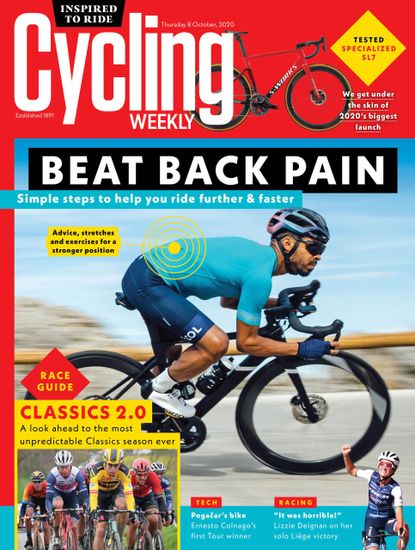 Try five issues of Cycling Weekly for just £5
From the editor:
Writing previews for bike races might have to be reclassified as a dangerous job. Okay, it's not up there with fishermen, roofers and pilots, but the current increased stress levels in the CW office can't be healthy at all.
On the same day that we were frantically re-writing this week's classics preview (after several riders had crashed at the Bink Bank Tour while others had performed at Liege) Geraint Thomas and Simon Yates were doing their best to ruin last week's magazine previewing the Giro.
Pulling together our race previews is always fun. Looking through the stats and form guides, speaking to riders and those in the know to create a guide with which you can enjoy and understand the racing.
Then the racing actually starts and it all goes out the window.
Our disappointment at losing the British interest in GC at the Giro is tempered by the fact that this season's racing is already the most exceptional we've seen in a long time. The rules of engagement have been thrown out of the window with riders racing like they have nothing to lose.
I guess with the very real prospect of having no racing just a few months ago, they're now thinking 'what the hell' and going for broke.
With the younger generation taking a huge step up this season perhaps the best placed Brits in the Giro will end up being Tao Geoghagen Hart and James Knox. Don't bet against it.
Simon Richardson
Cycling Weekly Magazine Editor
Inside this week's magazine:
Lizzie Deignan back to her best
Giro d'Italia: three crazy days in Italy
A Colnago finally wins the Tour de France
Our in depth test of the Specialized SL7
Preview: The best spring races this Autumn!
Tech: Gear of the week
Put back pain behind you
Get your magazine today
Download the digital magazine on other devices
Cycling Weekly - At the heart of cycling since 1891
Thank you for reading 20 articles this month* Join now for unlimited access
Enjoy your first month for just £1 / $1 / €1
*Read 5 free articles per month without a subscription
Join now for unlimited access
Try first month for just £1 / $1 / €1