Adrie van der Poel reveals banter exchanged with Mathieu before CX World Championships
Van der Poel senior says that his sons cyclo-cross season has been 'perfect' preparation for a strong start to the cobbled classics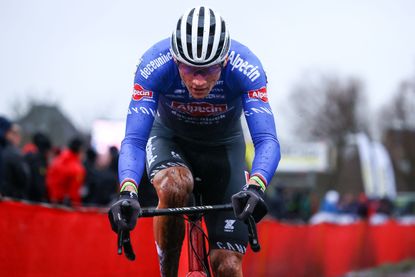 (Image credit: Getty Images)
Adrie van der Poel, father of Mathieu and former professional cyclist, has said that there will be no room for error as his son gets set to battle for the cyclo-cross world title on Sunday in the Netherlands.

Due to their tightly packed schedules, Van der Poel senior has not spoken much to Mathieu in the build-up to Sunday's race, a contest that's widely anticipated to be a two way scrap between his son and Wout van Aert.

However speaking exclusively to Cycling Weekly, he revealed that they had found time for a father and son coffee catch-up as well as an exchange of light-hearted banter via WhatsApp.

"I sent him a WhatsApp this week. He was not pleased that I couldn't help clean his bike and he had to do it by himself," he joked. "That's what he told me."

"We drank a coffee together on Monday morning, then the rest of the week I haven't heard much from him. He has a lot of training to do before Sunday and he will join up with the national team on Friday I think," he said. "I think I won't see him now until Sunday morning."

Van der Poel senior, himself a former winner of the cyclo-cross world championships as well as multiple prestigious races on the road, explained that he warned his son mistakes will be costly against Van Aert in Hoogerheide.

"The most important thing is that he passes the finish line first," Van der Poel joked. "It will be very muddy on Sunday, and a lot of wind. I've said that it will be the little mistakes that make the difference."
FLANDERS HAT-TRICK "EASIER" THAN A MAIDEN PARIS-ROUBAIX VICTORY
Van der Poel junior has been in solid form in his cyclo-cross campaign this winter, and if he takes the honours on Sunday, will become cyclo-cross world champion for a fifth time.

Van der Poel explained that a victory on Sunday will be an extra boost to his son's "strong form" throughout the off-season, something which he believes has been "perfect" preparation for the start of the spring classics on the road, where he will target a maiden Paris-Roubaix title.

"Up until Sunday has been the first part of the preparation for the classics season. After the worlds, he will take a few days off, then he'll prepare for Strade Bianche and races including Paris-Roubaix," he said.
"I think all the races he's done now in cyclo-cross and the training with the team has so far been perfect."
However, despite his big goals that have been outlined for the coming year, Adrie believes that his son may find it "easier" to land a Tour of Flanders hat-trick as opposed to a maiden victory in Roubaix.
"Maybe it's easier to win a third Tour of Flanders than a first Paris-Roubaix," Van der Poel senior said. "It's maybe a case of him being more stressed for winning Paris-Roubaix and less for the Tour of Flanders. It's not easy to win these kinds of races, you also have to be a little bit lucky.
"Although for sure, I know he's doing all he can to win more classics this year."
"WE'LL DO THE SAME AS USUAL, IT'S THE BEST WAY TO SUCCEED"
When Van der Poel junior lines up at Strade Bianche in early March, he's likely to face Tom Pidcock who recently confirmed that he will ride the Italian one-day race.
Pidcock has decided to skip the defence of his world cyclo-cross title this weekend in order to prepare for a strong start on the road. Van der Poel senior explained that it's a "pity" the British rider won't be present in Hoogerheide, although "understandable".
He said: "It's a pity for the sport that he [Pidcock] is not here, although it's logical when you have other big goals in the season. You have to make decisions early sometimes, and it's very hard to please everyone. I understand his choice completely."
Finally when Sunday comes around and his son gets set to battle with Van Aert in the mud of Hoogerheide, Van der Poel explained that he will only have one thing to say to his son.
"Good luck, that's all I'll say," he joked. "Sometimes before the big races it's best not to talk too much with him. He likes to be in the van with his brother and they will recon the circuit."
"We will all just do the same as usual. I think that's the best way to succeed."
Thank you for reading 20 articles this month* Join now for unlimited access
Enjoy your first month for just £1 / $1 / €1
*Read 5 free articles per month without a subscription
Join now for unlimited access
Try first month for just £1 / $1 / €1