Broken deals, unemployed riders, licence lottery: the looming effects of a Soudal-Visma mega merger
Soudal Quick-Step and Jumbo-Visma could be teaming up, but what would it actually mean? What are the loose ends?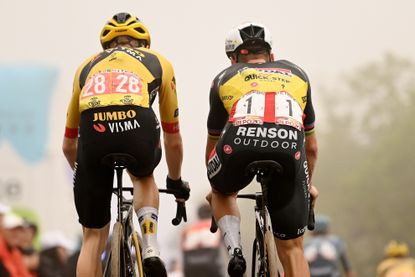 (Image credit: Getty Images)
"It is a truth universally acknowledged, that a single man in possession of a good fortune, must be in want of a wife."
No, not the opening line of Jane Austen's Pride and Prejudice, but a tale about the proposed merger between Jumbo-Visma and Soudal Quick-Step. Both of cycling's biggest and most successful teams of the last decade, seem to be looking for a wife - apparently prompted by the financial difficulties of running a successful cycling squad in 2023.
With the top riders that both men's teams have, from Jonas Vingegaard, Wout van Aert and Primož Roglič at Jumbo-Visma and Remco Evenepoel, Julian Alaphilippe and Tim Merlier at Soudal Quick-Step. A super-team would take some beating.
But it is not a foregone conclusion that a marriage between the two squads would be a happy one.
The consequences are huge, and overwhelming; the questions it poses about the financial sustainability of the sport, too, are legion. If Jumbo-Visma, winners of all three Grand Tours this year, cannot find a suitable title sponsor, then what hope is there for any other team?
The original Wielerflits story has seemingly come completely out of the blue, for almost everyone. The only people seemingly involved are those at the very top of both teams, with riders left in the dark until the news broke. Everyone Cycling Weekly has spoken to has expressed surprise at the news.
While the likelihood of this all coming to pass is very much up in the air, and it might not happen until 2025 anyway, we thought it was well worth taking a run through the live questions and potential consequences of the mega merger.
What happens to the riders?
The riders at both Jumbo-Visma and Soudal Quick-Step were both apparently taken aback by the news, and the idea that their livelihoods might be under threat should the merger materialise.
GCN reported on Tuesday that Quick-Step's riders had received a letter from team boss Patrick Lefevere apologising for uncertainity, acknowledging "ongoing discussions with various parties in the last month", but saying that "however, there are no concrete projects and plans at this moment".
A union between the two men's teams would leave a lot of riders on the open market. Men's WorldTour teams are only allowed 30 riders; Jumbo-Visma currently have 22 riders under contract for 2024, with Soudal Quick-Step having 23. 45 does not go into 30.
Therefore, there would be a lot of top riders on the market, and contracts for riders without deals for next year would be less likely. Riders still under contract who do not have a spot in the merger would need to be compensated, which would add up.
Contracts are tied to the paying agent and there can be only one agent and one license, so riders on the team which is being subsumed - which many people seem to assume would be Quick-Step - would be free to leave.
The other issue with riders would be the new relationships within the super-team. Would Wout van Aert, Christophe Laporte and Tiesj Benoot want to ride on the same Classics team as Julian Alaphilippe, Yves Lampaert and Kasper Asgreen? Would this even be possible? It might very well be a case of too many cooks.
Let's not even get into the knotty issue of Grand Tour leadership, as a team with Remco Evenepoel, Primož Roglič, Sepp Kuss and Jonas Vingegaard would surely pose problems when it came to taking someone to the Tour de France. How do you manage all of those potential winners?
What about the women's teams?
Both Jumbo-Visma and Soudal Quick-Step have connected women's teams: Jumbo-Visma, and AG Insurance-Soudal-Quick-Step. The former is a WorldTour team, while the latter is currently a Continental team, but was thought to be joining the top tier next season. AG Insurance also has an under-23 development team , AG Insurance-NXTG U23, and and under-19 team, which further complicates matters.
A quote given to Cyclingnews, by a representative of Jumbo-Visma, was interesting in respect of the women's teams: "I don't expect much is going to happen with our women's team. For the rest, we never comment on rumours."
So perhaps these will stay separate, while the men's squads unite? Who knows. Jumbo-Visma is the home of one of the greatest riders of all time, Marianne Vos, and Dutch champion Riejanne Markus, while AG Insurance has Ashleigh Moolman Pasio.
With Jumbo-Visma having 12 riders under contract for 2024, and AG Insurance-Soudal-Quick-Step having just four, the teams could merge and still be under the 20-rider WWT cap, but it still seems unnecessarily messy.
They are separate teams with separate staffs and everything, just like the men's squads, so that's more potential issues.
That said, a management that is used to having oversight of both men's and women's squad may decide it's worth the hassle to combine the two, eventually even if not on day one.
What happens to Remco Evenepoel?
Let's get into it.
There have been rumours swirling around Remco Evenepoel all season, with the young Belgian heavily linked with a move away from Quick-Step, with Ineos Grenadiers rumoured to be a possible destination for the 23-year-old. Indeed the entire Soudal-Quick-Step squad has previously been linked with a merger with Ineos.
Evenepoel has a contract with Quick-Step until the end of 2026, but a merger might provide the perfect opportunity for the time trial world champion to jump ship.
While he has quashed these reports in recent weeks, the idea has now resurfaced thanks to the prospect of Soudal-Visma, or Visma-Soudal. Why would he want to ride at the same team as Jonas Vingegaard and Primož Roglič, and possibly miss out on an opportunity to target the races he wants to?
On his podcast, Watts Occuring, Ineos Grenadiers rider Geraint Thomas jokingly gave further insight into how this matchup might not work.
"The only thing I would say now is: Remco hates Jumbo and Jumbo hates Remco, that's not going to work, is it?" the former Tour de France winner said. "You should hear what Roglič says about Remco. I don't want to start any rumours, I'm just saying. Why would Jumbo even want this?"
There have been rumours about Evenepoel, but also about Primož Roglič, who has been linked with a move to Lidl-Trek. Their final destination is still very much up in the air.
What happens to the spare WorldTour licence?
One interesting consequence of a Quick-Step x Jumbo merger would be what happened to the leftover WorldTour licence. With one team effectively disappearing, there would be a spare spot at the top table of teams, and surely there would be no shortage of teams vying for that spot?
It is unknown what the process of tendering out that licence would be; we contacted the UCI but to no avail. Whether any team with the licence would acquire the previous squad's existing UCI points is also an open question.
Cycling Weekly understands that Israel-Premier Tech would be interested in the spare WorldTour licence, and that contact has been made with a potential seller, but the team would not enter a bidding war for WorldTour status.
The same is true for Uno-X, who have always been clear on wanting to be part of the WorldTour, but would not risk everything to be a part of it.
Speaking to Cycling Weekly on Monday, general manager Jens Haugland said: "We have our very clear identity and philosophy, and we have been very clear about sticking to that and not purchasing our way to the top, so to speak.
"But if there's a licence available with no obligations in terms of staff or riders, or anything, we are saying that we are aiming for a WorldTour licence, so of course we're interested in that. But that has to be in very special circumstances. There would be other teams in line ahead of us in this case."
On the other hand, two other prominent ProTeams, Q36.5 and Lotto Dstny, have said they are not interested in taking a spare WorldTour licence, should it become available.
"It's not like the WT-license comes suddenly available for free. There are several steps to take, financially as well," Lotto's CEO, Stéphane Heulot, said.
"Off course it is our wish to return to the WT, step-by-step, progressively, growing every year and grab enough points on the way to earn that license in 2026.
"We don't want to rush things to get in the World Tour again and we will take the time so that our team is strong enough to battle on the highest level in all races."
What happens to the staff?
A team is not just 30 riders, it is all the mechanics, soigneurs, the bus drivers, chefs, social media admins, press officers and even more. At races like the Tour de France, Jumbo-Visma especially has had an overwhelming number of people on staff, in every different role you can think of - that is one reason behind it's rise to the best team in the world.
Should the squads merge, it doesn't just mean riders out of contract, but lots of people behind the scenes. This might be the true tragedy behind the reports.
In the context of these job losses, questions over who leads the super-team at the Tour de France and what colour kit they would wear seem minor.
As do thoughts over Patrick Lefevere's future role in a Richard Plugge-led team - as the original reporting had it - but it has to be mentioned that these two seem like unnatural bedfellows.
What happens to the equipment sponsorships?
As well as separate identities, riders, and staff, the two teams already have existing sponsorship deals for everything from bikes to helmets via shoes. How these are combined into one merged squad, nobody knows.
Specialized's deal with Quick-Step is though to last until 2026, although the American brand replied with a polite "no comment" when asked about the potential goings on. Cervèlo, likewise, have a longstanding deal with Jumbo, and they told Cycling Weekly that they are not party to any discussions; they would be eventually, though.
What happens to the separate deals on bottle cages, groupsets, or sunglasses, is also very much up in the air.
Thank you for reading 20 articles this month* Join now for unlimited access
Enjoy your first month for just £1 / $1 / €1
*Read 5 free articles per month without a subscription
Join now for unlimited access
Try first month for just £1 / $1 / €1