From esports to cyclocross, here's the 2024 USA Cycling National Championship schedule
2024 will see 18 National Championships across road, mountain track, cyclocross, gravel, BMX and esports cycling disciplines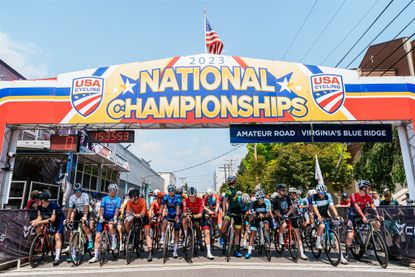 (Image credit: Kit Karzen)
Starting in January with the esports championships on Zwift, USA Cycling has announced its 2024 lineup of national championship events that will be held for all disciplines and in nine different states.
The full lineup includes 18 different championships events across the road, mountain track, cyclocross, gravel, BMX and esports cycling disciplines as well as the junior, collegiate, elite, para and masters levels.
"The 2024 National Championships will be a testament to the passion and dedication of our members. They offer opportunity for everyone," says USA Cycling's President and CEO, Brendan Quirk.
"To some, it's an act of courage and ambition to merely participate. To others, Nationals are a critical step towards Olympic and World Championship dreams. Nationals are where lifelong memories are made, and we're excited to showcase our most important events in such phenomenal communities,"
Unlike previous years, the Pro Road National Championships will now be held in tandem with the Junior 17-18 and Under-23 events. The remaining Junior events and the entirety of the Masters events (ages 11-16 and 35+) will be held together in Augusta, Georgia. in late July.
Also new for 2024 is the elimination of a Cat 1 Men's Road Race, Criterium and Time Trial field at the amateur championships. USA Cycling says that historically, many Cat 1 racers have competed at both the Amateur Road and Pro Road Nationals, and thus the category has been done away with. However, Cat 1 racers will still be eligible to compete in Pro Road as part of a Domestic Elite Team or through a petition process.
The season's first opportunity to win a coveted stars-and-stripes jersey comes as early as January 6, at the national esports championship held on the Zwift platform. BMX competitions take place in March and the road championships for collegiate, pro and elite racers will be held in May. The summer is reserved for mountain bike and track events as well as Masters and Junior road cycling. Lauren Stephens and Keegan Swenson will get a chance to defend their gravel titles in September and the season ends with the national cyclocross championships in December.
The 2024 USA Cycling National Championship schedule:
Swipe to scroll horizontally
| Date | Event | Location |
| --- | --- | --- |
| January 6-7 | Esports Cycling | Zwift |
| March 1-3 | Collegiate BMX | Springfield, Mo. |
| March 17 | Elite BMX | Rock Hill, S.C. |
| May 3-5 | Collegiate Road | Albuquerque, N.M. |
| May 14-19 | Pro Road | Charleston, W.Va. |
| June 15 | Marathon Mountain Bike | Auburn, Ala. |
| July 10-14 | Elite & Para-Cycling Track | Carson, Calif. |
| July 17-21 | Cross-Country Mountain Bike | Macungie, Pa. |
| July 22-28 | Masters and Junior Road | Augusta, Ga. |
| July 31 - August 4 | Gravity Mountain Bike | Henderson County, N.C. |
| August 6-11 | Masters Track | Rock Hill, S.C. |
| August 15-17 | Junior Track | Redmond, Wash. |
| September 8 | Gravel | Gering, Neb. |
| September 15 | Gran Fondo | Frederick, Md. |
| September 18-22 | Collegiate Track | Breinigsville, Pa. |
| October 10-13 | Collegiate Mountain Bike | Henderson County, N.C. |
| November 15-16 | Madison Track | Detroit, Mich. |
| December 9-15 | Cyclocross | Louisville, Ky. |
Thank you for reading 20 articles this month* Join now for unlimited access
Enjoy your first month for just £1 / $1 / €1
*Read 5 free articles per month without a subscription
Join now for unlimited access
Try first month for just £1 / $1 / €1