Jai Hindley can 'manage expectations' like Tour de France greats, says Mitch Docker
Docker believes fellow Aussie on Bora-Hansgrohe has the 'right personality' to handle the pressure that comes with the experience of previously winning a Grand Tour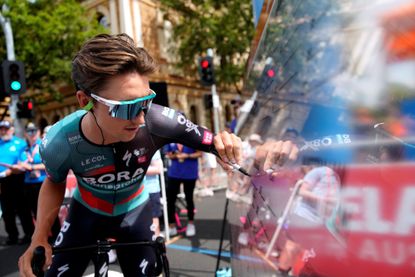 (Image credit: Getty Images)
Mitch Docker is backing fellow Australian Jai Hindley to double up on his Giro d'Italia success in 2022 with another big result at a Grand Tour this year, at the Tour de France.

Hindley became Australia's second-ever Grand Tour winner after Cadel Evans when he brought home the Giro title last May. Docker believes key to Hindley's success is his personality and ability to handle pressure on the biggest of stages.

Speaking to Cycling Weekly, Docker said that his fellow countryman has a unique ability to be able to handle and manage "big expectations".

"I spoke to Jai at the Tour Down Under and asked him about how he handles expectations. That's for me what makes the champions," Docker said. "When you look at a guy like Chris Froome, that's what makes him so special. He's been able to handle and manage expectations placed on him, and come back and just keep repeating that same high level of success."

"The psychology around that is completely underestimated in my opinion and that's the realm that guys like Jai are entering now. He's entering a whole new world of expectation after the Giro last year."

"Jai's going to the Tour as a potential winner. Whereas before any high result would have been great for him. It's so different riding with that, although I think Jai has exactly the right personality to be able to handle that," Docker added.

Docker explained that "a lot of weight" comes with many Australian fans hoping that Hindley can take Evan's place as the most recent Aussie Tour winner.

"At the end of the day Hindley is obviously now the most recent Australian Grand Tour winner behind Cadel Evans after he won the Tour," he said. "There's a lot of weight in that. So to some, anything less than Jai winning will be a failure. It's going to be interesting seeing how he handles things."

"We've seen it recently too with Ben O'Connor. He's a guy who seemingly likes to add more pressure to his racing, which a lot of riders don't like to do, by highlighting these big goals he wants to achieve. He'd said before the Dauphine last year that he wanted to finish on the podium in a WorldTour stage race, then lo and behold he went and did," he added. "A lot of people don't like to do that as they're scared of failing. O'Connor can definitely handle it too."
After a long career in road racing, Docker has recently tried his hand in cyclo-cross, a wholly different environment to the glamour of the WorldTour scene. Aided by expert advice from Sven Nys and current elite-level cyclo-cross pros, the Australian headed to Belgium to train and then compete in his first ever race.

Docker also documented his experiences in a new film, "There will be Mud", and told Cycling Weekly that jumping into a completely new form of cycling was a "nerve-wracking" experience.

He said: "I was really nervous, you know. It was a race, and I don't know anyone that doesn't get nervous before a race. I took it seriously and didn't want to crash, but also wanted to race hard so it was a difficult dynamic to manage.

"I would say I was pushed and challenged all the way through the training too, particularly when I worked with the Trek Lions team. That was harder than the race.

"I was on my limit riding with the girls. They put me on my absolute limit. Trying to bunny hop over this wooden stuff was super challenging. Once we came to it I was like 'fuck, I can't get over this' and was just shitting myself the whole time. I definitely picked up a lot of new skills."

There Will Be Mud is available exclusively on GCN+ and can be watched via the GCN+ App, all web browsers, and smart TVs. A subscription includes access to more than 150 original and exclusive full-length documentaries, as well as live and on demand racing coverage, analysis and highlights.

Thank you for reading 10 articles this month* Join now for unlimited access
Enjoy your first month for just £1 / $1 / €1
*Read 5 free articles per month without a subscription
Join now for unlimited access
Try first month for just £1 / $1 / €1
Tom is a News and Features Writer at Cycling Weekly, and previously worked in communications at Oxford Brookes University. Alongside his day job, prior to starting with the team, he wrote a variety of different pieces as a contributor to a cycling website, Casquettes and Bidons, which included interviews with up and coming British riders.