Jai Hindley set for 'fun and aggressive racing' at the Tour Down Under
Last year's Giro d'Italia champion plays down his chances of a potential Tour Down Under victory as he looks ahead to coming months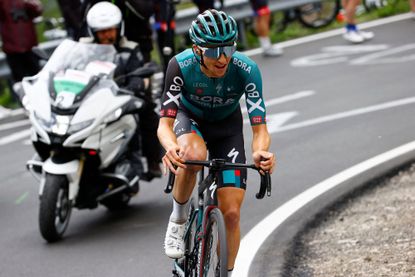 (Image credit: Getty Images)
Jai Hindley can't wait to zip up his new season Bora-Hansgrohe jersey and clip into his pedals once more to begin a new WorldTour season this weekend.
After a long off-season at home in Australia, last year's Giro d'Italia champion is getting set to travel to Adelaide ready for the WorldTour season curtain raiser, the Town Down Under, in the coming days.
Speaking to Cycling Weekly, Hindley explained that after studying the key stages, he's predicting full-gas, aggressive racing as the new season gets underway in the height of the Australian summer.

"It's going to be a great month for Australian racing. We've had the nationals, then we've got Down Under, the Cadel [Evans] race and a couple of races in between them. Normally we'd have had the Sun Tour but that's not on this year unfortunately," Hindley said.
"So there's a really good month there and it's good times for the scene."
The five stages of the Tour Down Under feature two fearsome looking days in the Adelaide Hills, something which on paper is right up Hindley's street. Although the Bora-Hansgrohe man looked to play down his chances of a result racing on home roads as he looked ahead to bigger goals in the coming months.
"We'll see. I mean I'm not going to say no but it's obviously quite early in the season," he said.
"I've got some really big goals lined up this year, so we'll see how next week plays out. I think the course looks good, they've changed it up a fair bit and it's going to be a good race."
"With the way cycling is going now I think it'll be quite aggressive racing. I've looked at all the stages, they're quite short so I think we'll see some fun, aggressive racing which will be really nice actually," Hindley added.
Opportunities to race back at home are few and far between for Hindley. The Australian told Cycling Weekly that he was looking forward to racing on home roads in front of Aussie fans.
However, he explained that it was "not the end of the world" if the race doesn't go to plan.
"There's not so many races here in Oz, so getting to do Down Under is really cool. I know a lot of the guys in Europe always look forward to doing this race, and especially the Aussie pros," Hindley said. "It's probably one of the best weeks in the calendar for us Aussie guys, just being in that atmosphere and environment."
"As a rider it's a great event but I can imagine it's great for the spectators too. All the race is in one area and it's super accessible for the fans. I don't think you get that in too many other sports actually," he added.
"There will be guys here ready to perform at a super high level, then others who are just looking to get some early season racing K's in the legs. The level will be really high though that's for sure."
Thank you for reading 20 articles this month* Join now for unlimited access
Enjoy your first month for just £1 / $1 / €1
*Read 5 free articles per month without a subscription
Join now for unlimited access
Try first month for just £1 / $1 / €1