Jumbo-Visma aim to reset after disastrous day of pain at Tour de France
Steven Kruijswijk and Primož Roglič abandon Tour and Jonas Vingegaard and Tiesj Benoot crash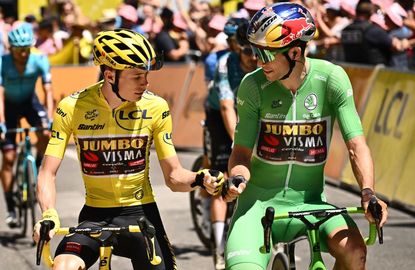 (Image credit: Getty Images)
Between the 12th and 14th centuries, southern France was a hotbed of a religious movement called Catharism, a split from Christianity that believed in two Gods under a dualist system. It was ruthlessly put down by the Catholic Church in the Albigensian Crusade and then an inquisition in the 14th century, which saw the primacy of the monotheistic system reestablished in the region.
At the Tour de France this year, Jumbo-Visma have been attempting a dualist system, one in which their strategy is split between their hunt for the yellow jersey, which began as a split in and of itself between Primož Roglič and Jonas Vingegaard, and their campaign for the green jersey through Wout van Aert.
So far, this divided plan had been working well, with Van Aert basically out of reach in the green jersey, and Vingegaard firmly in the yellow jersey after two weeks of racing.
However. On Sunday, as the Tour de France finished in Carcassonne, one of the cities where the Cathars thrived, which was put under siege by the Crusade which ended the movement's influence in the region, Jumbo-Visma ended the day rocked.
Sunday started with the news that Roglič, who had put in a shift working for Vingegaard once his own ambitions of winning were over, had pulled out of the race with injury. That was bad enough, to be deprived of one of their key climbers.
But then, with 65km to go, Steven Kruijswijk, one of Vingegaard's key mountain domestiques, crashed and was force to abandon. Then, just 7km later, the yellow jersey himself came down in a crash which also brought down Tiesj Benoot. Neither were seriously hurt, but the team was clearly shaken by this last incident too.
Jumbo's split strategy, their attempt to play two Gods with Van Aert and Vingegaard, has been working well so far, with the former being able to help the latter in mountain stages, now his green jersey is all but wrapped up.
The withdrawal of Kruijswijk and Roglič show the limits of the team though; they are left with only Sepp Kuss as a pure climber, as they brought Nathan van Hooydonck and Christophe Laporte to help Van Aert, and Tiesj Benoot to cover every base.
"It's two very important teammates, two very strong riders, so that's not nice," is all Vingegaard could say in his post-race press conference. "It's quite a bad day for us, but we will just keep on fighting, all the way to Paris.
"I think today was not the best day for us. I'm ok, I also hope Tiesj is ok. It's a bad day, but that can happen."
His directeur sportif Grischa Niermann attempted to take the positives from a rough day for the team.
"It's better to have two and a half minutes advantage than chasing two and half minutes," he explained. "It was a tough day for us, not the best day up til now, but at the end we can be happy that Jonas was fighting in the final and looked to be OK. But I have to speak with them first, not really sure about everything, we see about that later."
This is not the end of the dualist system. Van Aert and Vingegaard still look two of the strongest riders in the race, but it has opened up a chink in their armour, in the same way that the abandons of George Bennett and Vegard Stake Laengen weaked Tadej Pogačar's UAE Team Emirates squad.
It perhaps opens the door for Ineos Grenadiers, still with eight riders, to try something, although there is little in the way of stages where teams could be decisive to come.
The Cathars, Jumbo-Visma, could still thrive in southern France. The Pyrenees loom, and with it stages that will be more man-against-man than team-against-team. It might not matter that UAE and Jumbo are both lacking riders.
Mauro Gianetti, UAE's team principal, is in favour of this theory.
"In the end, the mountain stages that we have left won't change much, because they will be strength against strength with Tadej and Vingegaard," he said. "I don't think that the teams will make the difference - the difference will be [made] between them.
"They have the pressure but they have yellow also, and I would like to have the pressure with yellow and to be in their position. But we are where we are, and now we have to recharge the battery tomorrow and let's see what happens in the next week. Tadej is good, he's had a day of today, but Tadej is Tadej, and we are going to see.
"There are three mountain stages, and it will be between the best, between the leaders, and I don't think it will change much [because of the withdrawals] because it will Tadej, Vingegaard, Yates, Thomas, Gaudu, the leaders. The teams won't make the big difference now."
A difficult day for Jumbo-Visma in Cathar country, but they are still in yellow and green. Dualism might survive, without the need for an inquisition or crusade.
Thank you for reading 20 articles this month* Join now for unlimited access
Enjoy your first month for just £1 / $1 / €1
*Read 5 free articles per month without a subscription
Join now for unlimited access
Try first month for just £1 / $1 / €1