Wright on Fire: Fred Wright on his breakthrough year, almost winning, and Primož Roglič
The young Bahrain-Victorious rider is one of the hottest properties in the peloton. All he needs now is a victory.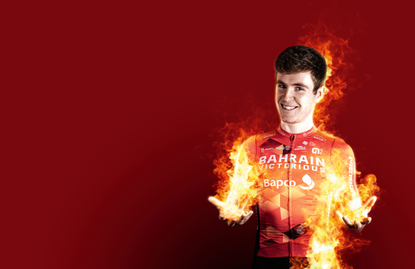 (Image credit: Andrew Sydenham/Magictorch)
This interview originally appeared in Cycling Weekly magazine on 29 December. Subscribe now and don't miss an issue in 2023.
A new-build housing estate on the outskirts of Manchester is not where you would necessarily expect to find one of the riders of the moment, a man who seemed on fire at times this season, and yet in a modern terrace is where Fred Wright lives, with fellow WorldTour pro Ethan Hayter.
The 23-year-old, the Londoner who became a fan favourite with eye-catching rides at the Tour of Flanders, Tour de France and Vuelta a España, has not quite made the transition to the Girona or Nice bubble.
Neither has he given up his old Vauxhall, which research tells me must be at least ten years old, pulling up to his home just in time for the interview, looking more Inbetweener than pro athlete. For someone who finished second on stages of the Tour and the Vuelta in 2022, it feels a lot like student life rather than that of a top cyclist, one with a deal with Bahrain-Victorious until at least 2025, signed in September off the back of his impressive summer.
Not that this is a negative thing; if anything, it's a positive, a reminder that the Bahrain-Victorious rider still has his feet on the ground, despite a breakthrough year, even if he hasn't had that breakthrough win.
Seventh at Flanders back in April was followed by an impressive Tour, where he finished in the top ten three times, and spent three days in race-shaping breaks. His surge as the last remaining rider in front of a rampaging peloton into Lausanne was just the start of an almost-golden summer.
It was the Vuelta, though, where he really came to life, often dynamic in breakaways, and so close to his first pro win in Bilbao, in Cistierna, in Montilla, and in Talavera de la Reina. He finished the race second in the points classification to Mads Pedersen, such was his all-round performance. A win feels not just like it's coming, but that it's overdue.
New found fame, sort of
Inside his house in Greater Manchester, where Wright has just made me a flat white, we chat about the ongoing attention he is now getting as British Cycling's latest bright young thing.
"I've had lots more conversations with the media, it's definitely been more significant this off season, there's that interest in what I'm doing," he explains. "It's exciting, but it's weird. I do separate myself a little bit from the action. It is a bit of imposter syndrome.
"Fred the guy who just rides his bike, and then the guy who was doing stuff at the Tour and the Vuelta. It's just a slow build now to get the sensations I had in the season again now. I hope I can get back to that pretty soon."
However, despite his new found profile, one of the favourite people of online cycling fans if my social media timeline is anything to go by, Wright is very keen to stress that he would just like to stay the same, the guy who enjoys racing and is friendly.
"One of the problems has been having the time to talk to people," Wrights says. "If someone wants to talk to me, I want to talk to them. I do want to come across as down to earth, but there are so many things to reply to now. It takes time to adjust to that."
"I don't like the idea [of being recognised]. Like Tom Boonen couldn't go anywhere in Belgium. I'm not looking for fame, I'm looking to win bike races, and just riding my bike. I'm not trying to be flash. I like it when people are shocked to recognise me, and say 'are you Fred Wright?'"
Other than the results, one thing that put the Bahrain rider in the public eye was the fallout from Primož Roglič crashing out on stage 17 of the Vuelta, something he blamed on Wright in a statement published on his Jumbo-Visma team's website.
The piece quoted Roglič saying: "The crash was not caused by a bad road or a lack of safety but by a rider's behaviour. I don't have eyes on my back. Otherwise, I would have run wide. Wright came from behind and rode the handlebars out of my hands before I knew it."
This might have been what Roglič felt had happened; the problem was, it didn't happen like that. Footage shows the Slovenian making the error, riding into Wright.
Back then, Wright tweeted: "It was really hard to read, and I'm pretty disappointed. I think it's unfair, the team and I have looked at the footage again tonight, and I honestly don't believe I did anything wrong - it was just a racing incident."
"I really want to talk to Roglič about that, cos I don't know what it was about," Wright tells Cycling Weekly in November. "It worked in my favour actually, because it meant people were saying I'm a nice guy. I want to be the nice guy. Obviously, when people are saying that stuff it's great, even if sometimes it's a bit weird. It's only making my big head a little bigger."
Disappointments
Despite being a fan favourite, and despite his solid set of results across the year, the fact that he hasn't actually crossed the line first in a professional race is unavoidable. There were three second places and five more top tens, but no photo of the 23-year-old raising his hands in the air, not yet anyway.
The closest he came was stage seven of the Vuelta, from Camargo to Cistierna, where he was in the leading group for 182km, the fastest finisher out of a final five which was made up of Jesús Herrada, Harry Sweeny, Jimmy Janssens and Samuele Battistella. However, he was seemingly not the only one with this privileged information, so Wright was left to lead the sprint out. In the end, it was too big an ask, and Battistella and ultimately Herrada powered past in the final metres.
"Stage seven of the Vuelta stung the most," he says. "I know it was that because I've gone back through it. I knew I was the fastest guy there, I just missed the sprint there completely. I can see why I raced the way I did. I think I was too desperate for it, I wanted it too badly. I didn't think about it. I took it from the front, which is not always the bad situation, I just started way too early, and it really wasn't great.
"That was the hardest one to get my head around. The team weren't telling me what to do, but you could see from everyone that they thought it should have been a stage win for us. Compare it to Saint-Étienne, I was really disappointed, but everyone else was saying that was the best I could do. Off the back of the year I had, I can take so much confidence into next year; if I'm in that position again I'm more prepared."
In Saint-Étienne at the Tour, on stage 13, Wright was once again in the winning move, this time a simple 149km out front, which on that occasion saw him finish behind Mads Pedersen.
He is getting a reputation for infiltrating winning breaks, something that he knows will only mean he is more watched in the coming season, now people know what he can do. It might make winning a little harder, there is less of the surprise factor now.
"Winning races is not going to come from an early break which I get myself into next year. Unfortunately, I've already played a few of my cards that way," Wright explains. "At the same time, what I was getting good at was just getting into breaks. When moves go after a long time, it is usually the strongest guys, the guys that end up there are those able to get there.
"When you've been fighting for two hours to get into the break, it's not just luck. Like [Richard] Carapaz at the Vuelta, he was unbelievable, how many times he kept attacking to go up the road. I'll be watched more, but I won't change the way I try to race. I want to keep doing the same. There will be stages that come along where the team might ride for me too. I think I've got a good eye for reading the race. I've messed up in the finalé, but I'm good at getting there in a good position."
However, despite not winning just yet, he insists that the pressure is not telling on him too much, and insists he is still positive. He is prone to thinking, though, he presents himself as slightly more cerebral than others in the peloton.
"You have to approach this like 'it doesn't matter if I don't win', and it's quite hard to have that mentality if you haven't won, or had that big result. Once I win one, that gets the ball rolling," Wright says.
"I don't think I put much expectation of what I want out of my career on myself. I'm not like 'I have to win Flanders, or Roubaix'. I don't have a win at all costs mentality, that's not in my nature as a person. Of course, you do put pressure on yourself. It doesn't mean I don't want to win. I overthink afterwards, I go to bed thinking about it.
"I think what comes with the win at all costs mentality, it's easier to switch off maybe. Because you think you will win another time. I am still positive, and I think that's what keeps me going. I will always look to the next race."
Classics specialist
Although he was probably flashiest in the final Grand Tours of the year, and looks like he has already settled into type as some kind of breakaway whisperer, it is at the Spring Classics where Wright really feels at home.
There is definitely a link between the kind of hard, long day at the Vuelta or Tour and a tough day racing that will always come at a Classic, especially a Monument. This is the kind of race that he thrives on.
It was at the Tour of Flanders in April where Wright looked the most emotional after a result this year. His seventh place there being extra special, as he finished just 11th seconds behind the winner, Mathieu van der Poel, having been in the leading group all day.
"Flanders was emotional because I went into it with loads of confidence, and then being in that select group coming into the final, it was all of the things that I want to be doing in my career," he says.
"I want more than seventh, I want to win, but it is such a big race for VCL [Velo Club Londres, Wrights childhood club] among other things. I was there with those guys, and I felt like I should be there: 'I'm definitely good enough to be here'.
"It was probably a turning point in my career, because before I haven't felt good enough to be in that position. It felt like an honour. For the big one to go so well is great, I took the confidence from that through the rest of the season. Going into the Tour I didn't feel out of place."
As someone who has been right in the heart of these races, and who loves them so much, Wright is someone with the perfect insight into what riding them is actually like.
"I think people underestimate the chaos of the Classics," he says. "It's such a mental strain, doing your homework and knowing the course is so important, because you can save so much energy that way. I still have so much to work on with positioning, but that comes with riding it. The more you do it, the more you absorb. I think I'm quite good at that."
This might be an advantage for someone like the Londoner, who is clever, which sometimes doesn't help his overthinking.
"At school, I wasn't amazing at forming arguments, but I could tell you all the facts from history," he says. "It wouldn't take me that long to put them in my brain and repeat them."
As for the future, he has three more years on his contract with Bahrain, something which gives him security, at a place where he feels at home. It should give him the platform to deliver, starting with Opening Weekend at the end of February.
"I want to be up there in the Classics, fighting for a win in as many as possible," Wright says. "I think I really can get to that point. I was almost there last year, and I'd really like to win one. I don't think that's out of this world. Like the way [Biniam] Girmay won Gent-Wevelgem. I know that I won't be as strong as [Wout] Van Aert, Van der Poel or [Julian] Alaphilippe, but you can be in the mix, and pick the right move.
"If I could win Flanders or Paris-Roubaix in my career, I'd be very happy."
He might be down to earth, and he might want to be the nice guy, but his ambition burns bright.
This interview originally appeared in Cycling Weekly magazine on 29 December. Subscribe now and don't miss an issue in 2023.
Thank you for reading 20 articles this month* Join now for unlimited access
Enjoy your first month for just £1 / $1 / €1
*Read 5 free articles per month without a subscription
Join now for unlimited access
Try first month for just £1 / $1 / €1