'You're not waiting for anyone' - A look at the Paris-Nice team time trial that will be timed individually
There's a funky new innovation coming on stage three of Paris-Nice, which might make the TTT more interesting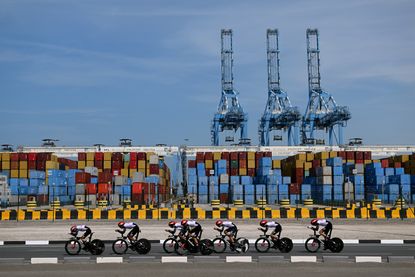 (Image credit: Getty Images)
The team time trial is back. First, the format was raced at the UAE Tour in February, and now it's Paris-Nice's turn to get in on the act, with a 32.2km race against the clock for the seven-man squads to ride together coming on stage three, today.
For those of you that are yawning at the thought of those 40 minute efforts, which return to the 'Race for the Sun' for the first time since 1993, there is a twist, however.
The teams get their times based on the first rider to cross the line, not the fourth as is usual in the format. With it being individually timed, all seven riders will get different times on GC as well, rather than a group time as occurs normally.
"The decision was imposed by the terrain in Dampierre-en-Burly, which was perfectly suited for such an effort, but also by the desire to do something different," race organisers ASO explained in a press release when the route was announced.
"Instead of being taken on the third or fourth finishing rider, the times in this TTT will be registered on the first rider of each team across the line. This should force each team to adopt the best strategy to lead out their leader in the final stretch, which is not unlike team sprint events on the track. The innovation should also stop a whole team sweeping the top GC standings."
For Alex Dowsett, six-time British time trial champion, the new innovation is "brilliant".
"The most efficient way of doing the race will be to have your GC guy dropped off with 500m to go," he explained. "Maybe he has taken some turns, maybe he hasn't, that depends how strong he would be, and how much energy they want to save for days to come.
"If you have Jonas Vingegaard (Jumbo-Visma), who's a weapon on a team time trial bike, then it would be useful for him to ride for the team. If you have a weaker time trialist, it makes sense to keep the GC rider protected until the end."
Dan Martin, who was once a member of Garmin's powerful TTT set up, thinks stage three will be a race of two halves:
"It's going to be interesting seeing how teams will approach this," he said. "With it being a flat technical time trial, it's going to be ridden almost like a normal team time trial. One of the philosophies we went into TTTs with, was the absolute most efficient number of riders was five, maybe six. You get so much draft on the wheels, in an eight-man lineup, by the time you're back to wheel three or four, you're ready to go on the front again.
"It will be interesting to see teams use some guys at the start, and then almost a leadout train to the finish. You're definitely going to see a sprint finish, but I'm not sure how much it's going to change."
Cycling Weekly's own Dr Michael Hutchinson thinks it might be ridden reasonably conservatively, with few funky tactics, but it could surprise: "I wondered whether you would do it as a team sprint, but it's a 35 minute race, and I don't think there's any team that could do it like that. I think it will look like a normal team time trial early on, just in the second half, we're going to see a lot more riders being shed out the back."
This is where all three of our experts agree, although Dowsett reckons that teams will be giving their riders different end points for their effort.
"It's a great one for the scientists to work out," he said. "Up until 10km to go it has to be a cohesive team time trial. Maybe even the last 8km. If I knew my team I'd be giving everyone a finish line, probably within the last 5km."
"I think you'll still see a decent number of riders at least coming into the final few kilometres," Martin added. "Because if you isolate your leader, with 5km to go, you've only got two or three guys left, you're gonna lose time."
One theory for the tweaks to the team time trial rulebook is that it will prevent one team dominating the eight-stage race, particularly when the TTT comes so early in the week. Last year, Jumbo-Visma held the yellow leader's jersey from start to finish; with this new way of timing, the general classification should be more evenly shared around teams.
"Their thinking was perhaps to take it away from the strong teams, but it is still all about the horsepower," Martin said. "If you've got seven TT riders you can go long and hard to the finish, stronger guys who can empty yourself."
"How it fits in the context of the whole race will be interesting," Hutchinson added. "Especially in the case of Jumbo-Visma, who would be reckoning they would have multiple GC options through the week. Because you get a time when you cross the line, there's nothing stopping you taking two guys to the line."
However, Vingegaard and Tadej Pogačar (UAE Team Emirates) will back themselves over the course, even if it's unlikely they were head off alone too far from the end, although they could according to the new rules.
Teams will definitely be shedding riders as they go, especially if they're working to Martin's theory that five (of the seven man team) is the ideal number for a TTT group.
"In terms of the spectacle, it will be interesting to see how it works with egos," Dowsett said. "Because really, if you've got more than one rider finishing the race at the front it's a bit of a waste."
"I don't think we're going to get to the point of someone doing four minutes on the front on their own, but the last 10km will see people doing last big turns," Hutchinson added. "It very much depends on the personnel you've got."
"Many times, especially as a GC rider, you find yourself hanging on," Martin said. "I've never been in a TTT where I could afford to sit up, but I think a lot of guys will be going into this thinking they can finish their effort and coast to the end.
"If you do lose a couple of guys, you're not waiting for anyone. The team just goes. This is where it might favour the 'weaker' teams."
Even if it just ends up being a normal TTT, all eyes will be on Dampierre-en-Burly, for the first team race against the clock at Paris-Nice in 30 years. With the twist, it will be a fascinating watch.
Thank you for reading 20 articles this month* Join now for unlimited access
Enjoy your first month for just £1 / $1 / €1
*Read 5 free articles per month without a subscription
Join now for unlimited access
Try first month for just £1 / $1 / €1