Caratti Thermal arm warmers review
The Caratti arm warmers are a good piece of kit from the new incarnation of Caratti, and hit the market at a very compeitive price point.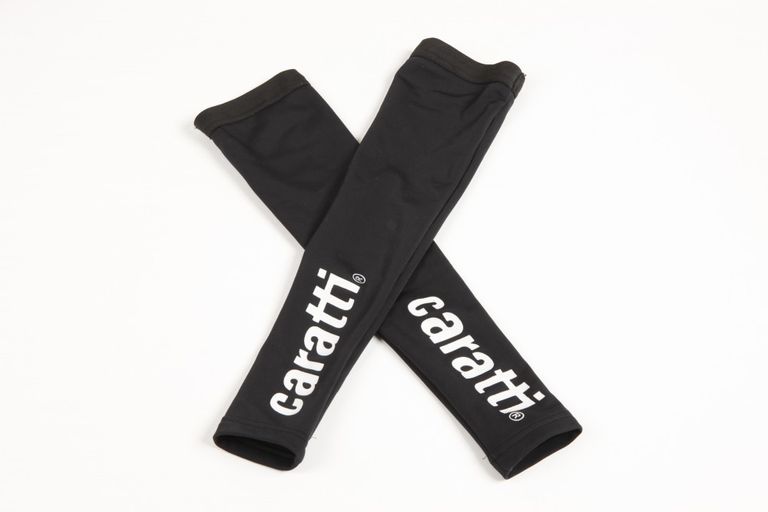 The Caratti arm warmers offer good warmth and decent length at respectable price-point, but a loose fit and ineffective silicon grippers mean they slip down your arms and our points scale.
A good pair of arm-warmers can be a loyal companion throughout the year, from keeping the chill off fresh summer mornings, to adding an extra layer of protection under heavy winter jackets in the middle of January. These Caratti arm warmers offer a good level of protection compared to other similarly priced offerings, but you may need to hit the gym to stop them falling down.
Caratti claim that these arm warmers are both wind and water-resistant. We could certainly feel the benefit on colder days, and were happy combining these warmerswith a short sleeve jersey and gilet even with the temperature in single figures.
>>>Buyer's guide to arm warmers
Less convincing was the water resistance, and these arm warmers are certainly more susceptible to becoming waterlogged than competitors such as Sportful NoRain and Castelli Nanoflex warmers, although these models will set you back an extra £6 and £10 respectively over the £20 Carattis.
Obviously the fit will depend a lot on how much muscle you carry on your arms, but our tester and his, to put it politely, climber's arms, struggled a little. Fortunately, the good length of the Caratti arm warmers meant that we didn't suffer from the annoying gap you often get at your wrists between gloves and cuffs.
However, things were less good at the other end where the fit was far too loose around the biceps. Yes Caratti have included silicon grippers in the design, but these simply aren't tacky enough and do little to help keep the arm warmers in place. As a result we were forced to continually hoist them up as they slipped down throughout the ride.
For more details visit the Caratti website.