Cannondale's Compact Neo e-bike: lots of style, moderate functionality, hard-to-beat price
The $1900 commuter package comes with reliable components, comfort and style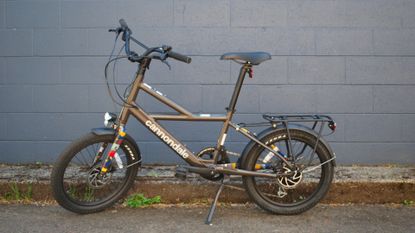 (Image credit: Anne-Marije Rook)
All in all, the Compact Neo may not be the zippiest or strongest e-bike around, but it makes up for it in comfort and style. It's a pleasant, leisurely ride that gets you from point A to point B without the stresses or limitations of cars or public transportation.
Reasons to buy
+

Wallet-friendly

+

Good value

+

Brand name components

+

Stable, comfortable ride
Reasons to avoid
-

Lacking in power and range

-

Limited utility
When Cannondale announced the launch of the Compact Neo last November, many industry long-timers took note. Not because it was claimed to be the brand's "smallest and lightest e-bike yet" nor because of its wallet-friendly price. While both appealing qualities, what got folks to take note was the bike's stark resemblance to the 2008 Cannondale Hooligan.
This human-powered urban jungle machine may have looked like a folding bike, a BMX and a mountain bike had a baby, but by all accounts, the 'Hooli' was a pure joy to ride. Our very own Rob Spedding fondly remembers the bike's liveliness, calling it "a bike that never failed to make me smile."
Introducing: The Cannondale Compact Neo
The Compact Neo is a small electric bike targeted at urban dwellers with limited storage space who want to get more places by bike.
It's got a compact alloy frame, foldable stem and pedals, 20-inch wheels and weighs less than 40 pounds (18kg). The bike's assist comes from a Hyena MRC-250 rear-hub drive unit with 40Nm torque that is powered by a 250Wh battery hidden in the downtube. The assist tops out at 20mph (25km/h) and one can toggle between the three modes via a simple, three-button control on the handlebars.
The Compact Neo is equipped with an eight-speed microSHIFT drivetrain with an 11-34 Sunrace cassette and Tektro HD-R280 hydraulic disc brakes. The finishing kit includes grippy 2.35"-wide Kenda K-Rad tires, integrated lights, fenders and a rear rack.
Finally, the Compact Neo's got a head-turning design with a rather attractive and fun paint job.
The complete package retails for just $1900 in the U.S. and £2000 across the pond.
The Cannondale Compact Neo - At a glance
One size fits most alloy frame for rider 4'5" up to 6"1"
Weighed in at 36 pounds on my at-home scale
250-watt rear-hub motor
20mph max
250WH battery with claimed range of 47 miles
20" wheels with 2.35" wide Kenda K-Rad Tires
Tektro HD-R280 hydraulic disc brakes
8-speed MicroShift drivetrain
Integrated lights
Fenders and rack included
Two accessory mounting sports
Stand
Rider weight limit: 300lbs
Cargo weight limit: 30lbs
$1900 USD / £2000
Cannondale Compact Neo - Unboxing, folding and fit
Straight out of the box, the Compact Neo is an attractive and fun-looking bike with colorful fork paint reminiscent of the 2019 SuperX 105 I had once wanted so badly. The bike's got BMX-style bars; beefy, knobbed tires and, in its folded position, a relatively small footprint for an e-bike.
Naturally, the first thing I did upon unboxing the bike was to try out the bike's folding capability. The Compact Neo is not a proper folding bike like a Brompton, Dahon or Tern, which all feature foldable frame designs. When it comes to the Compact Neo, it's merely the components that usually stick out — the pedals and bars— that fold flat so you can prop up the bike against a wall and out of the way.
Folding the bars is relatively straight forward: you open the quick-release lever at the stem, stabilize the front wheel and turn the bars toward the drivetrain side. The pedals were less intuitive and required some playing around. The platforms are built around a spring-loaded locking system. To change the pedals between its flat or upright position, you pull down on the spring-loaded tab inside the pedal's platform, releasing the latch that keeps the pedal in place. You then fold the pedal in its desired position and let the latch click back in place.
The frame comes in just the one size, meant to fit most riders between 4'5" and 6'1". The seatpost is height-adjustable and the reach can be played with by adjusting the angle of the bars closer or further from the riser. To significantly change the front end, however, one would need to swap out the TranzX folding stem. At 5'5", I sit in the middle of the range, and the bike fits me well. But with a reach of around 39cm, the frame would be a tight fit for someone standing tall at 6 feet as is.
The bike's 250Wh battery is hidden in the down tube with its charging port located inside the frame's front triangle, above the bottom bracket.
Cannondale Compact Neo - The Ride
The three-button control is unmarked but fairly intuitive. To turn on the electric assist, you simply press and hold down the smallest of the three buttons on the right. To also turn on or off the integrated lights, you press and hold the control's top button. To toggle between the electric assist's three modes, you press the up or down buttons. There is no display unit but two small lights do indicate the mode you're in and the battery status. It'll start flashing red when you're about to run out of power.
With small 20" wheels, the bike sits low to the ground, which combined with the wide tires, offers a very stable ride.
At 36 pounds, the bike isn't so heavy that it cannot be pedaled on its own. And the 8-speed drivetrain offers a generous gear range to tackle a variety of terrain. The electric assist does help, however. Being a Class 1 motor, the Hyena rear-hub drive puts out just 250 watts with 40Nm torque. It makes for a very gentle assist. While some e-bikes can feel like the bike is taking you for a ride, the Compact Neo sets a leisurely, cruisy pace. While this helps you get to your destination relaxed and sweat-free, I did find the bike lacking in any urgency or snap.

"Zippy" was one of the words described in the marketing lingo around this bike but in that, I was rather disappointed. In my testing, I found that taking the Compact Neo out for commutes around town meant I'd arrive later than I would if I had taken my analog single speed. Of course, as someone who regularly rides at the motor's max ability — 250 watts and/or 20 mph— I'm aware that I am not the targeted audience for this bike.
And in trying to ride at the motor's limit, I found that the drop off once 20 mph is hit is rather stark and disruptive. I'm also somewhat skeptical of the 47-mile battery range claim as I ran out of battery twice, after little more than 30 miles.
But where it lacks in strength and speed, the Compact Neo makes up for it in comfort, and maneuverability. You may not go very fast, but the ride —as long as you stay in the 15-18 mph range— is a pleasant one. A nice stroll that gets you from point A to point B. The beefy Kenda tires are quite knobby for an urban tire but therefore provide ample grip, keeping you planted over rough pavement or unpaved gravel paths. The tire width certainly adds to the ride comfort as well. And thanks to the compact frame, maneuvering around city obstacles is made easy.
With the integrated lights, kickstand, durable fenders and mounts for two water bottles (or one water bottle and one top tube bag), Cannondale has done a good job with the accessory package, and the bike's build in general. Despite being considered more of an entry-level component, the MicroSHIFT drivetrains have always impressed me with their no-fuss, reliable and durable functionality. And the Tektro hydraulic brakes are perfectly adequate for around-town riding as well.
The only accessory that left me wanting is the rear rack. And that's to do with the bike's overall compact design, and not the rack itself. When carrying anything wider than the narrow rack itself or when using panniers, there was heel strike on just about every pedal stroke. I have fairly small feet so I can imagine this would be even worse for those with larger feet.
Cannondale Compact Neo - Value and Conclusion
Maneuverable, relatively lightweight, comfortable and stocked with name-brand components, the Cannondale Compact Neo certainly makes for an enticing package for city commuters. It's ready to ride out of the box and, as long as you keep the battery charged, it's very much a reliable option.
And at $1900, you'd be hard pressed to find a package of similar quality. If you're looking for a bike with utility — for carrying groceries or kids— I'd favor the Tern Quick Haul, which also has a compact, maneuvrable design yet more cargo capacity and a stronger, better electric assist. It will also cost you at least $1100 more. For pure commuting purposes, the Specialized Vado SL is quicker, lighter and has more battery than the Compact Neo. But again, these upgrades come at a cost — nearly two grand more. To break that $2K mark, you'd be looking at Momentum's Voya, which has a comparable weight and e-assist package in a full-sized 700C package but even less torque. Or perhaps one of the many Rad Power Bikes models, which, while affordable and powerful, do come at a weight penalty.
All in all, the Compact Neo may not be the zippiest or strongest e-bike around, but it makes up for it in comfort and style. It's a pleasant, leisurely ride that gets you from point A to point B without the stresses or limitations of cars or public transportation.
Thank you for reading 10 articles this month* Join now for unlimited access
Enjoy your first month for just £1 / $1 / €1
*Read 5 free articles per month without a subscription
Join now for unlimited access
Try first month for just £1 / $1 / €1
Cycling Weekly's North American Editor, Anne-Marije Rook is old school. She holds a degree in journalism and started out as a newspaper reporter — in print! She can even be seen bringing a pen and notepad to the press conference.
Originally from The Netherlands, she grew up a bike commuter and didn't find bike racing until her early twenties when living in Seattle, Washington. Strengthened by the many miles spent darting around Seattle's hilly streets on a steel single speed, Rook's progression in the sport was a quick one. As she competed at the elite level, her journalism career followed, and soon she became a full-time cycling journalist. She's now been a cycling journalist for 11 years.