Bont Vaypor S shoes review
The Bont Vaypor S are the Australian company's latest top of the range shoes and are designed for both speed and comfort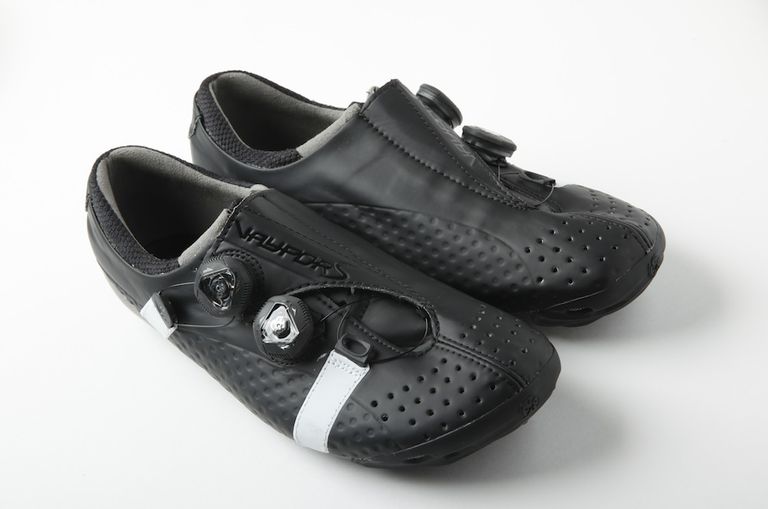 High performance shoes that hit the mark when it comes to combing supreme stiffness with comfort
For
+

Very stiff

+

Comfortable

+

Accommodate wide feet

+

Adjustable retention system fit

+
Against
-

Looks may not be for everyone
Bradley Wiggins wore a pair of Bont shoes when he won the 2012 Tour de France and the Australian company's range of shoes, with the distinctive square shaped toe boxes, continue to be popular amongst the pro peloton and are regularly seen being worn by track riders.
>>> Review: Bont Riot cycling shoes
Like the rest of Bont's line of shoes the current flagship kicks, the Bont Vaypor S shoes are built on the company's unique shoe lasts (the replica of a foot that a shoe is made around). Bont has the motto "we make shoes for cycling, not walking" and believes it places more emphasis on the design of its lasts than its competitors, with the claimed result that it continues to lead the way in terms of functional and anatomical support.
The monocoque carbon chassis makes the Bont Vaypor S shoes look particularly wide. However, they don't feel too roomy and the sole is very stiff, but not to the point where it caused any numbness, even after multiple hours in the saddle.
>>> The best deals on cycling shoes available right now
A strong selling point for Bont shoes is that you can heat mould the sole to get a bespoke fit; Bont claims its shoes are the most heat mouldable shoes available. However, I found the Bont Vaypor S shoes with their 3.6mm stack, anatomical forefoot shape and suede liner, comfortable out of the box without needing to mould them.
The retention system uses two IP1 Boa dials - bigger than the S2 Boa found on the Specialized S-Works Sub 6, but with the additional functionality of a quick release – to subtly wrap the Durolite upper across the top of the foot. The result is a very secure fit that can easily be altered when needed - even on the move, unlike lace-up shoes which are becoming popular.
>>> The lightest cycling shoes in the world? That'll be £1,000, please
A criticism of carbon soled shoes can be that they get scuffed easily, but with a reinforced toe and heel the Vaypor S proved pretty durable.
With an RRP of £270 the Bont Vaypor S shoes are by no means cheap. However, you get everything you'd expect when spending north of £250 on a pair of shoes: a stiff carbon-fibre sole for effective power transfer; a leather or synthetic upper that is light, breathable and supple; and a secure and adjustable fitting system.
They are also slightly less expensive than some of the high performance shoes offered by Bont's competitors which can cost around £300.
Don't be put off by the divisive aesthetics. The shoes that come with the tag-line "lighter, stronger, faster" are supremely comfortable and will appeal to those who want optimum power transfer.
The shoes on test were wide fit and came in black with a touch of white; alternatively you can choose a standard narrow fit as well as either a pair of white or black kicks. But, if you really want a unique pair of shoes there's always Bont's custom service
Thank you for reading 5 articles this month* Join now for unlimited access
Enjoy your first month for just £1 / $1 / €1
*Read 5 free articles per month without a subscription
Join now for unlimited access
Try first month for just £1 / $1 / €1