Santini replica Maglia Rosa review
The Santini replica Maglia Rosa is a good quality technical jersey with a race fit.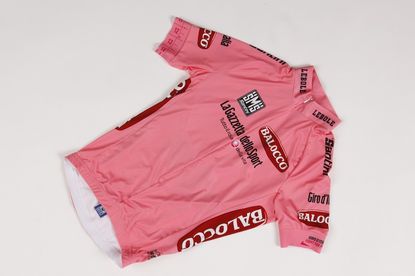 A comfortable lightweight jersey for riding through the Dolomites – or High Wycombe
Reasons to buy
+

Comfortable race fit

+

Good technical features

+

Light
With Sunday 10th May being Italian National Bicycle Day and the Giro underway, no further excuse was necessary to don the replica Maglia Rosa from Santini (opens in new tab) and head out into the Chiltern Hills.
This is one of those garments which feels slightly odd off the bike, being a bit tight across the shoulders and chest. On the bike, however, it just seems to mould to the cycling position without any loose material or bunching anywhere but not feeling restrictive either.
The front of the jersey is made of a lightweight but fairly close woven fabric, so it's cool whilst keeping some of the wind off your chest. The back is a more open weave, so it stays well-ventilated even when climbing. The rear pockets are easy to access and do not suffer from sag when loaded up despite the lightweight material.
There's a concealed three-quarter length front zip, which has quite a small puller which, combined with the stretch of the fabric, makes it slightly difficult to use when on the go. Otherwise, there's a stretchy elasticated waistband and the sleeves have single layer elasticated grippers, so that everything fits snugly.
All up, this is a great choice, at least while the Giro is on, and did seem to make me go faster too – although that may just have been the tailwind on the return leg
Thank you for reading 5 articles this month* Join now for unlimited access
Enjoy your first month for just £1 / $1 / €1
*Read 5 free articles per month without a subscription
Join now for unlimited access
Try first month for just £1 / $1 / €1