How to realign your derailleur hanger (video)
Our mechanic Al Vines shows you how to realign your rear derailleur hanger should it get itself into bad shape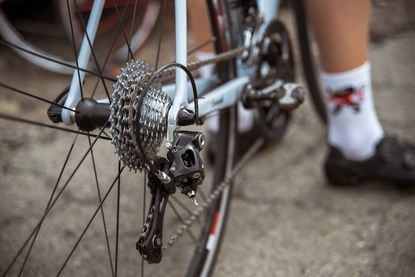 It's pretty easy to bend a rear mech out of shape, and it can happen in a lot of ways. You may fall off your bike, drop the bike, hit the mech or mash it putting it in the back of the car.
Fortunately, though, it's super easy fix, using either the proper tool or with what you already have lying in the garage.
Tools you need:
Rear mech hanger alignment tool
Allen keys
Adjustable spanner
Spare rear derailleur hanger (in case it can't be fixed).
How to realign your derailleur hanger using the proper tool
Now, rear derailleur hanger alignment tools aren't cheap, but they do make this job a lot easier than it otherwise might be.
First, you'll need to unscrew the rear derailleur and let it dangle, then screw in the tool. Align it so it dangles directly below the hanger and adjust it so the end of the gauge touches the rim.
Now, move the tool to 9 o'clock, then 12 o'clock, noting if it moves towards or away from the rim as this will give you an indication of how bent the mech is, and in what direction.
Once you discover the bend, it's as easy as gently applying pressure through the tool to realign the mech. Keep checking with the rim to make sure it is as straight as you can get it.
Finish up by removing the tool and re-fitting your rear mech. You'll now have to setup up your gears again.
Realigning your rear mech with an adjustable spanner
This method is a bit rough and ready, but it'll work if you find yourself in a tight situation.
Simply adjust the jaws so that they clamp around the rear derailleur hanger and then leverage it back into place. It's a less accurate job because it requires using just your sight, but it'll get the hanger back where it should be.
Again, once you're finished you'll need to re-adjust the gears.
Realigning your rear mech with an allen key
This is the best way to fix the mech if you have a crash when you're out on a ride.
If you carry an L-shape allen key, you can use its tail to help with the re-alignment. Keep it parallel to the sprockets and then use your hand to lever the hanger back into the correct place.
Thank you for reading 20 articles this month* Join now for unlimited access
Enjoy your first month for just £1 / $1 / €1
*Read 5 free articles per month without a subscription
Join now for unlimited access
Try first month for just £1 / $1 / €1