The compact turbo small enough for carry on luggage
Looking for the most portable and travel friendly turbo trainer available? The Omnium Travel Trainer from Feedback Sports is a really neat and packable turbo ideal for taking to races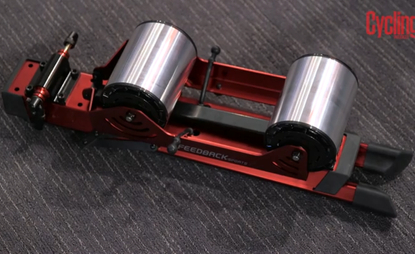 It is widely recognised that to perform well from the gun in most events, you need to warm up. Warming up gets your muscles to the optimum temperature, so that they can perform more effectively. However transporting a turbo trainer to the start of an event can be difficult as many units are bulky and very heavy.
>>> Buyer's guide to turbo trainers
Enter the Omnium Travel Trainer from Feedback Sports. This compact trainer folds down to an impressively small size (Folded dimensions: 66 cm x 18 cm x 20 cm), weighs just 6.21 kg and also included is a tote bag for transportation. This means you can potentially ride to your local road race, criterium, time trial or cross race with the turbo on your back.
>>> 5 minute warm up exercises to do before a ride
>>> Should you buy a smart turbo trainer?
Many cyclists now travel abroad to ride timed events and Gran Fondos in exotic locations, where a warm up could be beneficial. The product could also appeal to age group triathletes and those competing in Iron Man events abroad too. The low weight and small size, makes the Omnium travel trainer ideal for flying with, in fact, it is so small it can be taken on a plane as carry on luggage!
We are not suggesting this will be ideal for mid-flight work outs, but useful when you are at your destination!
>>> Top 10 turbo training mistakes
Resistance is progressive and magnetic on two aluminium drum rollers. According to Feedback Sports, the bearings are greased and sealed, requiring no maintenance. To see the Omnium Travel Trainer in action and a demonstration of how it folds, watch the video above. For those interested in the stats, here is some useful information about the trainer:
It accepts forks w/ standard QR, 12 x 100, 15 x 100 & 15 x 110 (boost) thru axles
It Accommodates wheel sizes 600c – 700c, 26″-29″
Rider weight limit 136kg
It accepts wheel bases from 840mm to 1200mm
We are a big fan of the Feedback Sports work stands, so look forward to putting the Omnium Travel Trainer through its paces once we get hold of one. UK availability is set to be the end of March, with the Omnium Travel Trainer set to cost £349. In the mean time, head over to 2Pure for more information.
Thank you for reading 20 articles this month* Join now for unlimited access
Enjoy your first month for just £1 / $1 / €1
*Read 5 free articles per month without a subscription
Join now for unlimited access
Try first month for just £1 / $1 / €1