Pro bike: Tom Boonen's Specialized Venge ViAS Disc (video)
We take a closer look at Tom Boonen's disc equipped Specialized Venge ViAS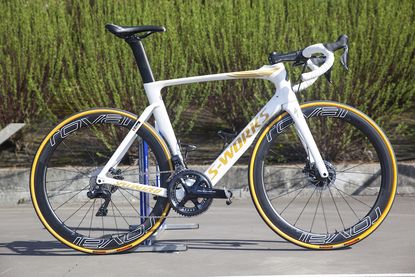 Classics legend Tom Boonen has been racing aboard this wicked looking Specialized Venge ViAS for the 2017 season.
Immediately, that white and gold paint job stands-out. As it should considering it's honouring his retirement this year – Boonen plans to depart racing after Paris-Roubaix. He's angling for his fifth win, which will rocket him into the history books.
>>> Can Tom Boonen win his final Paris-Roubaix?
As if white and gold wasn't enough, Boonen also has "heroes get remembered, but legends never die" painted on the seat tube.
The ViAS' frame is as equally smart. Those arches allow it to pass through the air as cleanly as possible.
Despite this, Boonen has opted to run a standard cockpit setup. The ViAS usually has an integrated front end, but it could be that the Belgian powerhouse doesn't find it stiff enough when he's putting the power down.
As equally interesting is Boonen's choice of Shimano's R9170 hydraulic Dura-Ace groupset. He's been an advocate of discs from the start, having success already this year.
He obviously doesn't mind any of the aero or weight disadvantages that are typically associated with discs.
Elsewhere, he's rocking Roval's CLX 50 disc specific wheels. These deep section wheels help keep minimise any drag, but don't expect to see him riding them over the cobbles any time soon.
In terms of rubber, he's using Specialized's own Turbo tyres. These have an ultra-supple 320TPI casing that gives oodles of grip – something that will be important when riding over those slick cobbles.
One thing is for sure, expect Boonen to lay everything on the line at Paris–Roubaix. The Classic race closes out the long and successful career of one of the finest riders of his generation.
Thank you for reading 10 articles this month* Join now for unlimited access
Enjoy your first month for just £1 / $1 / €1
*Read 5 free articles per month without a subscription
Join now for unlimited access
Try first month for just £1 / $1 / €1