Can Tom Boonen win his final Paris-Roubaix?
As Tom Boonen prepares for his final race, we talk to the man aiming to become the most successful Paris-Roubaix rider ever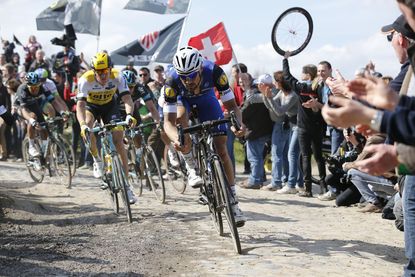 (Image credit: Yuzuru Sunada)
Get The Leadout Newsletter
The latest race content, interviews, features, reviews and expert buying guides, direct to your inbox!
Thank you for signing up to The Pick. You will receive a verification email shortly.
There was a problem. Please refresh the page and try again.
When Tom Boonen rolls away from the start line in Compiègne next month, it will be his last Paris-Roubaix — and last race — of a long and very successful career.
Flanked by some of the best Classics domestiques in cycling, the Belgian will put everything on the line in a bid to score a fifth victory in the Hell of the North, surpassing 'Monsieur Paris-Roubaix' himself Roger De Vlaeminck, before resigning on the spot from professional cycling.
Many riders might find it difficult to work up an appetite for hard training with the prospect of a retirement that's less on the horizon as it is just around the next corner.
But this is Tom Boonen and Paris-Roubaix. 'Tommeke' won't be ready to stop fighting tooth and nail until he crosses the line in Roubaix's municipal velodrome on the afternoon of Sunday, April 9.
>>> Paris-Roubaix live TV guide
He admits to becoming momentarily bogged down in wistful nostalgia post his final World Championship road race in Qatar last September, but throughout the following months he never took his eye off the prize.
"It was a little bit difficult to confront it after the Worlds," he tells Cycling Weekly.
"I stayed in Qatar for a week with the family, so the day after the Worlds I was already knocked off for the holiday, I was like, 'This is really the last World Championship, last winter coming up, last season coming up...'
"But the moment I got back home I got busy again and started training again, and from that moment until now, not one moment was a hassle."
What's more, he's not the only one at the Quick-Step Floors team who is excited and determined to see him heave the prized cobblestone over his head one more time.
"My team-mates keep talking about it and they want to be there in the last Roubaix; they're all motivated even more than other years," he says.
Imposingly tall at 6ft 4in and with a wiry physique apparently devoid of body fat, Tom Boonen was perhaps born for the Classics.
At 36 and despite a thinning pate disguised by a buzzcut, and features that have spent the last 15 seasons being battered by sun, wind and rain, the youthfulness in his face that quickly made him a housewives' favourite as a new pro remains.
So, apparently, does his ability to win races. At the Tour de San Juan in January he won the bunch sprint for stage two, beating Elia Viviani (Sky) and Andrea Guardini (UAE) in the process, and also scoring a second and a sixth.
Results like this augur well for Boonen, and he would probably point to what he describes as his most solid winter of training in years.
"I had 10 days off after the Worlds and [then] I had a normal winter, which was the first time in a long time, and yeah you feel it on the bike.
>>> Tom Boonen 'one guy short' of World Champs win
It makes a big difference. Last year I had a lot of doubt going into the season and now I'm actually pretty confident that I will do well," he says, and nobody needs to remind him that the next few months are an all or nothing affair:
"Every race from now on is important. I don't have anything to hide behind.
"I don't know, I haven't counted it yet, but I have maybe 30, 40 races left and that's it, so… season stops in April."
He will probably try not to think too much about the fact that this year's will be his 13th participation in the race — unlucky for some — aside perhaps from giving himself a satisfied mental pat on the back at having racked up so many rides.
In a sport where the tiniest flick of a wheel somewhere in front can cause a season-ending crash, there are plenty who might counsel against placing so much stock in a single race, but Boonen is adamant that for him, nothing could make more sense:
"Everything started [for me] with Paris-Roubaix. The Classics are my favourite time in the season.
"And for the motivation, it's easier for me to give 100 per cent for that period knowing that I'm stopping, and after that… it's the end. Finished. To do another year and then stop after, I don't know, the World Championship, it's completely different. It's better for me [to stop at Roubaix]."
Boonen isn't the only one convinced he's retiring at the right time.
Quick Step boss Patrick Lefevere, with whom Boonen has worked almost his entire career, riled his charge by suggesting he should retire after the Spring Classics last year and avoid doing a year too many.
Watch now: Cobbled Classics essential guide
To which Boonen retorted in a Het Nieuwsblad interview: "If you're racing, happy and well, then you still count. I'm not going away.
I don't see why anyone should interfere with the retirement of someone's career."
Speaking to Cycling Weekly, Lefevere is full of praise for the rider who has brought Quick Step some of its most celebrated moments, saying the team would miss him a lot, but the time to stop had arrived.
"As a lot of people know with me, I'm somebody who wants people to stop on the right moment, not doing one year too much, hoping and hoping and hoping," Lefevere says.
"He's still in physical condition to win big races, but for me it's a big dream to stop when you're still on the top.
Everybody thinks it's easy to win Paris-Roubaix but not many riders can say, 'I've won what Tom Boonen won.' "
>>> Who will win the major 2017 Spring Classics? Here's what the bookies think
Despite his star status, Boonen doesn't lack time for the younger riders on his team, says Lefevere:
"He's a big champion but he's the first to go to riders and say, 'How are you?' and they're shaking because he's Tom Boonen... but he takes this stress away immediately.
"He does the right things at the right moment and everyone on the team loves him."
First mud
Boonen was smitten by Paris-Roubaix from his first participation in 2002, where he finished third having ridden in the front group all day.
"That first time, I was scared," he admits, and who could blame him?
It was a filthy day, with rain and thick mud in abundance. At the finish all the riders were caked in it, but Boonen, for one, was also smiling broadly:
"It was my first time on a Classics podium and that began a little love story with the race for me.
After crossing the line, I fell down on the track and at that moment right there I said to my mother, 'I think I've found something I'm good at!' And now, at the end of my career, it's once again Paris-Roubaix."
The 21-year-old boy from Balen, Eastern Flanders, certainly had a point that day. It was something he was good at indeed.
After another top 10 in 2004, he drove the point home emphatically in 2005 when, having won first E3 and then the Tour of Flanders, he outsprinted George Hincapie (Discovery Channel) and Juan Antonio Flecha (Fassa Bortolo) in a three-up drag race to win his first Paris-Roubaix.
"This is more than unbelievable!" he beamed afterwards. But it was real, and there was a lot more to come including the world road title that September.
Over the next two years, fans and media slowly lost confidence in Boonen and he was accused of losing his touch.
In hindsight this seems grossly unjust — almost incomprehensible in fact — looking at the extensive list of wins he amassed during that period.
These included the Tour of Flanders, E3 and Scheldeprijs in 2006, followed by three semi-Classics and a pair of Tour de France stage wins the following season.
But let's not forget that he had been hailed the new Eddy Merckx after his Flanders-Roubaix double in 2005 — something that was always going to create impossible expectations.
In 2008, 17th place at Flanders saw pressure on Boonen crank up another notch, despite purportedly turning domestique for the day and working for eventual winner Stijn Devolder.
"Boonen knows it has to be another story at Paris-Roubaix," said Cycling Weekly at the time.
"If he misses out on Roubaix for a third year running then he will lose his status as top Classics leader in Quick Step."
But a week later he proved he was far from finished, arriving at the Roubaix velodrome with Fabian Cancellara and Alessandro Ballan four minutes ahead of the chasers and comfortably outsprinting them both.
'Boonen is back!' screamed the headlines, while the man himself was clearly satisfied and relieved in equal measure.
"A week ago after not winning Flanders, it seemed nobody believed in me any more," he said. "Well, here's my answer."
Equally defiant was Lefevere, who criticised the Belgian press for losing faith. "Why do the papers always want to whip up a negative attitude among the fans?" he demanded.
"Tom won, that's what matters. It's only in Belgium that sporting heroes come in for so much flak."
Two positives for cocaine (not sanctionable because they were out of competition) had fuelled his critics, but Boonen underlined his return to top form the following spring when a typically attritional Roubaix saw him go clear with 16km to go at the Carrefour de l'Arbre and solo to victory.
>>> Boonen gets first win since cocaine positive
Labelling it his toughest win yet, Boonen quipped: "Paris-Roubaix is a simple race to win, you just have to be sure you don't die."
After a brace of relatively barren years which were even dubbed the "wilderness years" in the media, the Belgian stormed back in 2012 to remind everybody that, 10 years after his first Paris-Roubaix podium, he was still one of the best Classics riders in the world.
Seven days after winning his third Tour of Flanders, he pulled off what was arguably his most impressive Roubaix victory yet, breaking away alone with 54 kilometres still to race and soloing to victory two minutes ahead of second-placed Sébastian Turgot of Europcar.
>>> Boonen wins 2012 Paris-Roubaix with unstoppable solo attack
Some raised an eyebrow at the fact that Fabian Cancellara — one man who could have stood between Boonen and victory — was sitting at home with a broken collarbone, but the way in which Boonen won the race prompted even his Swiss nemesis to tweet:
"Boonen is motivated to win alone and not like the other races in the sprint. #mental power. Looks like it's gonna happen."
With that, Boonen cemented his place among the Classics greats, and equalled 'Monsieur Paris Roubaix' Roger de Vlaeminck's record of four wins. M. Paris-Roubaix himself was scornful of Boonen's win, however, calling it "a sad affair".
"I knew that he would be next to me [in having four wins]. Tom can't help it that he had no opposition. They were not second but third-rate riders," he told Het Nieuwsblad.
He also said Boonen should win a wider variety of Classics, implying he shouldn't be considered his equal until he did, but conceded: "He's the best spring rider of the last 20 years."
And that was Boonen's last Roubaix victory. Going into this April's race he will be 36 and five years will have passed since that win — and yet Boonen still has a wolflike appetite for another win there.
He showed as much last year when he came within a whisker of taking it, to be edged into second place by Mat Hayman (Orica GreenEdge) in a four-up sprint with Ian Stannard (Sky) and Sep Vanmarcke (LottoNL-Jumbo).
He still has the desire, and if he is to be believed, the ability. "I'm 1,000 per cent sure that I can do better than last year," he tells CW.
"Last year I was maybe 85 per cent of my possibilities — I was a ghost of me and I was still pretty good."
It's a bold prediction but as we saw with that huge solo break in 2012, he's not shy of laying it all on the line.
In January, Quick Step unveiled a feature-length film about their 2016 season, called One Year in Blue.
One scene, filmed in a team car with Boonen in the passenger seat, summarises his approach: "Sometimes you don't need a plan," he says.
"You just need big balls."
Thank you for reading 20 articles this month* Join now for unlimited access
Enjoy your first month for just £1 / $1 / €1
*Read 5 free articles per month without a subscription
Join now for unlimited access
Try first month for just £1 / $1 / €1
Get The Leadout Newsletter
The latest race content, interviews, features, reviews and expert buying guides, direct to your inbox!
After cutting his teeth on local and national newspapers, James began at Cycling Weekly as a sub-editor in 2000 when the current office was literally all fields.
Eventually becoming chief sub-editor, in 2016 he switched to the job of full-time writer, and covers news, racing and features.
A lifelong cyclist and cycling fan, James's racing days (and most of his fitness) are now behind him. But he still rides regularly, both on the road and on the gravelly stuff.