1989 Tour de France stage 11: Hermans takes sprint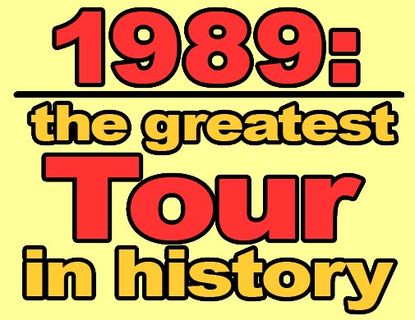 Get The Leadout Newsletter
The latest race content, interviews, features, reviews and expert buying guides, direct to your inbox!
Thank you for signing up to The Pick. You will receive a verification email shortly.
There was a problem. Please refresh the page and try again.
BUNCH SPRINT AFTER RUDY HITS THE DECK
Wednesday July 12, 1989

Luchon-Blagnac, 154.5km
More haste, less speed was never more true for the Belgian Rudy Dhaenens (PDM) who crashed with a clatter on the last corner before the finish of this super fast stage out of the Pyrenees, direction the Mediterranean coast.
With only a few seconds separating him from the whole pack, Dhaenens took the bend too fast and glory slipped away as his wheels slid from under him.
He went down hard, got up quickly, stumbled, stooped to pick up his broken bike and then thumped the handlebars in frustration because no service car was near.
His break had begun only two kilometres before, and there was insufficient time gap for a car to be called up.
Poor Dhaenens could only watch in frustration as the whole pack of 144 men swept by in a swirl of dust to settle the first mass bunch sprint for first place in this year's Tour. And only then did his mechanic reach him.
Instead of taking his second stage win in a Tour de France Dhaenens finished 156th in the second group of 17 riders 50 seconds behind.
The victory was taken by Holland's Mathieu Hermans (Paternina) 10 minutes ahead of the fastest schedule, an average speed of 43kph. Second was Giovanni Fidanza (Chateau d'Ax) with Eddy Planckaert (ADR) taking third and plainly not up to his usual sprinting tricks. Teun Van Vliet (Panasonic) grabbed fourth place, with points leader Sean Kelly (PDM) fifth.
It was a good day for Kelly, who took over the red jersey of Catch sprints leader to go with his green points jersey and the multi-coloured Combine jersey. He did this easily, by winning the Catch sprint at Aspet after 39 kilometres, so wiping out the four-point deficit on Denmark's Soren Lilholt (Histor) who was placed nowhere.
There was no change to the overall classification but the field had been under a lot of pressure as many breakaway attempts were mounted in the hot sun.
New race leader Laurent Fignon was shadowed throughout by former leader Greg LeMond while the big threat, Pedro Delgado, also played follow the leader.
Mountains leader Gert-Jan Theunisse defended his position by taking the first climb from Bruno Cornillet (Z-Peugeot), who was trying to mop the points on behalf of team-mate Robert Millar, lying second in the mountains classification. Millar could only make fifth in this sprint. But he lost no more advantage to Theunisse when both of them missed out for the next climb which was taken by Rolf Golz (Superconfex) from Dhaenens.
The stage rapidly drew to its conclusion. Jos Haex (Hitachi) became the carrot, going out front alone as the whole pack split into three groups after 47 kilometres. All the heads of the race were in the first pack of 51 riders, but Delgado had not one of his Reynolds team with him. They worked the second bunch hard to close up in 20 kilometres when there was a general regrouping.
All except for one, Haex, who held out to take a very special prime worth 10,000 Francs. It was the occasion of the 1,789th kilometre of this Tour, an historical figure for the French who this year celebrate the 200th anniversary of the French Revolution in the year 1789.
Too late a Frenchman thought to take up the chase after Haex, but at least Martial Gayant began a min-revolution of his own by joining a small break that reeled in Haex. Gayant, Michel Vermote (RMO) and Herman Frison (Histor) stayed out until 14 kilometres to go when the whole race came together.
Gayant tried hard to get away again, but in vain, and then Dhaenens launched himself on the victory trail which was to end in humiliation.
STAGE RESULT

1. Mathieu Hermans (Ned) Paternina 3-37-47

2. Giovanni Fidanza (Ita) Chateau d'Ax
3. Eddy Planckaert (Bel) ADR
4. Teun Van Vliet (Ned) PDM
5. Sean Kelly (Ire) PDM



LAST KELME MEN ABANDON TOGETHER

Before stage 11, Colombia's Fabio Parra had sat sadly in his team car, answering as best he could reporters' questions about his poor performance. He had tendonitis, he said.
But he also had to explain why seven of his team had been eliminated thus far, leaving just him and José Roncancio.
Parra, favourite for a high place, had failed to stay with the leaders on both days in the Pyrenees.
He finished 43rd on the first day, pulling back to take 14th on stage 10. But he had lost over nine minutes in two days, and was 12 minutes behind overall.
Plainly Parra, who won the Alpine stage to Morzine last year, going on to take third overall, was out of the running.
So it came as no surprise to hear he had been dropped in the first 20 kilometres, before the first of the day's two climbs, the third-category Col des Ares, followed by the lower Col de Buret, 10 kilometres later.
And when his only team mate Roncancio dropped back for him, t may have been to help him regain the pack, but it didn't turn out that way.



In an act of solidarity, they abandoned the race together in that quiet aftermath which descends on a Tour route after the race has thundered through.
The complete Kelme team had been eliminated.


Thank you for reading 20 articles this month* Join now for unlimited access
Enjoy your first month for just £1 / $1 / €1
*Read 5 free articles per month without a subscription
Join now for unlimited access
Try first month for just £1 / $1 / €1
Get The Leadout Newsletter
The latest race content, interviews, features, reviews and expert buying guides, direct to your inbox!
Keith Bingham joined the Cycling Weekly team in the summer of 1971, and retired in 2011. During his time, he covered numerous Tours de France, Milk Races and everything in-between. He was well known for his long-running 'Bikewatch' column, and played a pivotal role in fighting for the future of once at-threat cycling venues such as Hog Hill and Herne Hill Velodrome.