Best women's cycling shoes reviewed
Comfortable kicks for cycling are an essential piece of kit - we round up the best women's cycling shoes and share advice on how to choose the perfect pair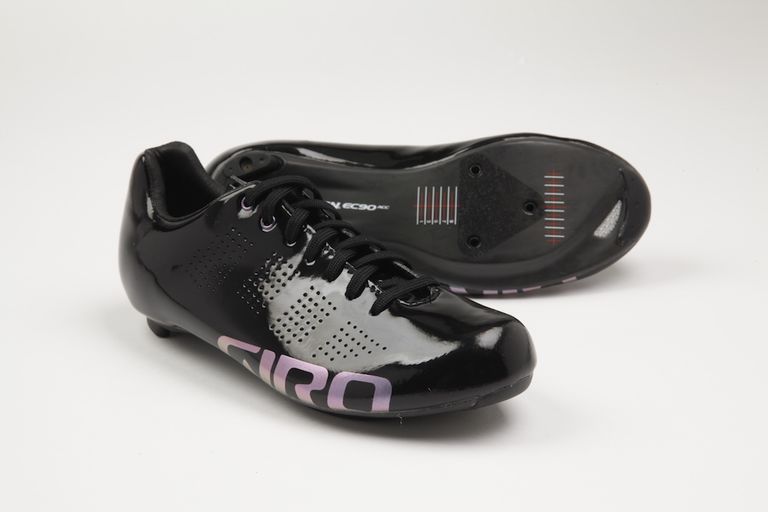 Quality women's cycling shoes are designed around a female 'foot last', with the ultimate goal of providing a comfortable and effective base from which to power the pedal stroke.
Using clipless pedals allows you to maximise the strength you have available, improving pedal stroke pattern and making climbs significantly easier as the lower leg muscles are more able to engage.
There are many different cycling shoe styles, at a range of different price points - the overall cost being most affected by weight, sole material, and fastening system (which in turn affects weight).
Well fitting cycling shoes should be barely noticeable once you get pedalling (unless they happen to be so stunning you can't stop looking at them - and there are some show stoppers out there). Signs of ill fitting cycling shoes include hot spots, and numb feet.
What's different about women's cycling shoes?
Women's shoes are not drastically different to 'men's cycling shoes' or 'unisex cycling shoes'. The only real difference should be that they are created around a female foot last.
The 'last' is the structure that shoes are built around. Typically, a woman's last is narrower at the ankle, and lower in volume - resulting in a shoe more likely to fit the average woman's foot comfortably.
In a cycling shoe, fit at the ankle is crucial - you want to feel the heel cup hug the back of your foot, so that it feels secure - but not squashed.
Women typically have smaller feet than men, too - so of course brands making shoes for women will accomodate for this, beginning their sizing scale much lower.
Of course, the 'last' is based on averages - so if you've always worn men's or unisex shoes and found them comfortable, there's no reason to change your status quo.
If, in the past, you've tended to opt for men's cycling shoes and are now swapping over to a women's version, it's worth bearing in mind that the sizing is not as identical as you may have believed.
>>> Comfort breaks for women: best bib shorts for an easier pee stop
There's often a slight difference between men's and women's sizes. As an example, for one brand, a women's UK 5 is a Euro 38, which measures 23.5cm. A men's UK 5 is a Euro 37.5, measuring 24cm. Baffling, we know. But at the end of the day, sizing varies between brands and it's always best to try before you buy. Ideally wearing socks of about the same thickness as you'll wear on the bike.
>>> Best women's cycling jerseys
Below are some of our favourite cycling shoes on the market for both outdoor riding and indoor workouts - read on after the product picks for more advice on what to look for...
Our pick of the best women's cycling shoes
With each product that's currently available to purchase, you'll find a 'Buy Now' or 'Best Deal' link. If you click on this then we may receive a small amount of money from the retailer when you purchase the item. This doesn't affect the amount you pay.
Reasons to buy
+Solid carbon sole+Comfortable upper+Lots of support
Reasons to avoid
-Some riders may not enjoy added bulk of padding
Giro's "race capable mid-level carbon soled shoe," these kicks come with an Easton E70 carbon sole, and Boa dial combined with velcro at the toes. The sole means they're more than ready to race, but there's some nods to comfort you won't find in top end models, such as extra padding around the ankles. Mesh sections will dispel heat, too.
Though they're not cheap, they are good value - the Fizik R4B's we reviewed recently come with a higher price tag, but though still stiff, lack that full carbon sole you get here.
Reasons to buy
+Stiff sole+Excellent, efficient power transfer+Low profile look
Reasons to avoid
-Not suited to narrow feet
An oldie but a goodie - you'll mostly find these carrying a large reduction these days as they've been around a while. The high end beauties from Pearl Izumi really impressed us - but they're not built for narrow feet, which is worth bearing in mind.
The single Boa dial means the design stands out from the norm, and offers good adjustability, while the unidirectional carbon sole offers very impressive power transfer.
Reasons to buy
+Secure closures - including Boa IP1 dial+Comfortable+InForm Pro footbed and heal cup
Reasons to avoid
-Not high-end looking-Slight flex in sole-Velcro closure longevity
A carbon/fibreglass sole with a Boa dial that works alongside Velcro closure at the toes, these shoes are comfortable option.
The Meraj shoes do provide a little flex, which out-and-out racers might dislike - but could be the perfect option for all day rides.
Specifications
RRP: £259.99 (now in white)
Reasons to buy
+Good-looking+Narrow-fitting+Adjustability+Replacement parts+Reasonably lightweight+Stiff+Male-specific version available
Reasons to avoid
-Near impossible to adjust on the move-Expensive-Limited colour range compared to men's range
Lace up cycling shoes have become increasingly popular, with the ability to adjust them to the perfect fit the major selling point (as well as the cool vintage vibe).
The Empire shoes from Giro feature a female specific design with a narrow ankle, carbon sole and adjustable arch support. There's plenty of ventilation in the upper, and maintenance is easy with a wipe clean surface.
Specialized has upgraded its S-Works shoes to the next level: 7. The outgoing S-Works 6 shoes impressed us no end and these claim to be even stiffer. If your eyes are hurting and everything anyone ever told you about red and pink together is ringing in your ears, it's ok: they are available in a more understated white or black as well.
Two precision fit Boa dials create a perfect fit and Specialized uses its Body Geometry footbed which aims to increase efficiency and decrease injury. This is a racing shoe that creates a notably stiff and speedy-feeling power transfer.
Unlike previous models (including the S-Works 6's) these come only in a 'unisex fit'. In the past Specialized based its women's shoes on a female foot last, now they've done a 360 and say it's not necessary. These are available from a size 36 though, which is a UK 3.5.
dhb Aeron Carbon Road Shoe with Dial
These aren't women's specific, but they're an excellent deal and available from a size 39 so may be worth considering.
dhb's Aeron shoes come with a carbon sole, which means they'll be plenty stiff enough, and the fastening system is a dial adjustment at the top of the foot. The synthetic upper has perforation for breathability.
Shimano RT4W SPD Touring women's cycling shoes
If you want a pair of cycling shoes that provide a firm attachment to the pedals on the bike, but allow you to walk with a normal gait when off it, then these might suit.
A full length rubber sole provides plenty of grip, and the synthetic leather upper is flexible and comfortable. Lace closure makes for optimum adjustment, and a two bolt SPD system means the cleat will be recessed.
Best indoor women's shoes
Riding indoors is often a sweaty affair so it is useful having a set of shoes that heavily use mesh for breathability and have an open design.
Indoor shoes for use at a spin class or on an exercise at the gym will also need to be compatible with two-hole SPD cleats to fit the pedals that come on these bikes.
Reasons to buy
+Breathable+Comfort+Secure fitting+No slip sole+Micro adjust fit+Women specific fit+Small sizes
Reasons to avoid
-Weight-Sole flex
Shimano's IC5 shoe is designed specifically for spin and indoor cycling with it's maximum breathability and reinforced plate in the sole of the shoe for stable power transfer during intense efforts.
The SPD compatible indoor shoe has a breathable, comfortable sock mesh upper to stay fresh during hard workouts and this brings the shoe's weight to a mere 292g (size 40).
A BOA dial delivers tightening ease and will ensure your foot stays firmly in place whatever the effort.
It's recessed cleat channel also makes these performance shoes easy to walk about in—which makes them practical for using on the spin and exercise bikes at the gym.
Northwave core road women's cycling shoes
Generous venting across the upper and the sole unit of these Northwave shoes ensures your feet can breath and remain fresh.
With three lightweight velcro straps a comfortable and close fit is easy to achieve and it's seamless unibody upper reduces the chance of chafing.
These shoes are compatible with both two-bolt and three-bolt cleat systems, making them a versatile choice that can be used on gym exercise bikes or on road rides.
Women's cycling shoes: what to look for
There are several other elements to consider when buying cycling shoes, each one having an effect on the price tag...
Cycling shoes: soles
The sole of a cycling shoe is integral to... the soul of a cycling shoe.
Moving on... Top end shoes will feature carbon soles. Carbon provides a stiff base for optimum power transfer. It's pretty rigid, and the grade of carbon used will determine how much so. At a mid-level, you'll find composites, often reinforced with carbon, whilst cheaper cycling shoes will feature nylon or fibre glass soles.
If you plan to spend a notable amount of time off-bike in the shoes, then those that use softer materials, ideally with rubber grips, may well be a better option. Otherwise, it comes down to how much you're willing to spend.
Cycling shoes: closure system
The cheapest cycling shoes will use a Velcro fastening system - though you'll also notice some very light 'climbing specific' cycling shoes utilise Velcro for its low weight. Velcro boasts a firm grip, but doesn't always offer the closest fit; and when the top section doesn't envelop the lower layer, you do sometimes end up with a protruding piece of naked material, prone to turning fluffy or attracting insects.
At the mid-level, ratchets are common. This provide incremental tightening and are quick to undo with one level 'snap' off action in most cases.
Top end shoes usually use Boa dials. The clearest benefit here is that they're very easy to adjust on the bike, should conditions (rain or shine) cause the volume of your foot or the tightness of the fabric to increase or decrease.
Across the spectrum, you'll also find laces. These are thought to be the most aerodynamic option, and with so many points of adjustment, they can also be very comfortable (as well as carrying a certain vintage charm). The downside: laces can stretch in the wet, and of course they're impossible to adjust on the fly.
Cycling shoes: cleat style
Most road cyclists will opt for a three-bolt road cycling cleat from one of the major brands: Look, Shimano or Speedplay. A three-bolt cleat will help you deliver optimum power through the cranks.
A two-bolt, SPD style means the cleat is recessed into the sole of the shoe, making these ideal for commuters and people who want to walk around without waddling like a duck. Also, exercise bikes at the gym tend to have pedals that only work with two-bolt SPD cleats.
Cycling shoes: fit
Well fitting cycling shoes are essential. As with any style of shoe, brands vary in their distribution of volume. It's best to try cycling shoes on before you buy them, ideally wearing socks about the same thickness as those you tend to wear on the bike.
As a rule of thumb, Specialized, Giro and Fizik tend to offer shoes that fit those with narrow feet well, whilst Bont are well known for accommodating wider feet and Sidi create shoes in varying widths.
Cycling Weekly's Tech Editor Michelle Arthurs-Brennan is a traditional journalist by trade, having begun her career working for a local newspaper before spending a few years at Evans Cycles, then combining the two with a career in cycling journalism.
When not typing or testing, Michelle is a road racer who also enjoys track riding and the occasional time trial, though dabbles in off-road riding too (either on a mountain bike, or a 'gravel bike'). She is passionate about supporting grassroots women's racing and founded the women's road race team 1904rt.
Favourite bikes include a custom carbon Werking road bike as well as the Specialized Tarmac SL6.
Height: 166cm
Weight: 56kg