Buy a subscription taster to Cycling Weekly magazine for under £20!
9 issues of Cycling Weekly for under 20 quid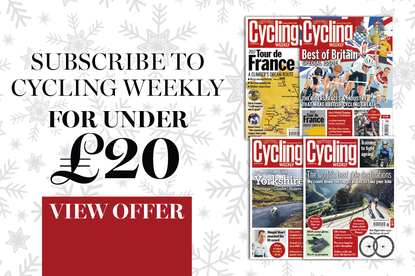 We are offering you the possibility to buy a 'subscription taster' for £19.99. It is a shorter term subscription – 9 issues of Cycling weekly – which allows you to stick to your gifting budget.
Why not give us a try? Subscribe today with our cut price offer! (opens in new tab)
As we are feeling generous here at Cycling Weekly, we are giving you the opportunity to join us as a semi-subscriber form under twenty quid, which also makes a perfect Christmas gift.
But… it pays to be quick on this offer!
Here's why you should subscribe:
In addition our fantastic welcome gift, here's what else you can look forward to:
You won't miss a single issue of your favourite magazine: We send it to your home every 4 weeks – no effort required on your part!
As a subscriber you pay less that you would at the newsagent.
You get access to the ipad/iphone editions thrown in at no extra cost and you can download your first digital magazine right away.
Why not give us a try? Subscribe today with our cut price offer! (opens in new tab)
Thank you for reading 5 articles this month* Join now for unlimited access
Enjoy your first month for just £1 / $1 / €1
*Read 5 free articles per month without a subscription
Join now for unlimited access
Try first month for just £1 / $1 / €1