Bell Zephyr MIPS helmet review
The Bell Zephyr helmet was designed around its MIPS liner and aero profile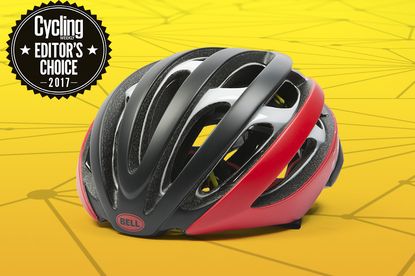 Completely revolutionising what we think of when we imagine 'Bell helmets', the Zephyr is packed with features focused around comfort, safety and aesthetics.
Taking aim at comfort and safety, Bell created the Float Fit Race system, which is integrated with a MIPS layer - and this stand-out innovation means it gets an immediate position in the Editor's Choice 2017.
The Zephyr is one of the first helmets available where the MIPS liner was an integral part of the design process rather than having MIPS retrofitted to an existing helmet design. This means that the venting and airflow work well.
MIPS inserts are rapidly becoming a must have in mid to high-priced helmets. MIPS is a Swedish company which has a patent on a sliding plane that sits inside the helmet. In a glancing impact, MIPS's modelling and testing shows a small amount of movement between the helmet and the skull. The insert helps to reduce the risk of concussion and brain injury caused by that motion.
Bell uses a new dial-adjusted retention system for the Zephyr, called Float Fit Race - saying that this is designed around the MIPS liner. It's certainly very easy to adjust through its four height positions and, when in use, for circumference using its grippy dial. You can also slide the rear retaining pads from side to side relative to the cradle to make sure they fit well.
Since the system was designed with MIPS in mind, extra volume was made available to cater for the MIPS layer - by contrast some other brands simply embedded the extra bulk which has implication on comfort and fit for a lot of riders.
The Zephyr uses two different densities of polystyrene in its inner and outer shells. Bell says that this too helps absorb energy on impact. It is also designed to be aerodynamically efficient at different wind yaw angles, with deep longitudinal ribs connected by narrow lateral pieces which have a small frontal profile. In addition, Bell has studied cooling efficiency and made sure the straps fit close against the head to reduce the drag they create.
The Zephyr is a comfortable and unobtrusive helmet to wear too, even on longer rides. It's got X-Static padding over the forehead, with an extra tongue at the front that wicks sweat away from the face and helps it evaporate. There's another separate pad towards the rear and a spare set in the box. It's not super-light at around 300g, dependent on size, but nevertheless doesn't feel heavy when riding.
Bell makes the Zephyr, which has an RRP of £199.99, in seven colours, including an all-over reflective Ghost option.
Thank you for reading 20 articles this month* Join now for unlimited access
Enjoy your first month for just £1 / $1 / €1
*Read 5 free articles per month without a subscription
Join now for unlimited access
Try first month for just £1 / $1 / €1