What do pro riders eat and drink during stage races?
Fuelling for a single ride is one thing, but here CW explores how pro teams tackle the task of taking on sustenance for an entire stage race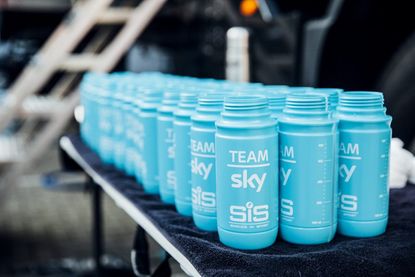 (Image credit: Daniel Gould)
Get The Leadout Newsletter
The latest race content, interviews, features, reviews and expert buying guides, direct to your inbox!
Thank you for signing up to The Pick. You will receive a verification email shortly.
There was a problem. Please refresh the page and try again.
Eating during a stage race is not a matter to be taken lightly.
Recovery from one day's effort has to be complemented with refreshing and refuelling for the next, while working around the logistical complications of a busy race schedule in unfamiliar surroundings.
At the Tour of Oman, we took a daily look at how riders and teams approached feeding.
Stage one: break for lunch
If the wrath of your manager is not reason enough to get in the early escape, here is another. "If you get in the break, it's always easy to resupply from the car behind you," notes Aimé De Gendt after the stage.
In making the day's five-man move, the Sport Vlaanderen-Baloise rider swept up both intermediate sprints, three gels, two bars, and "a few bits of peperkoek". That's a spiced breakfast cake the Belgian team take with them everywhere.
It's hot and humid here and De Gendt worked his way through nine bottles on the 176.5km stage.
>>> 'Dehydration could make you climb faster' says top team medical consultant
"It's a lot more than I would normally drink in the bunch — but then you have to drink more than you normally would because your effort is so high in the break."
When racing on the Arabian peninsular, riders are strongly discouraged from discarding their bottles on deserted desert roadsides.
So while De Gendt was readily able to return his empties to the attending team car, back in the bunch, domestiques were doubly busy running bidons both forward and backwards between bunch and convoy.
Stage two: unmoved
One of the convenient things about some of the early-season stage races is that they are based out of one single hotel.
The Tour Down Under shacks up at the Adelaide Hilton, Del Bono is the base camp for Argentina's Vuelta a San Juan and the Tour of Oman operates out of the Hormuz Grand amidst the dusty sprawl of dual carriageways around Muscat airport.
"The best thing is you don't have to pack up your bags each day," says Astana's Jakob Fuglsang.
>>> UCI bans Tour de France motorhomes, much to Chris Froome's displeasure
When it comes to mealtimes, riders spend a week getting especially familiar with the hotel buffet.
"You know exactly what to expect and learn what the best things are, but the lack of variation can also get a bit boring," says British champion Adam Blythe.
In the dining room, routine sets in. "Everyone sits in the same chair," he adds. "And you get to learn what time to avoid. There's always a busy period."
Watch now: Five foods that are good for cycling
Stage three: breakfast of champions
Soren Kragh Andersen is eyeing up the very neat little piles of rice cakes and bars that his team have assembled on top of a cool box at the stage start.
Will he talk food with us? Of course, he says, but he wants to sit down to save his legs. Wise move.
By the end of the day he'll have garnered his first professional victory.
>>> How to make bacon and egg rice cakes: a great cycling snack (video)
We talk about rice cakes and bananas, energy bars and gels and how he'll progress through this spectrum with distance.
"Generally we are looking at consuming 80-100g of carbs every hour, but intake varies on how hard you go," he says.
One thing that doesn't change is breakfast. "Oatmeal, milk, two cups of coffee, an omelette and one piece of bread," he says.
>>> Five pre-ride breakfasts for cyclists (video)
"Whether I'm at home or away, I always try to keep breakfast consistent."
Stage four: feeding frenzy
There was no official feed zone on today's 118km blast of a stage but that didn't stop the soigneurs creating an unofficial one atop the summit of the Bousher Al Amerat climb.
"The race comes past here three times so it's the obvious place to hand up bottles," explains Dimension Data's Jenny Wuppermann.
A gel attached to a bottle by an elastic band appears to be the package of choice with 43km to go.
Some teams also have mussettes dripping water from the ice packs within.
While the team helpers all arrange themselves neatly, the order goes to pot the moment the bunch arrives.
Soigneurs lurch and retreat into the road. Riders swerve and shout at one another. Bags are grabbed. Bottles are dropped. Urgent demands are projected up the road. The bunch passes and the soigneurs clamber over the central reservation.
Twenty minutes later they'll repeat this chaotic exchange in the opposite direction.
Stage five: self-supplier
Hugo Houle is in the hotel's business lounge serving himself a coffee.
Last time we spoke was in Montreal when he told us of the vast quantities of maple syrup he smuggles out of his native Quebec each season.
The Ag2r rider particularly likes the fact he evades airline weight restrictions by stuffing it all in his bike box.
>>> What do different airlines charge to fly your bike around Europe?
Now picking up the story of his private supply chain from the other end, he explains:
"I live with another Canadian in France, Antoine Duchesne [Direct Energie]. In our garage we have a full stock of it."
A small portion of this joins him whenever he travels to races or training camps. "I always take my own maple syrup from Quebec because it's hard to find a real one outside of Canada."
So how does he apply it? "Basically everywhere the French put honey," he smiles, "I put maple syrup."
Stage six: A biker's buffet
The rider's hotel buffet is extensive but still has its limitations. That's why BMC Racing Team have turned room 3149 into a private pantry.
It's actually a bedroom assigned to one of the soigneurs, but during waking hours it doubles as a free-for-all buffet.
An extra mini-bar fridge has been borrowed from a neighbouring room and the surfaces accommodate an array of cereals, spreads and bread.
"Generally it's for the riders after the race," explains head soigneur in Oman, Geert Tiebergyn.
"If there's a long transfer, they might have it in the car but today for instance when it's a short ride back, there'll be rice and pasta waiting. Plus we'll have a lot of fruit, yoghurt, nut paste, that sort of thing."
The door is either left off the latch or riders are issued keycards so they can come and go as they please.
"It's food they can access outside of meals," Tierbergyn adds. Sometimes the riders descend en masse late in the evenings. That's when chocolate time is.
Thank you for reading 20 articles this month* Join now for unlimited access
Enjoy your first month for just £1 / $1 / €1
*Read 5 free articles per month without a subscription
Join now for unlimited access
Try first month for just £1 / $1 / €1
Get The Leadout Newsletter
The latest race content, interviews, features, reviews and expert buying guides, direct to your inbox!