Jakob Fuglsang threatens to sue UCI if Astana licence is withdrawn
Astana rider Jakob Fuglsang says he could take the UCI to court to cover loss of income if Astana's WorldTour licence is revoked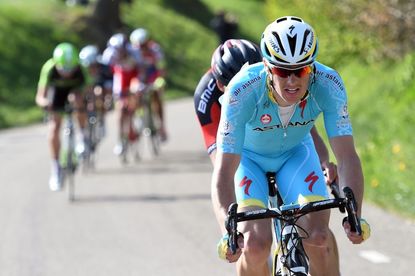 (Image credit: Watson)
Jakob Fuglsang says Astana riders are ready to take the UCI to court if the Kazakh squad is stripped of its WorldTour status by the Licence Commission.
The UCI recommended that Astana's licence should be taken away after an audit conducted by the Institute of Sport Sciences of the University of Lausanne threw up questions about the team's management and practices.
But Fuglsang told Danish newspaper Ekstra Bladet that he may have to go to court to recover lost income if the team is suspendend.
"I have not done anything wrong, so if UCI take my job away from me, so I think it ends up in a lawsuit," he said.
"If the team loses its license, it is likely that our sponsors withdraw, as they probably will not sponsor a team without access to the big races.
"Then us riders will suddenly be in a situation where we are from one day to the other without work.
"If that happens, then I expect a lawsuit from all the riders' side against UCI, as it is the UCI which has taken away our work, and it's up to the UCI to cover our losses."
Thank you for reading 20 articles this month* Join now for unlimited access
Enjoy your first month for just £1 / $1 / €1
*Read 5 free articles per month without a subscription
Join now for unlimited access
Try first month for just £1 / $1 / €1