50 most thrilling performances by British riders in international races: Part one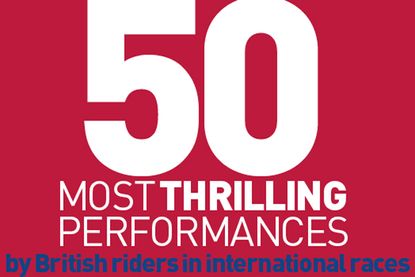 >>>50 most thrilling performances part two>>>


We aren't saying these are the best performances by British riders ever, and they certainly aren't ranked in that order. They are ranked simply and subjectively on their excitement and their impact at the time they happened. Some races we witnessed, some we only read about, but they contribute some very special pages in the story of British cycling.
50 - Millie Robinson wins stage four, Grande Boucle Feminine, 1955

The Grande Boucle Feminine was the women's Tour de France.The first edition is often listed as being in 1984, but there was one Grande Boucle Feminine way back in 1955, and it was won by a Brit. Women's racing was in its infancy. Women didn't even get world titles until 1958, but women's racing had a higher profile than anywhere in France, and in 1955 French cycling organised a women's Tour de France.
The race was restricted to Normandy and it was dominated by the British. June Thackerey won stage two, and the race remained very close until Millie Robinson, an Isle of Man-based rider, escaped the peloton to take stage four. Robinson then went on to win the time trial to become the first British winner of a Tour de France.
Only Nicole Cooke (twice) and Emma Pooley have won the Grande Boucle Feminine for Britain since.
49 - Olympic gold for Victor Johnson, one-lap scratch, 1908
The one-lap scratch is raw track sprinting with no finesse. Even on a lap as big as the one for London 1908, which was built around the White City athletics track, the competitors had to get on with it.
Johnson was fast; his 28 seconds for the standing-start quarter-mile (400m) stood as a record for 39 years. Raw speed won Johnson his gold medal. He blitzed his three-man heat, then a four-man semi, then he got the inside line early in the final and won in 51.2 seconds for just over 600 metres, five lengths clear of Emile Demangel of France.
Johnson's gold medal was one of five, from the seven they could have won, that British cyclists took in the 1908 Games.
48 - Tim Gould, uphill world mtb champ, 1990
In 1990 Gould (pictured here in the UK) won the first ever round of the UCI mountain bike World Cup, which was held in Bassano del Grappa, Italy. He then travelled to the thin air of Durango, Colorado, to take part in the first official World Championships.
He was third in the cross-country race, but Gould's strength was uphill, and he soared up the mountain trail course to win in the spectacular Rocky Mountains. His ride was superb, the setting was spectacular, but above all it was real mountain biking.
47 - Jimmy Michael takes distance race in first ever pro World Track Champs, 1895
Michael was 19, a new pro, the distance race was 100 kilometres, and it was paced. Not by motorbikes, but by men pedalling multi-seated bikes. Each competitor was paced by a quadruplet, with four men pedalling, followed in turn by a triplet (three men pedalling). Michael won by 12 laps, in two hours 24 minutes.
What a sight it must have been, as teams of seven on two bikes, each paced a single paid professional, fighting for the title on a steeply banked track. And little Jimmy Michael, who was only five feet tall, threading his way through the lot of them 12 times, even more with the less able competitors, while cracking out a constant 26mph.
46 - British team defend Ian Steel's jersey, 1952 Peace Race
The Peace Race was the Tour de France for the communist countries of Eastern Europe. Their riders weren't allowed to compete in pro races, but were still full-time athletes, unlike some of those sent from Western Europe, particularly the British.
The race was much harder than the Brits were used to, but they still prevailed. Once Ian Steel had the leader's jersey they had to fight the combined forces of the communist country's teams, whose political masters didn't want a British victory because of our links with America. The final stage was very difficult and while the politicians weren't happy, the other competitors respected and admired Steel and the GB team.
45 - Team sprint, ride-off for gold, London 2012
Team sprints are always exciting, but London was special. You can taste the rivalry between British and French sprinters whenever they meet, but London felt like all-out war.
Team GB qualified fastest in 43.065, with France just 3/100ths of a second behind. GB was fastest again in the next round, but they had to set a new world record to do it, with both teams going under 43 seconds. The atmosphere inside the velodrome before the final was electric. Philip Hindes got Team GB off perfectly, with Gregory Baugé maybe starting a bit too fast for France.
The gap was made, and it grew. Great Britain cracked out another world record to win in 42.60 seconds to 43.013 for France.
44 - Jason Queally's 1,000 metres Olympic gold, Sydney 2000
This was exciting because it was unexpected. Chris Boardman gave us Olympic success in 1992 and the man who trained him, Peter Keen, now had a wider remit within British Cycling. He had some funding and instituted the famous Performance Plan, but in 2000 Keen channelled the larger proportion of his limited resources towards the pursuit events.
The sprinters still got lottery funding, but not quite the attention or special equipment that the pursuiters got.
Then Jason Queally blasted around the track to win the 1,000m time trial gold after taking the team sprint silver. The sprinters' medal tally outshone the pursuiters' - one gold and one silver to two bronze. They had made their point; emphatically, as sprinters often do.
43 - Brits come close in 1972 Olympic RR
The Olympics were still for amateurs, and amateur cycling was dominated by state-sponsored Europeans, but the 1972 British Olympic team had class. The team pursuiters won a bronze medal, and the road boys went into their race full of confidence after Dave Lloyd won the pre-Olympic William Tell GP.
Lloyd beat Francesco Moser and Freddy Maertens in that race, and they both became pro legends after the Olympics. The road race was dominated by an 80-mile, five-man break, that included another future world-beating pro, Hennie Kuiper, and Britain's Phil Bayton.
Bayton never did anything less than his share, and he flogged himself silly to ensure the group stayed away. Then when the tactically astute Kuiper attacked, Bayton went into overdrive trying to bring him back, but it cost him a medal. He was fifth, last man in the break. To complete a great day for Britain, Phil Edwards led in the rest for sixth.
42 - Graham Webb wins 1967 world amateur RR
Webb was spectacular on his day, and September 2,1967 was his day. He was a superb athlete, so strong that he dropped off an early break in the amateur Worlds just to pace a team-mate back up to it.
When he returned he found the break had split, so Webb cruised across to the new leaders and simply accelerated out of the final corner to win by lengths. Roger De Vlaeminck was seventh, and the 1970 world pro champion Jean Pierre Monsere finished 10th.
41 - Roger Hammond, world junior cross champ, 1992
Britain hosted the world cyclo-cross titles for the second time, and Rounday Park was packed. We weren't a great cycling nation back then and most of the crowd came to see the European stars, like Adrie Van der Poel and Mike Kluge in the pro race.
But before the main event, Hammond gave a thrilling display, one that sent everybody home with a smile on their face.
40 - Laura Trott clinches Olympic omnium title, London 2012
Trott was the overnight leader in the six-event race, then dropped two points behind Sarah Hammer in the first two events of the second day.
She had the silver medal, but silver doesn't cut it in Team GB any more. To get gold, Trott had to be two clear places in front of Hammer and only had the final event, the 500-metre time trial, to do it.
Basically she had to win the 500 metres with somebody else beating Hammer too.
It was nail-biting stuff, but Trott did it. Her 35.11 seconds was an Olympic record, and fast enough to provide enough margin for Annette Edmondson to get between Trott and Hammer at 35.14 seconds.
First and second overall did their time trials at the same time, so direct comparison between Trott and Hammer amped up the atmosphere in the Olympic velodrome until the roof nearly came off.
39 - Chris Hoy's La Paz world record attempts, 2007
Set in the glorious theatre of the high Andes, the Velodromo Alto Irparvi is an exciting place to be even without anything happening on it. But when you add in the greatest-ever power sprinter going for an audacious world record after a logistics nightmare, you have a feature film's worth of excitement.
Chris Hoy's sprinting is a long burst of horsepower, and his muscles drink lactic acid. He was the reigning world and Olympic champion, when suddenly the IOC removed the 1,000 metre time trial, one of the longest standing Olympic cycling events.
Hoy had left his mark on the kilo already, but to make it indelible he wanted the absolute world record for a standing-start 1,000 metres, and that meant going to altitude where the air is thinner and sprinters are quicker.
Team Hoy lugged 20 crates of equipment to South America, including UCI-approved start gates. They planned to fly into La Paz and go for the record immediately to avoid the performance dip athletes experience during the first couple of days at altitude. It didn't happen, a flight diversion meant delays and a tiring trek to a jungle airstrip before Hoy got to La Paz.
Undaunted he went as soon as he could, and was up on the record with 100 metres to go, then he hit a black hole of oxygen debt and missed the mark by 0.228 seconds. But Hoy wasn't beaten, he confounded altitude experts by going again next day and this time he was just 0.005 seconds off the record with an incredible 58.88 seconds.
Typically Hoy apologised to his team and those who'd come to watch, then bravely went for the 500m record two hours later, which he shattered.
38 - Steve Peat's 2009 World DH winning run
Downhill mountain biking is exciting by its very nature, and Steve Peat is one of its most exciting exponents.
He's been around since the sport got big in Europe, and his swashbuckling style had taken him to more World Cup wins than anyone else, but Peat had never won a world title.
Clattering down a hill near Canberra changed that for the eternal Kamikaze kid from Chapeltown, and he's still racing and winning today.
37 - Roger Hammond's third, 2004 Paris-Roubaix
Ploughing a lone and honourable furrow in Europe, Roger Hammond built a solid career through the Nineties. Then into the Noughties he looked like he could land a big one.
His best chance came in the 2004 Paris-Roubaix, when he got to the velodrome in a break with Magnus Backstedt, Tristan Hoffman and Fabian Cancellara. Cancellara started the sprint, but then Hammond got slightly boxed in and had to back off a bit, then go the long way around the Swiss rider.
As their battle drifted right, Magnus Backstedt thundered through on the inside to take the race. It was a great result for Hammond, and double joy for us really, because Backstedt is British but for his passport, isn't he?
36 - Men's team pursuit gold, London 2012
Riding against Australia on a home track as the reigning Olympic champions, could any more pressure be heaped on Ed Clancy, Geraint Thomas, Peter Kennaugh and Steven Burke? Not really, but it wouldn't have mattered, because they were amazing.
The huge power and exquisite choreography required to ride a world record 3-51.659 - that's an average speed of 62.16kph - is a thing of beauty. The Aussies were great, fighting to peg GB to half a second at halfway, but it was like trying to stop a waterfall with a bucket, the Aussies were overwhelmed in the second 2,000 metres.
35 - Reg Harris gets his Worlds hat-trick, 1951
After easily winning the amateur world sprint title in 1947, many thought Harris could win three gold medals at the 1948 London Olympics, in the individual and tandem sprints and the kilometre time trial. In the end a car crash and a race crash compromised his training and he ended up with 'only' two silvers.
But Harris liked money not medals, so putting his Olympic disappointment behind him he turned professional, because savvy pro sprinters could earn a lot in Harris's day.
He won the 1949 and 1950 pro world sprint titles, then rode lots of exhibition races, including roller racing in nightclub cabarets, to turn him into the top earner of pro sprinting. Harris's very commercial approach might have angered elements in the UCI, as they changed the rules of match sprinting for a while, allowing three-up finals in 1951, 1952 and 1953. It didn't stop Harris at first.
He beat Jean Bellenger of France and Aussie Sid Paterson, to win in 1951, but couldn't do it again until the rules changed back to two-man matches in 1954, when Harris won his fourth and final world pro title.
34 - Malcolm Elliott, third, 1987 Amstel Gold Race
Elliott was 25 and riding for ANC Halfords as part of the drive to become the first British pro team to ride the Tour de France. He moved forwards all day in a hectic race over a brutal course. Elliott survived an attack by Tour de France polka-dot jersey winner Steven Rooks on the Cauberg to make the final cut of four.
The three Dutch riders in the break began to worry about Elliott's sprint, so they let one of their own, Joop Zoetemelk, roll off the front with three kilometres to go. No one chased, despite all the breakaway riders coming from different teams. Elliott admitted he wasn't strong enough to chase, but also said that if it had come to a sprint he would have won.
Rooks attacked in the last kilometre to get second, and Elliott put four seconds into the other two in the sprint for third. The Dutch guys were right; if they'd taken Elliott to a sprint he would have won this Classic.
33 - Les West's fourth in the 1970 Worlds RR
This would be some achievement today but it was major back then. West was really talented, and in a top European team he might have won some very big races. However, for one reason or another, the chance never materialised.
Instead, West turned pro, stayed in Britain and won plenty of races, but hardly ever even rode anything comparable to the war of attrition that is the pro road Worlds.
Still, he got into the break at Leicester, and he got in it with the great Felice Gimondi, the 1969 amateur world champion Leif Mortensen of Denmark, and Belgium's latest star, Jean-Pierre Monsere. The home crowd shouted themselves silly as the riders made their last lap of the Leicestershire countryside then came into Mallory Park for the finish.
West ended up fourth, predictably, but only Tom Simpson and Mark Cavendish have ever done better than that for Britain.
32 - Sean Yates wins stage six, 1988 Tour de France
Despite being a nation where time trials were the mainstay of grass-roots racing, no British rider had ever won a time trial stage of the Tour de France until Yates in 1988, and there wasn't anybody better qualified to do it.
The Sussex powerhouse started out in club time trials and still turns out when time allows; he loves them. He loved the route around Wasquehal in northern France too. It was flat and twisting with road surfaces to fight against. Yates blasted it in a new Tour record average speed.
31 - Mandy Jones's World road race title, Goodwood, 1982
Raised on long hilly bike rides in the Pennines, Mandy Jones was perfect for a Goodwood circuit that proved too tough for almost all our male competitors. Jones took a bronze medal on her World Championship debut at Sallanches in the Alps in 1980, now she was even stronger. "I don't know what happened," she said after winning in Goodwood.
"They let me get a gap on a descent. I just freewheeled through, looked around and there was a gap." She didn't look around again until a few hundred metres before the line, and there was still a gap, a big one. It was absolutely stunning.
30 - David Millar's stage 12 Tour victory, 2012
Millar wanted this. It's hard for anyone to come back after a doping ban. On top of everything obvious they have to deal with, there will always be just a touch of nagging self-doubt. Millar put that behind him on the anniversary of Tom Simpson's death, during the first Tour de France won by a British rider, by winning in Annonay Davezieux from a break.
You sensed that nobody else in that break was going to win, Millar's body language, desire and his tactics said so. Exciting? You bet it was, but it was very moving too.
29 - Tom Simpson's ninth place, 1960 Paris-Roubaix
What's so exciting about ninth? Simpson and the occasion, that's what. We take live broadcast of the world's best bike races for granted today, but the 1960 Paris-Roubaix was the first race ever transmitted live by motorbike-mounted TV cameras and relayed from aircraft, like it is today. The last hour of the race was all the viewers got, and Simpson occupied their screens alone for 56 minutes of it.
He was 22, in his first full year as a pro, and this was his first Paris-Roubaix. In fact Simpson only saw the Hell of the North for the first time a few days before, and he thought he wouldn't be able to ride the cobblestones, never mind win. His solution was one that stuck throughout his life; when in doubt, attack.
Simpson attacked so hard nobody could follow, and he led right into the streets of Roubaix. Then he blew spectacularly, slowed down and was passed at the entrance to the velodrome. Simpson was passed on it too. But afterwards the former racer and great journalist Jean Bobet summed up what had happened by saying, "Before that day hardly anyone in Europe knew there were racing cyclists in Britain, now everybody knew there was at least one."
28 - Sean Yates and Deno Davie's Vuelta one-two, stage 12, 1988
Yates took a flyer seven kilometres from the finish-line in Jaca, and Davie, riding for Italian team Carerra, latched on behind. The two stayed clear, with Yates overpowering Davie in the sprint. Yates was in great form that year. Aa few days later he helped lead out Fagor team-mate Malcolm Elliott for his first Vuelta stage win.
27 - Cav and Wiggins, 2008 Madison World Championships
They started as the team to beat, targets painted onto their backs by the rest. They started cagily too, collecting points but preserving ammunition for the fire-fight to come. Germany, Belgium and Denmark got a lap, so Wiggins and Cavendish, and everybody else who could profit from it, knew the Brits had to take at least one.
They prodded and pulled at the bunch, and everybody reacted for a while. Then with 40 laps to go, Wiggins went for it in earnest. The rest dug in. There was a gap, but the others were pegging it. Then Wiggins and Cavendish hammered out 15 laps, 15 laps of blinding speed as they widened the gap on the front of the string, and narrowed it to the back. At last they took the lap back.
By now the race had shattered under the pressure and Wiggins and Cavendish pressed on for the other lap. They were in the lead. The Germans got a lap back late on, but then they had to beat Cavendish in the final sprint to win, and that was never going to happen.
26 - Emma Pooley's attack, 2012 Olympic RR
Pooley made the difference in a hard-fought women's road race, but she made it for Lizzie Armitstead. Pooley was the strongest rider there, but the course suited Armitstead better, so Pooley launched a series of stinging attacks that shaped the outcome, and set up Vos and Armitstead's break. It was superb, noble even, team-work, and really exciting to watch.
>>>50 most thrilling performances part two>>>
This article was first published in the December 12 issue of Cycling Weekly. Read Cycling Weekly magazine on the day of release where ever you are in the world International digital edition, UK digital edition. And if you like us, rate us!
Thank you for reading 10 articles this month* Join now for unlimited access
Enjoy your first month for just £1 / $1 / €1
*Read 5 free articles per month without a subscription
Join now for unlimited access
Try first month for just £1 / $1 / €1
Founded in 1891, Cycling Weekly and its team of expert journalists brings cyclists in-depth reviews, extensive coverage of both professional and domestic racing, as well as fitness advice and 'brew a cuppa and put your feet up' features. Cycling Weekly serves its audience across a range of platforms, from good old-fashioned print to online journalism, and video.