Alberto Contador left needing stitches after crash at Vuelta a España event in China
Spanish Tour de France winner says injuries weren't as bad as they looked after incident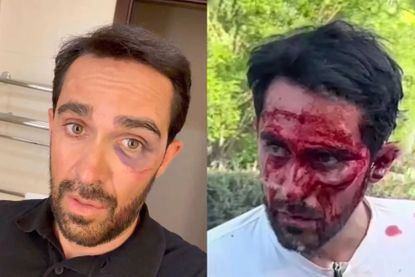 (Image credit: Instagram/Alberto Contador)
Former Tour de France winner Alberto Contador was left needing facial stitches are a crash at a Vuelta a España event in China over the weekend.
The Spanish former rider was taking part in a group ride at the Vuelta's new event in Beijing, Desafío China by La Vuelta, when he was unable to avoid a crash in front of him.
He took to Instagram on Sunday to reassure fans after the incident, which saw the 40-year-old hit the road hard, taking the impact with his face. He was left with a bloodied face, which meant stitches to a cut on his left cheekbone.
"Hi everyone. Today I went down on the Desafío China by La Vuelta," Contador said on Instagram. "There was a crash in front of me and, as much as I tried to jump over the rider in front of me, it was impossible.
"I'm sending this video to transmit calmness. Despite the images fortunately it's not as bad as it looks. Just a few stitches to the eyebrow, cheek, and lip. We'll keep on going."
Contador went on to thank fellow ex-pros Joaquím Rodríguez and Pedro Delgado for helping in the aftermath of the crash, thanking them for "giving me so much peace of mind and support in those moments". As well as the stitched cut, Contador was left with a black eye after the crash.
He won seven Grand Tours during his career. Since retiring from professional cycling, Contador has remained active in the sport, as a pundit on Eurosport in Spain, and also as a co-owner of ProTeam Eolo-Kometa. He also co-owns the Aurum bike brand, along with fellow Grand Tour winner Ivan Basso.
In December, he announced that he had 100 benign tumours removed.
The two-time Tour de France winner posted on his Instagram account with a video in which his entire legs and torso were swathed in bandages and he had sticking plasters on his arms.
"Yesterday it was time to go to the repair shop," the rider turned commentator wrote on his Instagram account. "I needed to get some lipomas removed and it turned out I had over 100! I won't be riding for a while."
Thank you for reading 20 articles this month* Join now for unlimited access
Enjoy your first month for just £1 / $1 / €1
*Read 5 free articles per month without a subscription
Join now for unlimited access
Try first month for just £1 / $1 / €1