Armstrong's team-mate Popovych summonsed in doping investigation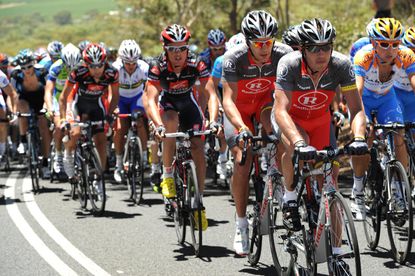 Federal prosecutors have called Yaroslav Popovych to appear before a grand jury in their doping investigation linked to seven-time Tour de France winner, Lance Armstrong. According to sources of the Los Angeles Times newspaper, Popovych will testify on Wednesday in Los Angeles.
Popovych raced with American Lance Armstrong in 2005 with team Discovery Channel and since 2009 with teams Astana and RadioShack. He is Ukrainian and lives in Italy, but was served with a subpoena when he appeared in Austin, Texas, for Armstrong's Livestrong Challenge Austin ride. The Los Angeles Times reported that he remained in the USA and retained a lawyer.
The doping investigation intensified when Floyd Landis sent an e-mail to the USA cycling federation on April 30. He alleged that he, Armstrong and other team-mates doped during the years that Armstrong won the Tour de France seven times, 1999 to 2005. In the e-mail he detailed the team's doping practices, which included blood transfusions and testosterone patches. The e-mail was subsequently leaked to the media on May 19.
Jeff Novitzky, an agent for the FDA, was reportedly already working on a case involving drugs found in the apartment of cyclist Kayle Leogrande and found Landis' allegations interesting. Armstrong rode for a team sponsored by the US Postal Service from 1998 to 2004 and, if the allegations are true, he essentially used taxpayers' money to fund his doping.
Besides Popovych, Novitzky and his team have already called other witnesses. In September, they subpoenaed Armstrong's former liaison to eyewear company Oakley, Stephanie McIlvain. She reportedly told former Tour de France winner Greg LeMond she heard Armstrong tell his cancer doctors in 1996 that he doped.
They have also issued subpoenas to LeMond and Armstrong's former team-mate Tyler Hamilton, and requested documents from Armstrong's long-time sponsors, Nike and Trek.
Armstrong last raced at the Tour de France in July. Last month, he announced he will race his final event outside the USA at the Tour Down Under in Australia from January 16 to 23.
Related links
Landis unlikely to stand trial for hacking says manager
Landis admits he doped and implicates others
Thank you for reading 20 articles this month* Join now for unlimited access
Enjoy your first month for just £1 / $1 / €1
*Read 5 free articles per month without a subscription
Join now for unlimited access
Try first month for just £1 / $1 / €1