Blanco team becomes Belkin with new sponsorship deal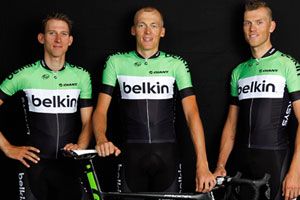 Team Blanco ended its sponsorship search and revealed its new kit, announcing that it signed a two-and-a-half-year deal with Belkin. The American consumer electronics manufacturer takes over as title sponsor from the Tour de France, starting on Saturday (June 29) in Corsica.
"We are very excited to have [Belkin] on board as our sponsor," Richard Plugge, the team's general manager said in a press release. "We look forward to two and a half years of shared successes."
Fans will remember the Dutch team under it former name of Rabobank, famous for its orange team strip, riders like Oscar Freire and Robert Gesink, and the doping scandal that ended Rabobank's 17-year run as title sponsor.
Over the winter, with the Lance Armstrong doping scandal in full swing, Rabobank pulled the plug on its elite men's team.
Doping scandals involving Michael Boogerd, Michael Rasmussen and, associated with Armstrong, Levi Leipheimer took its toll on the team.
Rasmussen, on the verge of giving the team a Tour de France win in 2007 [confirm year], was found to have missed and lied about anti-doping controls. He left the Tour while in the race leader's yellow jersey.
Along with Rabobank's demise as a sponsor, Dutch cycling has gone through several changes. The federation set up an amnesty committee, which brought about several doping confessions this spring.
Boogerd confessed that drugs fuelled his training and wins, admitting he doped from 1997 to 2007 with EPO, blood transfusions and cortisones.
'A fresh start'
The Dutch banking powerhouse also helped the team to realise its new start. It agreed to fund the team through 2013 while management searched for a backer.
Rumours it signed with Belkin emerged in May while the team raced the Giro d'Italia. Last Monday, the team sent a press release out announcing "a fresh start" and a press conference for today in Hilversum.
Along with Belkin, the Tour riders presented themselves today in the team's fresh, green colours. Belkin's agreement runs through 2015 and, along with Argos-Shimano, gives the Netherlands two well-grounded teams.
Argos's agreement to sponsor the WorldTour team continues through 2014.
The country's third first-division team, Vacansoleil-DCM is on the verge of closing. DCM announced it would not renew and Vacansoleil is reported to be on its way out, as well.
"The big sponsors think cycling is better now," Vacansoleil DS Michel Cornelisse told Cycling Weekly this spring. "I don't think [the Dutch doping confessions are a] reason for them to stop cycling."
Belkin found every reason to join and gave Dutch cycling hope.
"Tech savvy fan base that follows the sport closely, which aligns really well with the Belkin brand," Chet Pipkin, Belkin's founder and CEO said in a press statement. "Associating our Belkin and Linksys brands with this successful, well-established pro cycling team enables us to introduce ourselves to millions of people around the world and interact with them."