Brian Cookson: I am 100% supportive of Pat McQuaid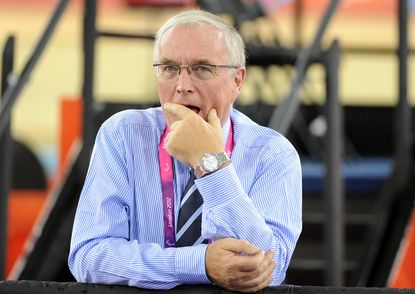 Brian Cookson has rejected claims made this morning that he has been lined up as a replacement for Pat McQuaid as president of the International Cycling Union (UCI).
Speaking to Cycling Weekly, Cookson refuted the speculation linking him to the UCI's top job and insisted that he is fully supportive of the Irishman, who has been in the role since 2005.
"There's not a vacancy and I'm not a candidate," he said. "I'm 100% supportive of Pat McQuaid and I think speculation is unhelpful at this stage when there are some delicate negotiations underway."
McQuaid and his predecessor Hein Verbruggen have come under intense scrutiny in recent months following the damning revelations concerning Lance Armstrong. The UCI recently set up a commission to investigate the allegations of corruption that have dogged the governing body, which Cookson believes should be fully supported.
"The important thing is to get everyone behind those negotiations, sat around the table, in agreement, and let the various investigations and commissions run their course," he added.
Cookson also cemented his personal support for McQuaid, adding that the 65 year-old is "misunderstood in many ways."
"When you think what the UCI has done in the last few years, pursuing offenders when other sports have let people off on the flimsiest of excuses," he said, "I think the UCI has got a good record in anti-doping that Pat can be proud of. I know that's not a popular line but its true."
In late 2012, before the Armstrong evidence was released by the United States Anti Doping Agency (USADA), Cookson had expressed to CW his reluctance to consider taking up the role. He maintained this was still the case.
"It's a very demanding job," he said, "and its not on my agenda to go after it."
Related links
UCI Independent Commission comes under fire from WADA
WADA chief slams Lance Armstrong interview
Thank you for reading 20 articles this month* Join now for unlimited access
Enjoy your first month for just £1 / $1 / €1
*Read 5 free articles per month without a subscription
Join now for unlimited access
Try first month for just £1 / $1 / €1