British professional road wins 2012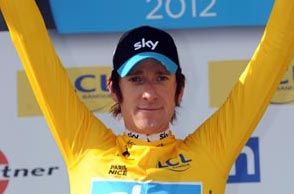 We keep track of British riders' professional road victories throughout the 2012 cycling season on this page.
The British wins kicked off in style during the first half of February, with five wins coming the space of five days.
Andy Fenn opened the account with back-to-back victories in the Trofeo Mallorca.
World Champion Mark Cavendish came next, with two stage wins at the Tour of Qatar and Jonathan Tiernan-Locke surprised some big names at the Tour of the Med to take two stages and the overall in freezing conditions.
Tour de France overall hope Bradley Wiggins (Sky) won the final time trial at the Tour of the Algarve, Portugal, and on the same day Tiernan-Locke continued his winning streak by winning the final stage and overall of the Tour du Haut Var, France.
March continued with wins for Lizzie Armitstead, Russell Downing, Cavendish and crowned by Wiggins clinching Paris-Nice overall after winning the final time trial stage. April saw Downing, Nicole Cooke and Geraint Thomas take victories.
Cavendish took his first Grand Tour win of 2012 at the Giro d'Italia on stage two and his career-first general classification win in the Ster ZLM Toer in June.
In July, Pooley won the mountains classification in the Giro Donne, Ben Swift won two stages of the Tour of Poland and Tiernan-Locke won two stages and overall at the Tour Alsace.
Sky riders Cavendish, Wiggins and Chris Froome, and Garmin-Sharp's David Millar found success in the Tour de France in July with stage wins - and Wiggins became the first British rider to win the Tour overall. British riders won a third of Tour stages on offer in the nation's most successful edition of the race.
Wiggins kicked off August with an imperious win in the men's Olympic time trial in London. Adam Blythe took his first win for BMC, taking the opening stage of Paris-Correze. Cavendish added to his 2012 tally with a stage win in the Tour of Denmark, and Steve Cummings took the biggest victory of his career taking a stage of the Vuelta a Espana.
September started with Pooley successfully defending her Tour de l'Ardeche title. Luke Rowe (Sky) opened his account with a win in the opening stage of the Tour of Britain after a crash decimated the bunch, including Cavendish. The Manxman bounced back on stage three to take the win, followed by wins on stage four and eight. Tiernan-Locke continued his landmark season with the overall Tour of Britain win.
In October, Blythe took his second win of the year in Binche-Tournai-Binche in Belgium and Cummings brought the WorldTour to a close with a win in the final stage of the Tour of Beijing.
In 2011, British riders amassed an impressive total of 46 pro wins - a total now surpassed in 2012.
Total British wins as at October 13 2012: 68
February (11)
Andy Fenn (Omega Pharma-QuickStep): Trofeo Palma
Andy Fenn (Omega Pharma-QuickStep): Trofeo Migjorn
Mark Cavendish (Sky): Tour of Qatar, stage three
Mark Cavendish (Sky): Tour of Qatar, stage five
Jonathan Tiernan-Locke (Endura): Tour of the Mediterranean, stage one
Jonathan Tiernan-Locke (Endura): Tour of the Mediterranean, stage four
Jonathan Tiernan-Locke (Endura): Tour of the Mediterranean, overall
Bradley Wiggins (Sky): Tour of the Algarve, stage five
Jonathan Tiernan-Locke (Endura): Tour du Haut Var, stage two
Jonathan Tiernan-Locke (Endura): Tour du Haut Var, overall
Mark Cavendish (Sky): Kuurne-Brussels-Kuurne
March (8)
Russell Downing (Endura): GP Lillers
Lizzie Armitstead (AA Drink-leontien.nl): Omloop van het Hageland
Mark Cavendish (Sky): Tirreno-Adriatico, stage two
Bradley Wiggins (Sky): Paris-Nice, stage eight
Bradley Wiggins (Sky): Paris-Nice, overall
Ian Wilkinson (Endura): Tour de Normandie, stage three
Erick Rowsell (Endura): Tour de Normandie, stage five
Lizzie Armitstead (AA Drink): Ghent-Wevelgem
April (7)
Russell Downing (Endura): Circuit des Ardennes, stage one
Nicole Cooke (Faren-Honda): Energiewacht Tour, stage five
Geraint Thomas (Sky): Tour de Romandie, prologue
Bradley Wiggins (Sky): Tour de Romandie, stage one
Katie Colclough (Specialized-Lululemon): Gracia-Orlova, stage four
Bradley Wiggins (Sky): Tour de Romandie, stage five
Bradley Wiggins (Sky): Tour de Romandie, overall
May (5)
Mark Cavendish (Sky): Giro d'Italia, stage two
Mark Cavendish (Sky): Giro d'Italia, stage five
Mark Cavendish (Sky): Giro d'Italia, stage 13
Russell Downing (Endura): Glava Tour of Norway, stage five
Wendy Houvenaghel (Ricci): Celtic Chrono
June (5)
Emma Pooley (AA Drink): Emakumeen Saria
Bradley Wiggins (Sky): Criterium du Dauphine, stage four
Bradley Wiggins (Sky): Criterium du Dauphine, overall
Emma Pooley (AA Drink): Emakumeen Bira, stage two
Mark Cavendish (Sky): Ster ZLM Toer, overall
July (14)
Mark Cavendish (Sky): Tour de France, stage two
Emma Pooley (AA Drink): Giro Donne, mountains classification
Chris Froome (Sky): Tour de france, stage seven
Bradley Wiggins (Sky): Tour de France, stage nine
Ben Swift (Sky): Tour of Poland, stage two
David Millar (Garmin-Sharp): Tour de France, stage 12
Ben Swift (Sky): Tour of Poland, stage five
Mark Cavendish (Sky): Tour de France, stage 18
Bradley Wiggins (Sky): Tour de France, stage 19 ITT
Mark Cavendish (Sky): Tour de France, stage 20
Bradley Wiggins (Sky): Tour de France overall
Jonathan Tiernan-Locke (Endura): Tour Alsace, stage two
Jonathan Tiernan-Locke (Endura): Tour Alsace, stage four
Jonathan Tiernan-Locke (Endura): Tour Alsace, overall
August (6) Bradley Wiggins (Sky): Olympic Games time trial
Adam Blythe (BMC): Paris-Correze, stage one
Richard Handley (Rapha-Condor): Vuelta a Leon, stage five
Mark Cavendish (Sky): Tour of Denmark, stage six
Steve Cummings (BMC): Vuelta a Espana, stage 13
Ian Bibby (Endura): La Mi-Aout en Bretagne, stage two
September (9)
Emma Pooley (AA Drink): Tour de l'Ardeche, stage three
Emma Pooley (AA Drink): Tour de l'Ardeche, stage six
Emma Pooley (AA Drink): Tour de l'Ardeche, overall
Luke Rowe (Sky): Tour of Britain, stage one
Wendy Houvenaghel (Ricci): Chrono Champenois
Mark Cavendish (Sky): Tour of Britain, stage three
Mark Cavendish (Sky): Tour of Britain, stage four
Mark Cavendish (Sky): Tour of Britain, stage eight
Jonathan Tiernan-Locke (Endura): Tour of Britain, overall
October (2)
Adam Blythe (BMC): Binche-Tournai-Binche
Steve Cummings (BMC): Tour of Beijing, stage five
Related links
2011: Another winning year for the Brits
British pros rack up 40 wins in 2010
Thank you for reading 20 articles this month* Join now for unlimited access
Enjoy your first month for just £1 / $1 / €1
*Read 5 free articles per month without a subscription
Join now for unlimited access
Try first month for just £1 / $1 / €1