Pro cyclists like Tom Pidcock aren't one-trick pedalling machines, here's how a broad skill base can improve your road riding
The world's best cyclists are consummate all-round athletes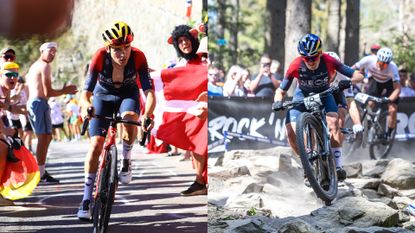 (Image credit: Getty Images: Michael Steele / NurPhoto )
Tom Pidcock (Ineos Grenadiers) stormed up Alpe d'Huez on stage 12 to take his maiden Tour de France victory. And in doing so, the reigning Olympic mountain bike gold medallist and World cyclocross champion has further confirmed that he is a powerhouse across three disciplines: road, MTB and cyclocross.
What's more, the 22 year-old is not the only British rider with a very broad skill base who is succeeding at the top level across multiple disciplines.
Zoe Bäckstedt is the brightest rising star of British women's cycling. She won gold in last year's junior women's road race at the world championships in Flanders, as well as silver in the time trial. Before that, in August 2021, the teenager set an unofficial world record for the 2,000-metre pursuit – two minutes 16.9 seconds – at the junior national championships in Glasgow. As if that were not enough, in October 2021, Bäckstedt was in the Netherlands winning the junior Superprestige cyclo-cross in Gieten. All of this and she's only 17.
Road, track, cyclocross, there's nothing Zoe Bäckstedt can't do. Comments made by her father, Swedish former pro and 2004 Paris-Roubaix winner Magnus Bäckstedt relating to his daughter's extraordinary athletic versatility prompted me to wonder whether too many cyclists are stuck in training habits that are too narrow and highly specialised. Might it be better to emulate Zoe and put more emphasis on building the athlete first?
A series of photos on Facebook showed the teenager doing strength training in the gym, riding cyclocross, mountain bike, road races and time trials. I got in touch with Magnus to find out more. "We have a new way of planning and working that focuses a lot more on strength and building an all-round athlete who is more robust, and linking good nutrition to cope with the demands of training," he told me.
This general-to-specific training philosophy, along with Zoe's natural talent and application, resulted in a world record in a specialised area of the sport. But as a training philosophy, general-to-specific is not new. When the Eastern Bloc countries, particularly Russia, dominated the Olympic Games before 1996, their coaches believed in what they called "general physical preparedness".
Of course, we now know that this success was helped by a systematic doping programme. Nevertheless, the training still had to be effective – and it always started with months of general physical work before specialising in a single discipline. These athletes did bodyweight strength-and-conditioning core exercises, range of movement exercises, running, climbing and throwing. There are even stories of Russian sprinters doing ever-higher jumps from ladders to condition the connective tissue of their feet and ankles before setting foot on a track. But how many top cyclists adopt this general-to-specific training structure today? Well, one group does it almost by accident.
Cross purposes
It's not news that many current top pro road racers come from a cyclocross background. Like Pidcock, Wout Van Aert and Mathieu van der Poel spend their winters battling each other in mud and sand, then do the same on the road in summer. Racing and training for cyclocross is general physical preparation by its very nature: it develops explosive power and rock-solid core muscles. It also develops physical adaptability by mixing cycling with running, jumping, dismounting, carrying and remounting the bike, as well as developing range of movement by constantly adapting the terrain, absorbing bumps and shifting position. It's like strength and conditioning, plus gymnastics, done on a bike.
Once their cyclocross season is over, a few weeks of specific road training, mostly long sessions of steady-paced riding to extend their endurance, and cyclo-cross riders dominate the road. It's the perfect general-to-specific process, and it works. It's exactly what Jumbo-Visma powerhouse Van Aert did at the end of the 2020/21 cyclocross season – as his trainer Marc Lamberts told Het Laatste Nieuws: "Wout came out of the cross season in good condition for the road, but he had work to do before he could contend. He didn't have a broad enough base and he had two kilos more muscle than he needed, so he went to Tenerife and between 8 February and 1 March he rode lots of kilometres at a steady pace to rebuild his aerobic base and lose the muscle he'd built."
There are also many great cyclists in the triathlon world, and they spend all their time 'building the athlete first' by training for three different sports at once. Look no further than last year's inaugural British gravel racing championships, where double Olympic triathlon champion Alistair Brownlee took second in the men's race, and age-group Ironman world champion Ruth Astle took the women's title by a massive margin.
Best-selling author David Epstein's latest book Range: Why Generalists Triumph in a Specialised World begins by looking at athletic development. He cites a study that found that, early in their physical development, future elite performers spend less time concentrating on the sport in which they eventually excel (compared to those who end up as less successful athletes). There are many examples of this in sport today, and the best recent example is Emma Raducanu, winner of last year's US Open. The teenage tennis ace tried many different sports before specialising.
There are plenty of examples in cycling too. Winner of the first women's Paris-Roubaix and former world champion Lizzie Deignan (Trek-Segafredo) took part in many sports at school, and was a talented middle-distance runner before British Cycling coaches visited her school and found she had an aptitude for cycling. Deceuninck-Quick-Step's Belgian wunderkind Remco Evenepoel mainly played football through his youth. Canadian Michael Woods (Israel Start-Up Nation) was a record-breaking middle-distance runner as a junior, and yes, Primož Roglič (Jumbo-Visma) was of course a ski-jumper until 2012.
When, what, how much? - Build an 'athlete first' winter training plan
There's no better person to ask for advice than Phil Burt, vastly experienced cycling physio and author of Strength and Conditioning for Cyclists.
"First off, I totally agree with the concept of building the athlete first before specialising. I'd advise all parents to get their kids involved with gymnastics or ballet, or both. Both disciplines teach people how to move well, which gives them an advantage in any sport.
"For older cyclists, the thing to do is commit a 12-week period at the start of your winter training to an all-round strength-and-conditioning programme, as well as doing some off-road cycling. Speak to a coach or a trainer at a gym to work out a strength-and-conditioning programme for you. You don't need to lift massive weights, just do whole-body strength-and-conditioning and range-of-movement exercises.
"It shouldn't be a big programme, just a relatively short workout done two or three times a week. I remember Bradley Wiggins saying that one of his coaches at T-Mobile had carried out an assessment and gave him a DVD with 27 exercises on it, all done in multiple sets. He did it once, and said he didn't have enough time left to ride his bike that day!
"So, just a simple programme of basic exercises, but don't do them half-heartedly, and see the programme through. After that – and more pro teams are doing this – you should fit in little refresher courses of general physical training, just a couple of weeks or so at a time, several times throughout the year."
Winter warmers
Each winter, the Tour de France podium placer and 2019 king of the mountains Romain Bardet (Team DMS) goes cross-country skiing and mountain running in his native Auvergne in central France. He takes part in local running races and rides off-road. "It's a mental break from road cycling, but it's also restoring and rejuvenating to be outside in nature," Bardet told me at the Ag2r-La Mondiale team presentation in 2015, "and there are lots of physical benefits from doing other forms of exercise in
the winter."
Ritchie Porte (Ineos Grenadiers) was a competitive swimmer before he was a cyclist, and he still gets in the pool and runs regularly too. This is what he told Coach in 2017: "For me it's refreshing, I sometimes swim in the summer too for recovery. I just think it's good to do something different in winter instead of just going on the home trainer, or having another cold wet bike ride. There's enough of those sessions to do when you have to do them."
Not all road pros are as committed to doing general physical work in winter, of course – but they should be, reckons Phil Burt, former chief physio at British Cycling. "Road pros often start strength-and-conditioning programmes in the winter, but there's so much other training to do that they tend to just go through the motions. There are exceptions, such as Ben Swift, but he has to do it because of the injuries he's had."
According to Burt, those who've taken strength work seriously have reaped the rewards. "When they do commit, as Bradley Wiggins did in the winter of 2013 while focusing on the 2014 time trial world title, they see big improvements. Brad fully committed to a 16-week strength-and-conditioning programme to kick off his preparation, and I'm sure it helped him win the world title."
Burt believes that a general-to-specific training programme benefits all cyclists, especially non-professionals, who have jobs and other commitments. "Think about your specific training as the top of a pyramid, and general training as part of the base. The wider the base, the higher the pyramid can be built," he says.
British Cycling has always included strength-and-condition in the training programmes of their performance system. The programmes vary according to discipline, and are individualised according to each rider's needs and the stresses of their specific training. Again, it's a general-to-specific training philosophy.
Strength-and-conditioning the BC way doesn't always mean heaving around huge iron weights, and even those notorious cycling weight-lifters, the track sprinters, spend time on range of movement and body conditioning exercises too. "We set aside time every day to stretch, and to use foam rollers to get rid of tightness in our muscles," says Chris Hoy. "All our weights sessions started with yoga exercises to mobilise the spine and open up the shoulders and back."
Solid foundation
The 'build the athlete first' approach is gaining support in pro cycling, especially among younger riders. Careers are being built on more broadly nurtured and
conditioned athletic bases. This doesn't mean that it's an approach that only works for malleable juniors. Targeting a broader form of athleticism, however old you are, will help boost your cycling performance, and could enhance your general health too. There is no better time to start than right now.
The fitness guru Ross Edgley – the only man ever to swim the 1,972 miles around the British mainland coastline – refers to general preparation as "getting wintered". Now, in autumn, is the right time to get started. After a short rest period at the end of the summer cycling season, cycling should be interspersed with strength-and-conditioning and other activities. This general work is the foundation on which you can build a higher peak of specific fitness as you build towards your 2022 objectives.
Becoming a better all-round athlete allows you to increase the specific training your body is able to tolerate, both in terms of volume and intensity. General training also helps you improve your reflexes, your bike control and your physical resilience. Being physically robust helps us live better lives, too, especially as we age. Carrying, lifting, doing jobs around the house or gardening are all easier for someone whose whole body is conditioned – rather than just their quadriceps. This is especially true for people with sedentary jobs.
Desk jobs restrict our range of movement – something that cycling does little to counteract. Do you get sore hamstrings after bending over to weed the garden? Are your shoulders and neck noticeably less mobile these days? Can you look behind you with ease on the bike? Some general physical training such as strength-and-conditioning exercises coupled with yoga, range-of-movement exercises, and
stretching afterwards makes you a more functional human, as well as potentially a faster cyclist.
Even greats can be greater: 'I knew I had to become an athlete first'
Even cycling legend Bernaud Hinault eventually realised he was missing a trick by not building the athlete first.
It's beyond question that Hinault is one of the all-time greats, having won the Tour de France five times, the Giro d'Italia three times, including the Giro-Tour double twice, plus two Vuelta victories… the list goes on. But could it have been even better? His run of Tour victories was interrupted twice by tendinitis, which forced him out of the 1980 race and prevented him riding in 1983.
When he returned in 1984, Hinault had undergone a complete change of training philosophy. He adopted the principle of 'general physical preparedness' to underpin his specific training. This is what he told me about it when I spoke to him a few years ago: "I was determined to become an athlete first, be more robust and use gymnastics, weight training and stretching, even some running, as well as cyclocross rides to condition my body before doing specific on-the-bike training, which in those days started in January.
"With the gymnastics, I improved the condition of my muscles and ligaments. With weight training, I strengthened leg muscles and those of my lumbar region and abdomen. Stretching prevented my hamstrings shortening, which can happen to cyclists, creating tightness. And running helped with my fitness, while improving flexibility and stability in my ankles, which only work in one plane when cycling."
Hinault was defeated by Laurent Fignon in his comeback Tour, but was back to his best when he won his fifth Tour de France in 1985. With his five wins spanning eight years, Hinault's story suggests that if he'd adopted the 'athlete first' approach earlier in his career, he might have won six or even seven Tours.
Loading up
Weight-bearing exercises such as hops and jumps address the other big drawback of a cycling-only exercise regime: reduced bone density. Much has already been written about the study a few years ago that revealed some young Tour de France riders had significantly reduced bone density. Bone tissue needs to be loaded to stay healthy, and cycling isn't load-bearing. Loading stimulates the creation of new bone tissue, which is necessary for good health. If the stimulus needed to create new tissue is reduced, bones become less dense, reducing their strength, which can result in fractures.
'Building the athlete first' is an approach that all cyclists should adopt. It improves your cycling performance while making you more robust and less prone to injury. A solid base of strength-and-conditioning, as well as activities that improve range of motion, provides the foundation upon which, once you're ready, to hone your cycling performance. There's no better time to get started on designing an autumn/winter programme of strength-and-conditioning, alongside an off the bike activity such as running or swimming to break up your cycling. You will be a better cyclist, and a stronger, healthier all-round athlete, because of it.
This article originally appeared in the October 14 issue of Cycling Weekly magazine, available to buy online. You can also subscribe to the magazine, take advantage of a discount on the cover price and get it delivered to your door every week.
Thank you for reading 20 articles this month* Join now for unlimited access
Enjoy your first month for just £1 / $1 / €1
*Read 5 free articles per month without a subscription
Join now for unlimited access
Try first month for just £1 / $1 / €1