Cavendish free to announce Sky deal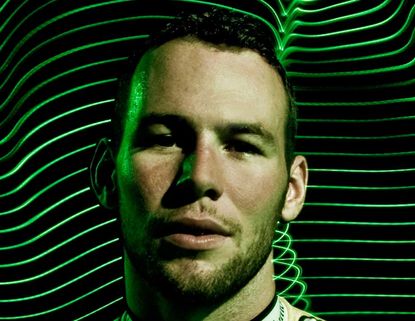 The demise of HTC-Highroad frees Mark Cavendish to announce his impending move to Team Sky. Some sources say the deal was done months ago but the British sprinter has so far remained tight lipped about his plans.


Earlier in the week Cavendish told the BBC that he had made his decision and was happy with it. He is expected to announce the move any day. "A number of teams have expressed interest in me riding for them in 2012. I have now made a decision I am happy with and will be in a position to discuss my intentions once everything has been finalised." He said today in a statement on his website.
He also paid tribute to the team he has ridden for since turning professional in 2007. "I am obviously very disappointed that HTC-Highroad will no longer be a team at the end of this season. I am hugely indebted and incredibly grateful to my teammates and all the staff for their support over the last 5 years and I am immensely proud of what we have achieved together."
In those five years Cavendish has won 71 races, with this year's Tour green jersey being the icing on the cake.
Out of contract at the end of this season meant Cavendish was one of the most in-demand riders in the peloton this year. BMC offered him a huge salary and carte blanche to bring with him who he wanted while Quick Step were no doubt in the market too.
Patrick Lefevre has always been a fan of Cavendish and the Briton has a big following in Belgium. The Belgian team is set to bring in Omega Pharma as a co sponsor next year and has already announced four new signings.
But however in-demand Cavendish is it was really only ever going to be Team Sky. The British team started because of the success of the new breed of young British riders coming through their Academy system run first by Rod Ellingworth, then by Max Sciandri and now Chris Newton.
Cavendish is by far the most successful of those graduates, but until now is one of the few not riding for Team Sky. In 2008 when Team Sky was first announced he re-signed with Bob Stapleton's Highroad management company (that runs the team), frustrating the Team Sky management - who are also the British Cycling staff - as they hadn't been consulted.
Cavendish hadn't done himself any favours either. His frustration with Highroad was first expressed at the Commonwealth Games in October 2010 when he said he was poorly paid and under-appreciated. He singled out Bob Stapleton for criticism and it seemed the end was nigh.
Despite the public spat, Stapleton was never going to let his star rider go, and reacted angrily to any questions that suggested a move that winter was on the cards.
The pair went some way to repairing their fractured relationship during the off season, and with a team of riders and staff giving incredible support to Cavendish there was a small chance he might stay.
However, as the season went on there was no news coming out of San Luis Obispo, Stapleton's home town where the team is registered, in regards to a replacement sponsor. The American said they were still in talks with the Taiwanese phone producer but that their rapid growth over the previous year had caused major internal restructuring that had left the company unable to come up with a unified decision as to where to take their future marketing budgets.
The rumours around the peloton were however telling another story, as talk of HTC themselves being dissatisfied over renewal negotiations surfaced. Either way, by the start of July there was still no news and they were leaving it very late. Stapleton was in talks with other potential sponsors, and other teams had approached him regarding mergers but nothing was agreed.
As time dragged on, any chance of Cavendish staying slowly evaporated. Although he could affectively wait for the right offer to come in, it would be unsettling to leave an announcement too late. If that announcement is of anyone other than Team Sky, it would be a huge surprise.
Riders up for grabs
It's not just about Cavendish though. HTC is packed with race winners and super-domestiques. Many of whom have been negotiating with teams for months (the UCI's August 1st rule is blatantly flouted as agents start talking with prospective teams as early as April) with the knowledge that the HTC deal was on a knife edge.
BMC have been courting several HTC riders while GreenEDGE have been the most active in the transfer market this year. The new Australian team is starting from scratch and with a similar remit to team Sky of developing home talent will no doubt be talking with both Mark Renshaw and Matt Goss.
If Renshaw doesn't go with Cavendish to Sky it will break up a hugely successful duet, but could also set up some intriguing sprint battles next year should Renshaw get the chance to ride for himself.
Announced
Peter Velits - Quick Step
Martin Velits - Quick Step
Patrick Gretsch - Skil Shimano
Expected
Tejay Van Garderen - BMC
Tony Martin - Saxo Bank Sungard
Bernard Eisel - Sky
Mark Renshaw - GreenEDGE or Sky
Matt Goss - GreenEDGE
Other riders
Michael Albasini
Lars Bak
Matt Brammeier
John Degenkolb
Caleb Fairly
Jan Ghyselinck
Bert Grabsch
Leigh Howard
Craig Lewis
Danny Pate
Marco Pinotti
Frantisek Rabon
Alex Rasmussen
Hayden Roulston
Kanstantsin Sivtsov
Gatis Smukulis
Women's team
Judith Arndt
Charlotte Becker
Katie Colclough
Emilia Fahlin
Chloe Hosking
Amanda Miller
Amber Neben
Ally Stacher
Evelyn Stevens
Ina-Yoko Teutenberg
Ellen Van Dijk
Adrie Visser
Related links
HTC-Highroad to disband at the end of the season
Thank you for reading 20 articles this month* Join now for unlimited access
Enjoy your first month for just £1 / $1 / €1
*Read 5 free articles per month without a subscription
Join now for unlimited access
Try first month for just £1 / $1 / €1